Monday, July 2, 2018
Page 1
Ninth Circuit:
Deputy PD Lawfully Arrested for Blocking Police in Photographing Her Client
By a MetNews Staff Writer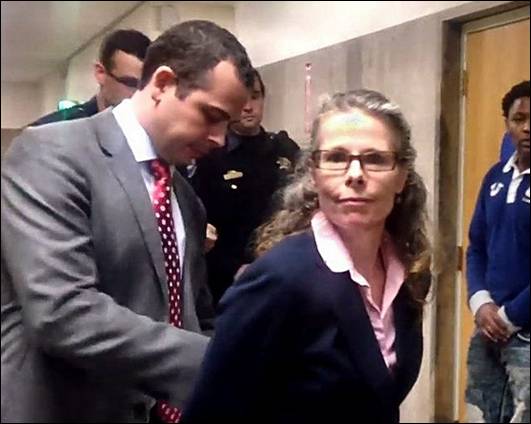 San Francisco Police Inspector Brian Stansbury is seen handcuffing Deputy Public Defender Jami Tillotson after she tried to impede him in photographing a client of hers in a courthouse. The Ninth U.S. Circuit Court of Appeals on Friday affirmed summary judgment for the city in her civil rights action. The photograph is a still from a video released by the Office of Public Defender.
A San Francisco deputy public defender on Friday lost her bid in the Ninth U.S. Circuit Court of Appeals for reinstatement of an action against the City of San Francisco based on an arrest of her in the Hall of Justice after she refused to step aside to allow police to photograph her client and another man.
A three-judge panel, in a memorandum opinion, declared that the Jan. 27, 2015 arrest of plaintiff Jami Tillotson was lawful because her client and the man with him matched the description of persons who had committed a series robberies, and the police wanted the photographs as identification evidence.
The opinion says that Tillotson "was apparently acting in good faith" but that "on this record there can be no serious question that the police (1) were lawfully conducting a criminal investigation, and (2) had probable cause to conclude that Plaintiff interfered with it."
Video of Incident
Videos of the courthouse incident were recorded by several persons, and one of the recordings was released by the San Francisco Office of Public Defender to the news media. It shows Tillotson calmly telling Police Inspector Brian Stansbury, who wanted to photograph the defendants with his cellphone:
"I'm pretty sure we're OK here. We don't need any pictures taken, thank you."
He responded:
"No, you're not pretty sure. If you continue with this, I'll arrest you for resisting arrest."
She invited him to do so; he handcuffed her; she protested, "I am still…representing my clients here"; and she was taken off to a holding cell.
Tillotson said at a press conference the following week:
"Public defenders have a duty to protect the constitutional rights of their clients," adding:
"It was surreal to be led away in handcuffs for doing my job, something I do every day."
Civil Rights Suit
She sued the city for a civil rights violation. (Although San Francisco is a city/county, the police department is a city agency.)
Magistrate Judge Donna M. Ryu of the Northern District of California on Jan. 23, 2017, granted summary judgment to the city. Affirming, the Ninth Circuit panel noted that interfering with officers is a misdemeanor under California Penal Code § 148(a)(1). The opinion observes:
"Plaintiff in this case refused to step aside, thus giving the officers probable cause to conclude that she was interfering with their lawful photographic investigation. The officers could also reasonably conclude that Plaintiffs statements to them were intended to further her interference. There is thus no merit to her claim that she was arrested on the basis of speech alone."
Under these circumstances, the opinion says, Tillotson's premise that she was arrested based on speech, alone, is unsound; her Fourth Amendment rights were not violated because the arrest was lawful and unreasonable force was not used; and the lawfulness of the arrest and lack of undue force negate a cause of action for intentional infliction of emotional distress.
'Investigative Detention'
Although Tillotson was booked for resisting arrest, Police Chief Greg Suhr announced at a Feb. 4 meeting of the Police Commission:
"[W]e will not be seeking a warrant on that matter. So there will not be criminal charges. It will be closed out as an investigative detention."
He said that he apologized "for any distress caused to Ms. Tillotson during her detention" but added that Stansbury "had reasonable suspicion" she was committing a crime.
The San Francisco Police Department's Office of Citizen Complaints in December of 2015 concluded that Tillotson was falsely arrested.
Copyright 2018, Metropolitan News Company