Wednesday, February 21, 2018
Page 3
C.A. Affirms Decision Barring Tiger Sanctuary Near Malibu
By a MetNews Staff Writer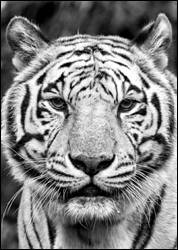 —AP
A white Siberian tiger is seen at a zoo in Cincinnati, Ohio.
The Court of Appeal for this district yesterday affirmed the denial of a petition for a writ of mandate challenging a 4-1 decision of the Ventura County Board of Supervisors to bar a proposed tiger sanctuary in the cliffs northwest of the City of Malibu.
"That there are 57 residential lots and 28 residences within a half mile and 46 homes within a mile of the project is alone sufficient reason to deny the project," Presiding Justice Arthur Gilbert said in an opinion for Div. Six. It upheld the writ denial by Ventura Superior Court Judge Rocky J. Baio.
There was substantial evidence, Gilbert acknowledged, supporting the application of wild animal trainer Irena Hauser for a conditional use permit allowing her to keep up to five rare white Siberian tigers on her 19-acre parcel in Deer Creek Canyon, an unincorporated area of Ventura County. But there was also substantial evidence supporting the concerns of property owners who opposed the permit, he said, thus requiring that the board's decision be upheld.
More than 11,000 signatures had been gathered in opposition to issuance of the permit. Detractors were residents of Malibu, in Los Angeles County, and southern Ventura County.
Gilbert wrote:
"[I]t is anything but comforting that Hauser's only formal training is an eight-day class in which students are promised in advance that there is no written exam, no reading, and all students receive a certificate of completion. It is even less comforting that Hauser's plan includes leaving family members with no formal training alone on the premises with the tigers.
"Hauser claims that the only credible evidence is that an escaped captive-born tiger poses almost no risk to the public. But Hauser fails to explain what makes such evidence credible. The administrative record is replete with instances in which people have been severely injured or killed by large cats, including a highly experienced Las Vegas entertainer who was mauled almost to death by his tiger. There is more than ample evidence to support a finding that Hauser's animals pose a danger to the public. That Hauser apparently sees no such danger is itself a compelling reason to deny her a CUP."
The case is Hauser v. Ventura County Board of Supervisors, B276903.
Copyright 2018, Metropolitan News Company