Monday, August 13, 2018
Page 1
Judge Sandra A. Thompson, Bench Officer for 35 Years, Dies at Age 71
By a MetNews Staff Writer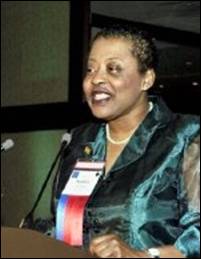 SANDRA A. THOMPSON
1947-2018
Los Angeles Superior Court Judge Sandra A. Thompson, a bench officer for 35 years who served as president of the National Association of Women Judges, has died, following a long illness.
She was 71.
Thompson's judicial career began in September of 1983 when she was selected by judges of the South Bay Municipal Court to serve as a commissioner. On June 13, 1984, Gov. George Deukmejian (now deceased) appointed her as a judge of that court, and in 1986 she was elected by colleagues to serve as the presiding judge.
She was chair of the Municipal Court Judges Assn. of Los Angeles County in 1991-93, and has served on the Board of Directors of the National Center for State Courts.
With trial court unification in 2000, Thompson became a member of the Superior Court.
Distinguished Jurist Award
Judge Marguerite D. Downing, prior to her appointment to the Los Angeles Superior Court, was a deputy public defender handling felonies, and appeared in Thompson's court several times. Downing was president of California Women Lawyers in 2005 when Thompson received the Joan Dempsey Klein Distinguished Jurist Award.
On Friday, Downing recounted:
"One of the reasons that she received the JDK award during my tentative was because she demanded respect of and for all persons in her courtroom. I had a motion where the witness was extremely condescending and rude to me. Judge Thompson got up off the bench and moved to sit behind me so that she could see the witnesses' face as he answered my questions on cross examination. When the motion was over and the witness had left the courtroom, in a very contained voice she told the attorney on the other side that that officer who had just testified should not return to her courtroom until he had learned to be respectful to all attorneys in the courtroom. She became my hero that day."
The judge added:
"Later, when I was appointed to the bench, she served as a role model."
It was during Downing's tenure as president of the California Association of Black Lawyers that Thompson was bestowed with the 1999 Bernard S. Jefferson Judge of the Year Award.
(Kline, now retired, was presiding justice of Div. Three of this district's Court of Appeal. Jefferson, who is deceased, was presiding justice of this district's Div. One.)
NAWJ President
In 2004-2005, Thompson was president of the National Association of Women Judges (founded by Kline and the late Vaino Spencer, who also served as a Court of Appeal presiding justice). Tanya R. Kennedy, a New York trial court judge who is the current NAWJ president, on Friday said the association "mourns the loss of respected jurist and lifetime member," adding that Thompson "leaves a rich legacy for us to forever cherish."
Thompson was stationed in the Torrance Courthouse, in the Superior Court's Southwest District. The supervising judge of that district, Eric C Taylor, commented:
"Sandra was a pleasure to work with. She had a grand sense of humor, and was one of the most accomplished and decorated bench officers I have met—never letting me forget, through her display of the National Thurgood Marshall award, that the struggle for equality and justice continues. She spent all of her 35-year judicial career in the Southwest District, and was a wealth of knowledge. But more than anything, Sandy was a dear and true friend. She will forever remain in our hearts."
Community Involvement
Another colleague in Torrance, Judge George Bird, had this to say:
"Judge Sandra Thompson dedicated her life to serving the citizens of the South Bay through her work as a bench officer and on a number of community organizations, including the Board of the YMCA. When I appeared in her court as a practicing attorney, I observed her call each case with a smile and a reserved elegance. She was completely unreadable, that is, she maintained at all times the dignity and objectivity of a fair and principled jurist. She made everyone feel like they had been treated fairly, even when meting out a jail sentence. I learned much from Sandy about how to think like a Judge, and more importantly, how to act like a Judge. Judge Sandra Thompson served with grace. We are all fortunate to have known such a person."
Another judge in Torrance, Gary Tanaka, said:
"News of Judge Thompson's passing was heartbreaking. Judge Thompson was more than our colleague in Torrance, she was our friend. Judge Thompson had an amazing ability to boldly speak her mind with charm, humor, wit, and genuine sincerity."
Commissioner Brad Fox related:
"Having covered for Sandra over the last several months and the many extended times she was dealing with health issues it was clear that her courtroom and the Torrance Court was the center of her life and she strived to return to her bench. I fully expected her to return again to Department 2 even if it was a struggle. I regret never asking how she managed to make her calligraphic file notes. May she rest in peace."
Dual Perspective
Los Angeles Superior Court Judge John Slawson, who sits in Pomona, was a commisdsioner in Torrance for 20 years, and before that appeared before Thompson as city prosecutor for Redondo Beach. He recalled her as "an extra-hard-working bench officer" who would still be going over cases in chambers when he left for home and the end of the workday.
Slawson recounted that Thompson averted the situation of defendants coming in, repeatedly, every couple of months to seek extensions for paying their fines. He said she tell them: "I'm going to give you one year to pay the fine."
This system, he said, helped "unclog" the calendars.
Downing noted:
"She might give your client a long while to complete his community service which was a boon but when it was time to have completed it—there were no continuances. And you need not ask for one."
The judge added:
"She ruled that courtroom with quiet dignity. She did not raise her voice but you know who was in control of the courtroom."
Judge Alan B. Honeycutt said:
"Sandra Thompson was a mentor to me when I was new lawyer and as a new judge. She represented the best of what we expect in our judicial officers."
Thompson's Background
Thompson was born in Hawkins, Texas.
Her undergraduate degree is from USC. The National Scholarship Service and Fund for Negro Students sent her to the University of Michigan, from which she received her law degree in 1972.
Thompson was an analyst for the California Assembly's Judiciary Committee from 1973-75; legislative coordinator for the Department of Consumer Affairs from 1975-77; and Inglewood deputy city attorney from 1977-81; and a Los Angeles deputy district attorney from 1981 until her appointment as a court commissioner.
Copyright 2018, Metropolitan News Company