Friday, November 16, 2018
Page 1
'God's Not Dead' Plagiarism Lawsuit Revived
By a MetNews Staff Writer
The Court of Appeal for this district yesterday reversed a summary judgment against a comic actor suing the company behind the film "God's Not Dead," holding that he adequately alleged its breach of a contract to pay him for a similar treatment.
The unpublished opinion, filed yesterday, was written by Justice Carl H. Moor of Div. Five. It reverses the judgment adverse to comedian Brad Stine, but affirms the judgment against his partner John Sullivan.
Stine and Sullivan wrote a treatment titled "Proof," about a Christian college professor who challenges an atheist teacher to a debate about the existence of God. In 2009, through Stine's manager, Michael Smith, they submitted the idea to Pure Flix Entertainment, a faith-based production company.
David A.R. White of Pure Flix, who had worked with Stine on another film, expressed his interest in the treatment. According to the lawsuit, he promised Smith to pay for the idea if Pure Flix made such a film.
God's Not Dead
Ultimately, the investors for Proof never materialized and the project was shelved. In 2014, however, Pure Flix made "God's Not Dead," which tells the story of a Christian college student who is challenged to a series of debates regarding God's existence by his atheist professor.
In 2012, while production for the latter film was underway, White made an offer to Stine to sell back the Proof screenplay in response to a request by the actor. Stine did not reply to the offer.
According to Troy Duhon, the owner of several car dealerships across the nation, the idea for "God's Not Dead" came from conversations between him and pastor Rice Broocks about a 2012 song by the same name from the Christian rock band the Newsboys (which makes an appearance in the film). Duhon pitched the concept to White when he was on set at Pure Flix visiting his daughter, an actress in another movie.
Summary Judgment
Los Angeles Superior Court Judge Mel Red Recana granted Pure Flix's motion for summary judgment. He found that there had been no express nor implied contract, that there was no substantial similarity between the two films, and that "God's Not Dead" had been independently created.
To support its motion, Pure Flix submitted declarations from White, Broocks, Duhon and several other persons, as well as copies of God's Not Dead and End of the Harvest, a mid-1990s film with a similar plot which had starred White.
Stine and Sullivan argued that Recana had misapplied the law governing their contract claims, and that there were material factual disputes concerning the express contract.
Although the company is Pure Flix Entertainment LLC, Moor chose to refer in his opinion to it and White, collectively, as "Prefix."
Explicit Offer
Moor wrote:
"There is no room for dispute that Pureflix made an offer to Stine in emails dated July 14 and 17, 2009 from White to Smith.…In the second email on July 17, 2009, White made a revised proposal where Pureflix would pay for the screenwriting, Stine would be paid $15,000 for acting, and Smith and Stine would receive 6 points (the number of points going to Pureflix also increases from 22.5 to 28 in this second proposal).
"Pureflix argues that there is no evidence Stine accepted the July 17, 2009 offer. This argument ignores that plaintiffs submitted deposition testimony and a declaration from Smith that he called White by phone and accepted the July 17, 2009 offer on Stine's behalf."
He added:
"Pureflix seeks to undermine this evidence of offer and acceptance by pointing to evidence that two years later, in April 2011, Smith and White exchanged emails in which Smith stated that the parties had only worked out 'surface terms' and that negotiations were still ongoing. But viewed in the light of other evidence offered by plaintiffs, the 2011 events are equally susceptible to what Smith stated in deposition was an effort by Pureflix to renegotiate the deal already reached. Stine has offered sufficient evidence to raise a material question of fact as to the existence of an express contract."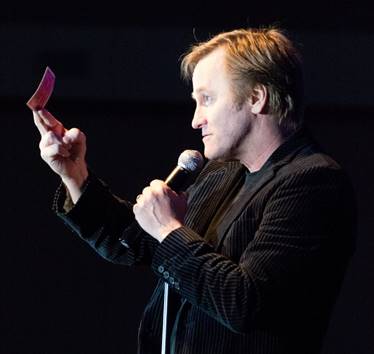 —BradStine.com
Actor and comedian Brad Stine, pictured here at his standup comedy and magic routine, won his challenge before this district's Court of Appeal to reinstate his case against the producers of God's Not Dead, a film he claims was his idea.
Implied Contract Alleged
The jurist declared:
"Smith states that prior to White even mentioning a film about apologetics to him, Smith conveyed plaintiffs' idea of a film about a Christian protagonist whose academic future is jeopardized by an atheist college professor on a secular campus, and based on prior dealings with White and customary industry practice, the disclosure was with the expectation that Pureflix would pay compensation for use of the ideas.
He continued:
"The evidence discussed above in connection with the express offer provides additional support to Stine's claim that Pureflix impliedly agreed to compensate Stine for use of his idea."
Sullivan's claims for the same contracts did not fare as well as Stine's. Moor explained:
"We agree with Pureflix that there is insufficient evidence to support a breach of express or implied contract claim by Sullivan against White or Pureflix, because Sullivan fails to raise an issue of material fact that he had any agreement with Pureflix. Smith was the individual who dealt directly with Pureflix, including negotiating the terms of any contract. Smith testified unequivocally that he did not represent Sullivan or ever negotiate an agreement for him. Smith's testimony is that he accepted the agreement in the emails for Stine: those emails never reference Sullivan."
Scènes à Faire
Pure Flix argued that the two works in question are not similar as a matter of law, in part because such a determination would require the court to consider the indispensable trappings associated with a concept, referred to as "scènes à faire."
Moor noted that while copyright analysis excludes such elements, idea submission cases under state law do not. He wrote:
"Because California law recognizes the formation of express and implied contracts with respect to ideas that are not novel or protected by copyright, a court is not necessarily required to ignore scènes à faire or preexisting ideas when analyzing substantial similarity. We conclude that similarities between Proof and God's Not Dead preclude us from finding no substantial similarity as a matter of law. The determination of whether the two works are substantially similar must be left for a jury to determine."
The case is Sullivan v. Pure Flix Entertainment LLC, B280305.
Thomas K. Richards of Singh, Singh & Trauben in Beverly Hills argued for the plaintiffs. The defendants were represented by Louis P. Petrich and Robert S. Gutierrez of Leopold, Petrich & Smith in Los Angeles.
Copyright 2018, Metropolitan News Company