Thursday, July 26, 2018
Page 1
Suge Knight's Killing of Businessman Wasn't Foreseeable—Court of Appeal
NBC Universal, Others, Not Liable Based on Lack of Duty to Man Who Was Run-Over by the Former Rap Mogul—Baker
By a MetNews Staff Writer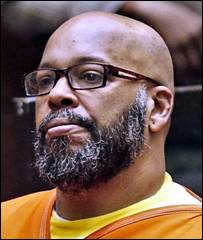 MARION 'SUGE' KNIGHT
Accused Murderer
The Court of Appeal for this district yesterday denied a bid by the widow and children of a man killed by former rap mogul Marion "Suge" Knight for reinstatement of their wrongful death action against NBC Universal LLC and others.
The plaintiffs are survivors of Terry Carter, a businessman who attempted to mediate a dispute between Knight—who is facing a Sept. 24 trial on a charge of murdering Carter—and Cle "Bone" Sloan, a security guard employed by producers of a movie, "Straight Outta Compton." After Sloan on Jan. 29, 2015, ordered Knight off the location where the film was being shot, Sloan and Knight met on the parking lot of Tam's Burgers, a nearby establishment.
Carter, a friend of Knight, was there to attempt to effect harmony. Knight ran down Carter and Sloan in his truck, with Sloan surviving.
Los Angeles Superior Court Judge Brian S. Currey sustained demurrers to an amended complaint without leave to amend further, and the family appealed from the subsequent judgment of dismissal. Div. Five affirmed in an unpublished opinion by Acting Presiding Justice Lamar Baker.
The defendants had no duty to Carter, he declared, based on lack of foreseeability of harm.
Appellate Brief Quoted
Baker pointed to allegations in the appellant's brief that:
"Respondents knew Defendants Sloan and Knight had violent tendencies toward each other";
"Respondents knew Defendants Sloan and Knight had a confrontation that same day";
"Respondents directed [Sloan] to 'confront' Defendant Knight 'immediately' at Tam's";
"Respondents directed Carter to attend the [Sloan] and Knight meeting."
The jurist wrote:
"In contrast to the license they take in describing these ostensible facts in their briefing, plaintiffs' operative complaint only vaguely alleges that 'ill will' existed between Sloan and Knight and that both men had violent pasts—it does not allege any history of violence between those two. Even assuming this sort of contention-phrased allegation in a complaint is cognizable…, it still is not enough to permit a judgment that it would be foreseeable that a third party like Knight would harm a mediator at a meeting—particularly one who was, as plaintiffs allege, 'well-respected' by the third party."
No Such Allegation
Baker also noted that there was no allegation in the complaint that Sloan was "directed" to attend the meeting at Tam's and that, in any event, what was foreseeable was a non-violent discussion. There having been no previous confrontations between Knight and Sloan, he added, there was no apparent need for security officers at the meeting.
In addition to suing for wrongful death, the plaintiffs alleged the negligent hiring of Sloan.
Baker said that "the theory that Sloan was an incompetent security guard because he failed to protect Carter from Knight at Tam's Burgers fails" being based on the false premise that Sloan was present for the purpose of protecting Carter.
"Sloan did not meet with Knight and Carter in his capacity as a security guard," the jurist said.
He continued that "even if plaintiffs' operative complaint can be taken to argue that defendants were negligent in dispatching Sloan to Tam's Burgers as a negotiator, the harm to Carter was not foreseeable."
The case is Carter v. NBC Universal, LLC, B278890.
Paul S. Zuckerman, Nicholas C. Rowley, and Keith Bruno of Carpenter, Zuckerman & Rowley, teamed with Daniel J. Rafii and Joseph Nazarian of Rafii & Associates in representing the plaintiffs.
Attorneys on appeal for NBC Universal LLC and co-defendants Andre Young and O'Shea Jackson Sr. were Marc S. Harris, David L. Burg and Alexander H. Cote of Scheper Kim & Harris. Acting for Defendant Pretty Bird Pictures, Inc. were Celeste M. Brecht, Eric J. Bakewell, and Sean P. Hanle of Venable; Douglas C. Emhoff of DLA Piper; and Vincent Cox of Leopold, Petrich & Smith.
Copyright 2018, Metropolitan News Company