Monday, October 29, 2018
Page 1
Court of Appeal:
Policy Covers Dip in Value of Property Caused by Insured
By a MetNews Staff Writer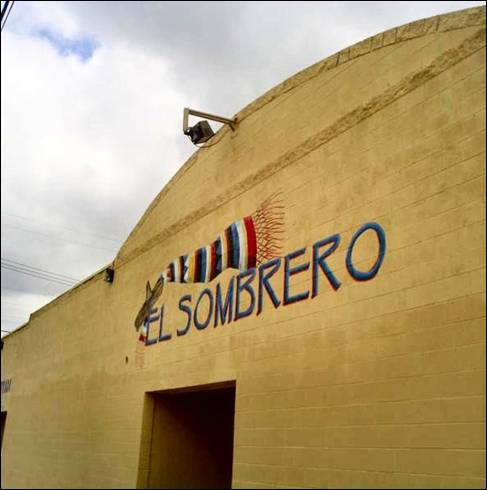 Pictured is a commercial structure in Colton, a small city located in San Bernardino County. The Fourth District Court of Appeal has held that the inability of the owners to lease the premises as a night club—by virtue of a city action, following the fatal shooting at a night club that had been operated there by a tenant—constitutes "property damage" under a policy issued to a security company that was hired by the tenant and whose negligence is said to be cause of the shooting. The opinion reverses summary judgment in favor of the insurer in an action by the judgment creditor of its insured.
An insurance policy covering "property damage" extends to diminution in the value of property caused by negligence of the insured, the Fourth District Court of Appeal has declared.
Thursday's opinion, by Presiding Justice Manuel A. Ramirez of Div. Two, reverses a summary judgment granted by San Bernardino Superior Court Judge Janet M. Frangie in favor of the defendant, Scottsdale Insurance Company. It was sued in 2015 by Thee Sombrero, Inc., which had obtained a 2012 default judgment against Scottsdale's insured, Crime Enforcement Services ("CES"), a security guard service, for $923,078, and wanted Scottsdale to pay that obligation.
Sombrero owns a commercial structure in the City of Colton, known as "El Sombrero." Its tenant had utilized the building as a night club and engaged CES's protection services.
In 2007, one patron fatally shot another, resulting in the city modifying Sombrero's conditional use permit ("CUP") so as to bar leasing it to a night club, but permitting use as a banquet hall, which was considerably less lucrative.
That, Sombrero asserted, was the fault of CES which had set up a separate "VIP entrance" which had no metal detector. The assailant had used that entrance.
Trial Court's Decision
In granting summary judgment in favor of the insurer, Frangie reasoned:
"Lost value is economic loss, but economic loss is not lost use of tangible property….Accordingly, the coverage in Scottsdale's policy for property damage does not extend to Sombrero's economic losses caused by Scottsdale's insureds."
In explaining the reversal, Ramirez pointed to the wording in CES's policy. It defined property damage as including not only physical damage to property but also "[l]oss of use of tangible property that is not physically injured."
Ramirez said:
"According to the allegations of Sombrero's complaint against CES, CES's negligence caused the revocation of the CUP, which caused Sombrero to lose the ability to use the property as a nightclub. The loss of the ability to use the property as a nightclub is, by definition, a 'loss of use' of 'tangible property.' It defies common sense to argue otherwise."
There is "some contrary authority," Ramirez noted, proceeding to discuss, at length, a case cited by Scottsdale, from the state of Washington, in which Scottsdale was a party. He concluded that the non-binding case was "ultimately unpersuasive," and, in any event, that his comments on it were dicta because it was factually distinguishable.
Jurist Elaborates
Ramirez declared that the "correct principle" is "not that economic losses, by definition, do not constitute property damage," and that "the correct principle is that losses that are exclusively economic, without any accompanying physical damage or loss of use of tangible property, do not constitute property damage."
He reasoned:
"Here…, Sombrero did suffer a loss of use of tangible property. Moreover, the diminution in value of the property was a proper measure of the damages from that loss of use. Thus, the mere fact that Sombrero was seeking to recover damages calculated on the basis of diminution in value falls short of showing that it was not seeking to hold CES liable for a loss of use of tangible property."
The case is Thee Sombrero, Inc. v. Scottsdale Ins. Co., 2018 S.O.S. 5179.
Downey practitioner Guinevere M. Malley represented Sombrero. Alan B. Yuter and Rachel E. Hobbs of the Los Angeles office of Selman Breitman acted for Scottsdale.
Copyright 2018, Metropolitan News Company