Tuesday, December 4, 2018
Page 1
Panel Reinstates Candidate's Action Over Barring His Party Preference From Ballot
Writing for the Majority, Judge Owens Says California Should Be Allowed To Show How Election Code Restriction Serves Its Interests
By a MetNews Staff Writer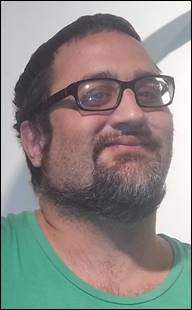 EMIDIO SOLTYSIK
Candidate, Socialist Party USA
The Ninth U.S. Circuit Court of Appeals yesterday reversed the dismissal with prejudice of a Socialist Party USA candidate's lawsuit challenging the state's law requiring him to appear on ballots with his preferred party as "None," holding that while preventing voter confusion is an important governmental interest, it is unclear how the rule against listing non-certified parties advances that goal.
The opinion was written by Circuit Judge John B. Owens. Circuit Judge Johnnie B. Rawlinson wrote a partial dissent.
The plaintiff, Socialist Party USA member Emidio "Mimi" Soltysik, ran for state assemblyman for 62nd district in 2014, receiving 2.5 percent of votes in the primary and coming in seventh in an eight-person race.
Pursuant to California law, Soltysik was required to list on his declaration of candidacy his party as it appeared on his voter registration form. However, because the Socialist Party USA does not fit the statutory definition of a qualified party, his name appeared alongside the phrase "Party Preference: None" on ballots.
Soltysik and another Socialist Party USA member, Jennifer McClellan (who did not appeal), sued California secretary of state and other government officials in their official capacities. Californians to Defend the Open Primary ("CALDOP"), a nonprofit group which advocates for the state's open primary system, intervened as a defendant.
Birotte's Ruling
District Court André Birotte Jr. of the Central District of California dismissed the case without leave to amend pursuant to Federal Rules of Procedure, rule 12(b)(6), the federal analogue of a demurrer. Birotte cited state's interests in protecting election fairness, preventing fraud, establishing qualifications for candidates, and preventing "sloganeering designations."
He found that the party-label rule was not a severe burden on a candidate, and that the state's interests were "sufficiently weighty to justify the slight burden that the party designation restrictions...place[d] on [Soltysik's] rights to association and equal protection."
Under Elections Code §338, a "party" is defined as one which has qualified for a primary election or presidential general election. Under Government Code §5100, a party qualifies for appearance on the ballot if it receives more than two percent of votes in a statewide election, or if "at least 0.33 percent of the total number of voters registered on the 154th day before the primary election have declared their preference for that party."
Dismissal Unwarranted
Owens declared:
"Without factual support at this early stage, the Secretary's arguments for the 'Party Preference: None' requirement do not warrant dismissal of Soltysik's claims. The Secretary and CADOP's primary purported justification for the statutes—avoiding voter confusion—is an important government interest….Yet we struggle to understand how this regime—which requires Soltysik, the National Male Co-Chair and California State Chair of the Socialist Party USA, to be listed as having no 'party preference'—advances that goal. Indeed, it seems self-evident that this regime has precisely the opposite consequence.
"Nor is it clear why less burdensome (and less misleading) alternatives would not accomplish the goal of reducing voter confusion or, as the Secretary and CADOP also assert, preventing candidates from disguising political slogans or commercial advertisements as party-preference labels or from circumventing California's ban on 'status designations.' "
He suggested that the ballots could have an asterisk by the "Party Preference: None" language explaining such designation's meaning, or simply allow the candidate to list his preferred party and note that such party is not a "party" under California law, either of which would better serve the purported goal.
Strict Scrutiny Rejected
In reaching his conclusion, Owens declined to apply strict scrutiny to the candidate's claims. He agreed with the state's argument that the burden imposed by the scheme was not severe.
Owens wrote:
"The statutes do not, for instance, bar Soltysik from office or the ballot altogether…; prohibit the Socialist Party USA or other minority parties from campaigning for Soltysik or endorsing him as a 'standard bearer who best represents the party's ideologies and preferences,'…; or suffocate 'core political speech' by, for instance, banning Soltysik from communicating his preference for the party's ideology or platform in the public square."
Yet, he noted, the burden "is more than 'slight,' warranting scrutiny that is neither strict nor wholly deferential. Most obviously, as applied to Soltysik and other candidates who prefer nonqualified parties, California's party-preference regime is potentially misleading….' "
Rawlinson's Dissent
Rawlinson maintained that Birotte properly dismissed the action. She wrote:
"[C]onsidering the fact that a ballot is a means of gathering votes rather than a means of communication, the State of California acted within its considerable discretion in requiring a modicum of voter support before listing a party on its ballots. Because any burden on associational rights was slight and the restriction was viewpoint neutral, I am persuaded that existing case authority overwhelmingly militates in favor of upholding the challenged provision."
She disagreed with the majority that the burden on Soltysik had been "less than severe, but more than slight," rejecting Owens's treatment of a 2013 case, Chamness v. Bowen, in which a different panel of the Ninth Circuit had found "No Party Preference" language to represent only a "slight" burden on speech.
The judge said:
"The majority's conclusion that the 'No Party Preference' listing imposes a 'serious' or 'more than slight' burden…is not only inconsistent with our determination in Chamness that this burden is 'slight,'…it also bumps heads with various other cases with similar facts describing comparable statutes as involving a 'slight' or 'minimal' burden."
Under those cases, she opined, the state's known regulatory interests were enough to uphold such a burden.
Owens responded:
"We note…that unlike this case, most of the decisions to which the dissent refers either arose from summary-judgment proceedings; held the burden on the plaintiff to be minimal as a matter of law and thus accorded the broadest deference to the government's asserted justifications for imposing that burden; or both."
The case is Soltysik v. Padilla, No. 16-55758.
Soltysik's Presidential Run
His 2014 bid for a state Assembly seat was not Soltysik's latest attempt at political office. In 2016, he garnered 2,704 votes as the Socialist Party USA's presidential candidate, although he only appeared on ballots in Colorado, Michigan, and Guam.
The Socialist Party USA currently holds a single elected position in the entire country; Patrick Noble, the current male co-chair of the party, is a school board member in Monmouth County, New Jersey. (The Socialist Party USA is led by one male and one female co-chair.)
The party's website states:
"THE SOCIALIST PARTY strives to establish a radical democracy that places people's lives under their own control—a non-racist, classless, feminist, socialist society in which people cooperate at work, at home, and in the community."
The California Secretary of State website lists the following (alphabetically) as qualified parties: the American Independent Party, the Democratic Party, the Green Party, the Libertarian Party, the Peace and Freedom Party, and the Republican Party.
Copyright 2018, Metropolitan News Company