Wednesday, December 5, 2018
Page 3
Ninth Circuit:
Law Against Encouraging Illegal Immigration Invalidated
Panel Holds It Violates First Amendment
By a MetNews Staff Writer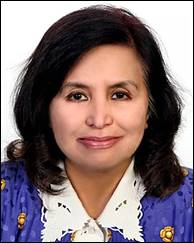 EVELYN SINENENG-SMITH
Former immigration consultant
The Ninth U.S. Circuit Court of Appeals yesterday struck down a portion of a federal penal statute that prohibits bringing persons into the United States illegally or causing them to remain here, holding that the law is overbroad and infringes on freedom of speech.
The opinion, written by Circuit Judge A. Wallace Tashima, reverses the convictions of defendant Evelyn Sineneng-Smith on two counts of violating 8 U.S.C. §1324(a)(1)(A)(iv). That provision declares that anyone who "encourages or induces an alien to come to, enter, or reside in the United States, knowing or in reckless disregard of the fact that such coming to, entry, or residence is or will be in violation of law" is guilty of a felony.
Sineneng-Smith operated an immigration consulting firm in San Jose which specialized in helping illegal immigrants from the Philippines obtain work permits and green cards. Between 2001-2008 she informed some of her clients that they were eligible for a program, "Labor Certification," that would enable them to begin the process; however, that program expired in 2001.
She has a law degree from San Jose's Lincoln University Law School but is not a member of the State Bar,
Jury Convicts
A jury found the woman guilty of three counts each of violating §1324(a)(1)(A)(iv) and of mail fraud; on the defendant's motion, Senior U.S. District Judge Ronald M. Whyte of the Northern District of California entered judgment of acquittal on one count of each crime, finding the evidence insufficient.
The convictions for unlawful inducement and encouragement also came under §1324(a)(1)(B)(i) which provides for a penalty not to exceed 10 years in prison when the violation was committed "for the purpose of commercial advantage or private financial gain…."
The Ninth Circuit entertained two rounds of oral argument and extensive briefing on the law's potential overbreadth, vagueness and mens rea component, and nine briefs were filed by amici curiae.
The parties focused on the words "encourages or induces." The defendant urged a broad reading of the terms, contending that they have their usual meanings and include great swaths of protected speech.
The government disagreed, arguing that the court should read the statute as prohibiting only conduct, not speech, or in any event not protected speech.
Court's Reading
"The government's interpretation of Subsection (iv) rewrites the statute," Tashima wrote, adding:
"[W]e interpret Subsection (iv) as follows: to violate the subsection, a defendant must knowingly encourage or induce a particular alien—or group of aliens—to come to, enter, or reside in the country, knowing or in reckless disregard of whether doing so would constitute a violation of the criminal or civil immigration laws. As properly construed, 'encourage or induce' can mean speech, or conduct, or both, and there is no substantiality or causation requirement."
He went on to say:
"It is apparent that Subsection (iv) is susceptible to regular application to constitutionally protected speech and that there is a realistic (and actual) danger that the statute will infringe upon recognized First Amendment protections. Some of the situations raised in the supplemental briefing and at oral argument demonstrate the improper scope of this statute.…
"We begin with an obvious example from one of the amicus briefs: 'a loving grandmother who urges her grandson to overstay his visa,' by telling him 'I encourage you to stay.' Nothing in Subsection (iv) would prevent the grandmother from facing felony charges for her statement….The government has not responded persuasively to this point; it simply argues that the grandmother would not be subject to criminal charges because her statement was 'not accompanied by assistance or other inducements.' However, as we have detailed above, Subsection (iv) does not contain an act or assistance requirement."
Tashima declared:
"Subsection (iv) criminalizes a substantial amount of protected expression in relation to the statute's narrow legitimate sweep; thus, we hold that it is unconstitutionally overbroad in violation of the First Amendment."
The case is U.S. v Sineneng-Smith, No. 15-10614.
Mail Fraud Convictions
On remand, Sineneng-Smith—who was previously given 18 months in prison and a $15,000 fine in addition to three years' supervised release—will be resentenced on the remaining convictions for mail fraud and tax fraud.
The convictions for mail fraud were affirmed in a concurrently filed memorandum opinion. Those conviction stemmed from sending through the U.S. mail retainer agreements to two persons whom she agreed to assist in obtaining legal permanent residency ("green cards") when she knew they were not eligible for that status.
The evidence, the opinion says, "is sufficient to support a finding that Sineneng-Smith intended to defraud her clients."
Sineneng-Smith, now 69, pled guilty on Jan. 12, 2015, to two counts of filing false tax returns for her immigration consultation business for 2002 and 2003.
In a Dec. 15, 2015 statement, the U.S. Immigration and Cistoms Enforcement said:
"According to the testimony of several victims, Sineneng-Smith not only failed to inform them that they were ineligible to obtain legal permanent residence under the updated laws, but also encouraged them to overstay their tourist visas so they could work illegally in residential healthcare facilities. Evidence showed Sineneng-Smith deposited more than $3.3 million in client payments from August 2004 through 2007."
Copyright 2018, Metropolitan News Company