Monday, January 8, 2018
Page 1
C.A. Affirms Judgment in Former Columnist's Lawsuit Against the Los Angeles Times
Appeals Panel Agrees With MacLaughlin's Granting of Judgment N.O.V. in Newspaper's Favor On Wrongful Discharge Claim and New Trial on Damages for Age, Disability Discrimination
By a MetNews Staff Writer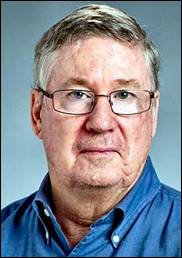 T.J. SIMERS
Former sports columnist
The Court of Appeal for this district on Friday affirmed Los Angeles Superior Court Judge William MacLaughlin's grant of judgment notwithstanding the verdict to the Los Angeles Times on former sports columnist T.J. Simers's action for constructive discharge and a new trial on damages for age and disability discrimination.
Simers, who went to work for the Times in 1990, on March 16, 2013, at the age of 62, suffered what he referred to in his column 10 days later as a "mini-stroke or whatever it was." Soon after that time, higher-ups at the newspaper began expressing dissatisfaction with his column.
 After being demoted from a columnist to a senior reporter on August 8, 2013, he left the Times and went to work for the Orange County Register—which, in light of financial ills, 10 months later paid him three months' severance pay in exchange for his resignation.
Simers claimed his employment was constructively terminated. A jury agreed and awarded him $2,137,391 in economic damages based on the loss of his $234,000-a-year job.
 It also awarded him $5 million in noneconomic damages based on the constructive termination and age and disability discrimination.
MacLaughlin's Action
On Jan. 4, 2016, MacLaughlin voided the award for constructive termination. Liability for that, he declared, requires that the employer created "intolerable" work conditions. He wrote:
"Under such a test, an employee who is demoted is not simply permitted to quit and sue because they do not like the new assignment. While it may be a difficult experience to be criticized and demoted, an employee's embarrassment and hurt feelings do not transform a resignation into a constructive discharge."
The former presiding judge declined to award the Times judgment N.O.V. on the discrimination claims but granted as a new trial on damages because it was impossible to discern what part the jury had based on the supposed constructive discharge.
Grimes' Opinion
MacLaughlin was affirmed Friday by Div. Eight. Justice Elizabeth Grimes was the author.
She recited the various circumstances which Simers contended had compelled him to leave—including his column being cut from three to two a week, being accused of being a "public embarrassment" to the Times, and being falsely accused of unethical conduct—and said:
"We conclude, as a matter of law, that none of these circumstances, alone or in combination, amount to working conditions that are either unusually aggravated or a continuous pattern of mistreatment. There is no evidence to support some of them. Others consist only of plaintiff's subjective reaction to standard employer disciplinary actions—criticism, investigation, demotion, performance plan—that, even if undertaken for reasons (plaintiff's age and disability) later found to include discrimination, are well within an employer's prerogative for running its business. Unless those standard tools are employed in an unusually aggravated manner or involve a pattern of continuous mistreatment, their use cannot constitute constructive discharge."
Times's Appeal
The Times appealed from the denial of its motion for judgment N.O.V. on the discrimination claims, asserting that Simers "did not experience an adverse employment action." Grimes responded:
"Defendant's claim depends on an insupportable characterization of both the facts and the law.
"First, defendant characterizes plaintiff's demotion from columnist to reporter as a 'proposed reassignment' and a 'temporary reassignment to senior reporter' that 'never took effect.' That is not what happened. On August 8, 2013, plaintiff was told, both orally and in a 'final written warning,' that he was no longer a columnist, 'effective immediately.'
"Second, there was ample evidence that the position of columnist was significantly different from and far more prestigious than that of reporter. As defendant necessarily concedes, a job reassignment may be an adverse employment action when it entails materially adverse consequences."
The case is Simers v. Los Angeles Times Communications, LLC, B269565.
Attorneys arguing on behalf of Simers were Carney R. Shegerian and Jill P. McDonell Shegerian & Associates. The Times was represented by David M. Axelrad and Scott P. Dixler of Horvitz & Levy; Emilio G. Gonzalez and Evelyn F. Wang of Davis Wright Tremaine; and Linda Miller Savitt and Elsa Bañuelos of Ballard Rosenberg Golper & Savitt.
Copyright 2018, Metropolitan News Company