Wednesday, October 3, 2018
Page 1
Court of Appeal:
Anti-SLAPP Motion Not Available In Action Over Non-Payment
Green Light Given to Continuation of Action by Screenwriter for Money Based on a Movie Having Been Inspired by His Concept
By a MetNews Staff Writer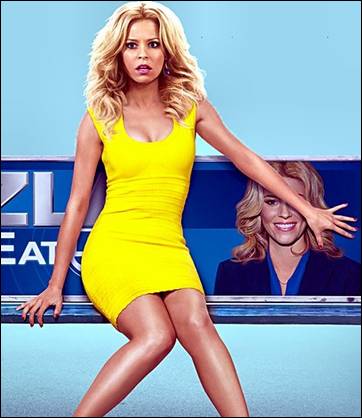 Actress Elizabeth Banks is seen in a promotional photograph in connection with the 2014 movie, "Walk of Shame." She is a defendant in an action by a writer alleging that his ideas were pirated by her and the movie's writer/director, Steven Brill. The Court of Appeal for this district on Monday affirmed the denial of Brill's anti-SLAPP motion.
The Court of Appeal for this district has held where a movie is produced that was allegedly inspired by a script that was submitted, and payment is not made for the contribution, the defendant cannot defeat an action for breach of an implied contract through an anti-SLAPP motion.
While the making of a movie entails protected speech, Justice Laurence D. Rubin of Div. Eight said in his unpublished opinion filed Monday, "[n]ot all conduct with some relation to speech is in furtherance of that speech" and "failing to pay for a script is not sufficient."
Rubin's opinion affirms determinations made by Los Angeles Superior Court Judge Ruth Ann Kwan in a case in which writer Dan Rosen maintains that he is entitled to screen credit and $500,000 in connection with a movie. (The action was actually brought by Shame On You Productions, Rosen's company, to which he had assigned his causes of action, but Rubin said that "for clarity, we continue to refer to the plaintiff as Rosen.")
Rosen's Allegations
According to allegations of Rosen's complaint, in 2006, he discussed with actress Elizabeth Banks the prospect of her starring in his romantic comedy, "Darci's Walk of Shame," leaving a copy of the script with her; in 2009, he peddled the script to producer Todd Garner and his company, Broken Road Productions, with which Steven Brill had a connection; in 2014, Banks starred in "Walk of Shame," with Brill listed as the writer and director.
The action was initially filed in the U.S. District Court for the Central District of California which, in 2015, determined that there was no copyright violation, a decision that was affirmed by the Ninth U.S. Circuit Court of Appeals two years later.
The District Court declined to exercise supplemental jurisdiction over Rosen's state-law claim under the California Supreme Court's 1956 decision in Desny v. Wilder, based on an implied contract, and the dispute moved to the Los Angeles Superior Court on April 13, 2016.
Desny Action
In Desny, the high court held that a screenwriter might be entitled to the value of his movie-concept which he shared it with the defendant. The movie in that case—defendant Billy Wilder's 1951 "Ace in the Hole," inspired by ill-fated 1920s cave explorer Floyd Collins—did not bear a resemblance to the plaintiff's treatment, but the court held that there could have been an implied contract for the purchase of an idea.
Justice B. Rey Schauer wrote:
"Generally speaking, ideas are as free as the air and as speech and the senses, and as potent or weak, interesting or drab, as the experiences, philosophies, vocabularies, and other variables of speaker and listener may combine to produce, to portray, or to comprehend. But there can be circumstances when neither air nor ideas may be acquired without cost.…It cannot be doubted that some ideas are of value to a producer."
Schauer said that "[i]f plaintiff has a literary composition it may be the subject of a property right and its use by defendants, if established, could entitle him to remedies."
Denial of Motion
Kwan denied an anti-SLAPP motion brought by Banks, Brill, and the production company, Lakeshore Entertainment Group, LLC, to the extent that Rosen was seeking damages, holding that a special motion to strike does not lie in an action under Desny. She granted the motion as it pertained to Rosen seeking screen credit.
The judge overruled demurrers filed by Banks and Brill, but sustained Lakeshore's demurrer on the ground that it had not been in privity with Rosen, so that no implied contract could have arisen.
Brill and Lakeshore appealed from the denial of their anti-SLAPP motion; Banks did not. Rosen cross-appealed based on the judgment of dismissal in favor of Lakeshore.
While Rosen sought, in his respondent's brief, to contest the partial granting of the anti-SLAPP motion, Rubin said he was foreclosed from doing so because he had not appealed that ruling.
Rubin's Opinion
Agreeing with Kwan's denial of the anti-SLAPP motion to the extent it related to a Desny claim, Rubin said:
"To be sure, movies are generally considered speech….But the question here is whether failing to pay was conduct in furtherance of the speech of the movie….Not paying Rosen for the script did not help to advance or assist the speech of the movie in any way. Defendants suggests in a footnote citing to no authority, that failure to pay for the script was in furtherance of speech because the failure to pay 'allowed the defendants to release and distribute a movie.' The argument is nonsensical; the release of the movie was not in any way impacted by whether defendants paid Rosen for his script. The facts of this case prove the point: the movie was released and Rosen was not paid. If he had been paid, the movie still would have been released."
He continued:
"Taken to its logical conclusion, defendants' argument would hold that a law firm's failure to pay its fax repair person would be conduct in furtherance of its right of petition because the fax was necessary to file papers in court. We conclude the 'furtherance' requirement cannot be stretched this far. The complaint does not arise from protected speech, and the court did not err in denying that portion of defendants' anti-SLAPP motion based on their failure to pay Rosen."
Dismissal of Lakeshore
Rejecting Rosen's contention that the action should be reinstated against Lakeshore, Rubin wrote:
"Lakeshore prevailed on demurrer on the basis that a Desny cause of action requires privity of contract between the parties. This it does….This is so because, in the absence of the alleged contract, there is no protected interest in the idea conveyed. Any person not a party to the contract is free to use the idea without restriction."
Rubin went on to say:
"The trial court concluded Rosen had failed to allege privity with Lakeshore. We agree. Rosen alleged that he separately submitted his script to Garner/Broken Road under circumstances which gave rise to an implied promise to pay by Garner/Broken Road if they used the script. But Garner/Broken Road did not use the script; according to Rosen's allegations, they instead sold his script to Lakeshore for $250,000. These allegations would support a Desny cause of action against Garner/Broken Road, but not Lakeshore. Rosen did not submit the script to Lakeshore and was not in direct contractual privity with Lakeshore. Moreover, even if the Desny implied-in-fact obligation to pay were assignable, the written contract attached to Rosen's complaint demonstrates that no such obligation was assigned to, or accepted by, Lakeshore."
The case is Shame on You Productions, Inc. v. Lakeshore Entertainment Group, LLC, B279896.
The plaintiff was represented on appeal by Charles M. Coate of Los Angeles. Stephen R. Mick and Devin J. Stone of Barnes & Thornburg LLP in Los Angeles were counsel for the defendants.
Copyright 2018, Metropolitan News Company