Thursday, May 10, 2018
Page 1
Ninth Circuit Reaffirms Decision Reinstating Action Over False Advertising of Wipes
Says Woman May Sue Under California Law to Block Future Claims That Products Of Kimberly-Clark Such as Scott Wipes Are Not 'Flushable' as Represented
By a MetNews Staff Writer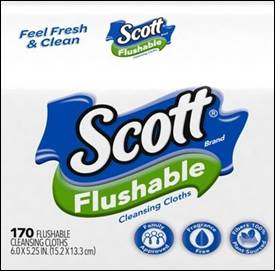 —AP
The Ninth U.S. Circuit Court of Appeals yesterday gave a green light—for the second time—to a lawsuit challenging claims by Kimberly-Clark that four of its products are fit for flushing.
A panel of the Ninth U.S. Circuit Court of Appeals determined yesterday, in an amended opinion, that it got it right last year when it reinstated a dismissed lawsuit against Kimberly-Clark for falsely advertising four of its cleansing wipes as "flushable."
Consumer Jennifer Davidson said in her complaint that she purchased one of the wipes—Scott Wipes—paying a higher price for the product thinking the wipes were "flushable," as advertised, but found they weren't. The defendant also manufactures Cottonelle Wipes, Huggies Wipes, and Kotex Wipes, which are also targeted by the action.
Davidson alleges that "[u]nlike truly flushable products, such as toilet paper, which disperse and disintegrate within seconds or minutes," Kimberly-Clark's wipes "take hours to break down" creating a risk of damage to home plumbing systems, septic tanks, and municipal wastewater treatment facilities.
Prospective Relief Sought
In her state-court action, removed to federal court based on diversity, Davidson sought an order barring future false advertising of the wipes, as well as seeking restitution. She sued under California's Consumer Legal Remedies Act, False Advertising Law, and Unfair Competition Law, based on alleged fraud.
Chief Judge Phyllis J. Hamilton of the Northern District of California dismissed the action on Dec. 19, 2014, saying that the first amended complaint "fails to state a claim for relief that is plausible on its face." She wrote:
"Plaintiffs failure to plead facts showing why the designation 'flushable' is false as applied to the Kimberly-Clark products at issue means that the complaint must be dismissed….She essentially alleges that using the designation 'flushable' is false because the wipes are not flushable—in other words, saying that the wipes are 'flushable' is false because it is not true. That is simply a circular argument, not an explanation of why the designation is false."
A panel of the Ninth Circuit on Oct. 20, 2017 reversed.
Rehearing En Banc
The Chamber of Commerce of the United States of America, the National Association of Manufacturers, and the Grocery Manufacturers Association, as amici, urged a rehearing en banc, arguing:
"The panel's decision extends standing to consumers who allege that they were deceived in the past by a false label—and who do not currently buy the defendant's product—to seek a prospective injunction against false advertising. The panel's theory for imminent prospective injury is that such consumers may want to buy the defendant's products in the future but will not trust their advertising. Adopting such an expansive theory of standing would not only exceed the constitutional role of the federal courts, but would also encourage abusive-lawyer-driven litigation in which plaintiffs' lawyers pursue meritless claims in the hope that the costs and risks of litigation will drive businesses to settle."
An order was filed yesterday indicating that no judge had voted to rehear the case en banc.
California Law Applied
Sticking with the original ruling, Circuit Judge Mary H. Murguia said in yesterday's amended opinion:
"Under California's consumer protection laws, a consumer who pays extra for a falsely labeled or advertised product may recover the premium she paid for that product. California law also permits that consumer to seek a court order requiring the manufacturer of the product to halt its false advertising. California has decided that its consumers have a right, while shopping in a store selling consumer goods, to rely upon the statements made on a product's packaging. Today, we hold that misled consumers may properly allege a threat of imminent or actual harm sufficient to confer standing to seek injunctive relief. A consumer's inability to rely on a representation made on a package, evenif the consumer knows or believes the same representation was false in the past, is an ongoing injury that may justify an order barring the false advertising."
The judge said that "since Davidson alleged a cognizable legal theory, dismissal was not appropriate in this case."
Hamilton erred in faulting the complaint for not alleging harm to the plaintiff, Murguia said, explaining:
"Under California law. the economic injury of paying a premium for a falsely advertised product is sufficient harm to maintain a cause of action."
While Hamilton held that Davidson had no standing to seek injunctive relief because she had no inclination to purchase the defendant's wipes in the future, Murguia saw it differently, declaring:
"We hold that Davidson properly alleged that she faces a threat of imminent or actual harm by not being able to rely on Kimberly-Clark's labels in the future, and that this harm is sufficient to confer standing to seek injunctive relief."
Judge Marsha Berzon wrote a concurring opinion.
The case is Davidson v. Kimberly-Clark Corp., No. 15-16173.
Copyright 2018, Metropolitan News Company