Monday, October 29, 2018
Page 3
Ninth Circuit Affirms Dismissal of Action Challenging Election of President Trump
By a MetNews Staff Writer
The Ninth U.S. Circuit Court of Appeals on Friday affirmed the dismissal of an action by a man living in La Jolla, who is licensed to practice law in New York, claiming that Donald Trump was invalidly elected president by the Electoral College and that former Secretary of State Hillary Clinton, who led in the popular vote in 2016, is entitled to the office
On Jan. 19, 2017, Frederic Charles Schultz filed in the U.S. District Court for the Southern District of California a "Complaint for Declaratory and Injunctive Relief to Prevent Irreparable Violation of the Guaranty of Equal Protection of the Laws Under the Fifth and Fourteenth Amendments and of the Principle of 'One Person, One Vote.' "
In the complaint, Schultz said:
"Defendants, Chief .Justice of the United States John G. ROBERTS, Jr. and Donald J. TRUMP, 'President-Elect' of the United states, are scheduled on Friday Jan. 20th at 12:00 P.M. E.S.T. to respectively administer and take the presidential oath of office for Mr. TRUMP to become president of the United States of America, AS opposed to Sec. Hillary Clinton, who the people elected."
The pleading continues:
"Unless this Court issues the relief sought herein, Mr. TRUMP will become president in violation of the guaranty of SCHULTZ's rights to equal protection of the laws under the Fifth Amendment of the United States Constitution."
Clinton received 48.2 percent of the popular vote and Trump garnered 46.1 percent.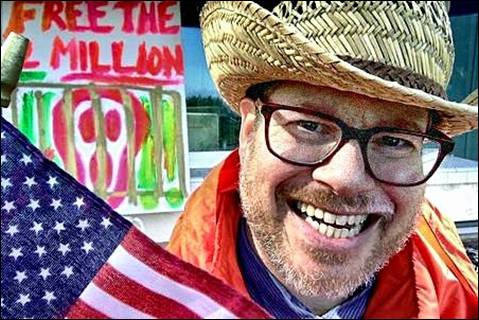 FREDERIC C. SCHULTZ
Litigant
District Court's View
On Oct. 10, 207, Judge William Q. Hayes granted the motion of Trump and Roberts for a dismissal with prejudice. He wrote:
"Schwartz claims that Donald Trump's assumption of the presidency pursuant to the 2016 election and his continued occupation of that office violate Ins constitutional right to equal protection of the law….Specifically. Schwartz contends that the Electoral College system under which President Trump was elected violates the 'one person, one vote' principle….Defendants contend that the Constitution, particularly the Twelfth Amendment, 'sanctions the Electoral College system.'…
"The Electoral College system is specifically provided for by the Twelfth Amendment….Schwartz does not allege any facts to support his claim that the Electoral College system violates his constitutional right to equal protection. Any proposed amendment to Schwartz's claim would be futile, as his complaint is based solely on the unconstitutionality of the Electoral College system."
A Ninth Circuit three-judge panel said in Friday's memorandum opinion:
"The district court properly dismissed Schultz's action because Schultz failed to allege facts sufficient to state a plausible constitutional claim arising from the election of President Trump by the electoral college. See U.S. Const, amend. XII…."
The case is Schultz v. Roberts, No. 17-56852.
Campaign Website
Schultz has, himself, run for president. On his 2016 campaign website, he says:
"I AM A PRACTICING ATTORNEY, ABOLITIONIST/HUMAN RIGHTS ACTIVIST, ENTREPRENEUR, ARTIST+ MUSICIAN AND PHILANTHROPIST. I HAVE ALREADY RUN FOR PRESIDENT TWICE BEFORE, IN 2004 AND 2012, ON A PLATFORM OF LIBERTY! A MODERN ABOLITIONIST, I AM A GRADUATE OF COLUMBIA COLLEGE (WHERE PRESIDENT OBAMA WENT!) AND GEORGETOWN LAW, AND A HARRY S TRUMAN SCHOLAR (THE AMERICAN EQUIVALENT OF THE BRITISH RHODES SCHOLARSHIP) , AWARDED BY CONGRESS TO ENCOURAGE PUBLIC SERVICE, FOR MY WORK TO END HOMELESSNESS OF MILLIONS OF AMERICANS) WHICH I USED TO WRITE MODEL STATE LEGISLATION TO HOUSE THEM, WHICH WAS INTRODUCED ACROSS THE NATION."
The website of the New York Office of Court Administration confirms that Schultz received a law degree from Georgetown. However, in applying for a waiver of a filing fee in connection with his appeal, Shults responding to a question as to "Your Years of Schooling" by saying: "0."
On Jan. 5, Hayes signed an order saying:
"After considering Plaintiff's motion, affidavit, and supplement to his affidavit, the Court determines that Plaintiff cannot afford to pay the filing fee in this case and is eligible to proceed in forma pauperis….The Court does not conclude that Plaintiff's appeal is not taken in good faith."
Though billing himself on his website as an "entrepreneur" and "philanthropist," Hayes claimed in his application for a fee waiver to be self-employed, receiving gross pay of $50 a month, and having net assets of $400.
Copyright 2018, Metropolitan News Company