Thursday, January 25, 2018
Page 1
Saladino Loses Bid for Reinstatement as County Counsel
By a MetNews Staff Writer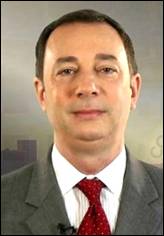 MARK SALDINO
Former County Counsel
Mark Saladino has lost his bid to regain the post of Los Angeles county counsel, with summary judgment being granted in favor of the County of Los Angeles County and the four members of the Board of Supervisors who in June, 2015 voted to oust him after nine months in office.
Los Angeles Superior Court Judge Joanne O'Donnell ruled on Tuesday that Saladino cannot skirt the "transfer agreement" he signed in which he was given a management role in the Department of Treasurer and Tax Collector. He had headed that office prior to his September 2014 appointment as county counsel.
The board voted, in closed session on June 9, 2015, to fire him. He signed an agreement the following day under which it was set forth that he was voluntarily requesting a return to his old department, and was waiving any causes of action in connection with the transfer.
He issued a press release saying the move was in accord with his desire.
Coersion Not Shown
O'Donnell found no support for Saladino's stance that he was pressured into signing the agreement. She wrote:
"Plaintiff was not threatened and admits he thought the Transfer Agreement 'was the best deal I could probably get.'…Plaintiff had a reasonable alternative; he could have refused to sign the release and elected to seek a different position and preserve his claims….Plaintiff admits that he insisted on obtaining a new position that day before he left the building and Plaintiff admits signing the Transfer Agreement to be paid enough to 'maintain my style of living.'
She continued:
"Plaintiff is an attorney with significant experience negotiating and executing agreements and is a highly sophisticated party. Plaintiff admits he was not subjected to any physical force, shouting, or insults and that the negotiation of the Transfer Agreement was 'businesslike' and 'respectful.'…Further, Plaintiff accepted the benefits of the Transfer Agreement and thus cannot now attempt to repudiate the contract under a claim of duress."
Retaliation Claimed
Saladino contended he was discharged based on retaliation for complaining about illegal conduct by the supervisors. O'Donnell responded that he "was not discharged, either actually or constructively" because it was agreed he was requesting and receiving a transfer.
The judge held that Saladino had knowledge of his various causes of action, including emotional distress, at the time he waived them. With respect to that particular cause of action, she said:
"It is undisputed that the alleged misconduct Plaintiff attributes to the County constituted actions that are a normal part of the employment relationship, such as transfer/demotion. Plaintiff fails to identify a triable issue otherwise."
She noted that Saladino "does not present evidence of any outrageous or extreme conduct" that would remove the alleged injury from the workers' compensation scheme.
O'Donnell also granted summary judgment to Supervisors Mark Ridley-Thomas, Sheila Kuehl, and Hilda L. Solis and former Supervisor Michael D. Antonovich in the action against them for emotional distress, again pointing to the lack of outrageous or extreme conduct, and the provision of the Workers Compensation Act.
Outside counsel for the county, Skip Miller of Miller Barondess, LLP, commented:
"What happened here is that the Board of Supervisors lost confidence in Mr. Saladino and decided to remove him as County Counsel. That is a client's right."
He termed the lawsuit "sour grapes."
Copyright 2018, Metropolitan News Company