Friday, November 23, 2018
Page 1
Ninth Circuit:
Action Properly Dismissed Based on Triviality of Claims
Lawyers Who Sought Fees in Putative Class Action Fail to Convince Circuit Judges That Recipient of Fax Containing One Line of Promotional Matter Was Harmed
By a MetNews Staff Writer
Two members of a Chicago law firm and a Chula Vista sole practitioner have failed to persuade the Ninth U.S. Circuit Court of Appeals to reinstate their client's putative class action which a District Court judge axed because the supposedly wrongful conduct was too trivial to afford standing to sue.
The lawyers represented Supply Pro Sorbents, LLC, a Houston company that sued RingCentral, Inc.—a company operating a cloud-based service through which customers can transmit faxes via their computers— because it received a fax containing a one-line promotion for the defendant's service on the bottom of the cover sheet.
Although the customer had a choice of cover sheets with varying configurations, each bore this message at the bottom: "Send and receive faxes with RingCentral, www.ringcentral.com" along stylized type reading, "RingCentral®."
Alleged Harm
The first amended complaint—the pleading before District Court Judge Jeffrey S. White of the Northern District of California when he dismissed the action without leave to amend—declares that an "unsolicited fax advertisement" such as that on the cover sheet "damages its recipients," explaining:
"In the instant case. Plaintiff lost the use of his fax machine for the increased amount of transmission time necessary to transmit the extra content Defendant added to its users message because Plaintiffs telephone fax line was tied up during the period. Tying up telephone fax lines prevents fax machines from receiving authorized faxes, prevents their use for authorized outgoing faxes, and causes unwanted wear and tear on the recipients fax machine, both internally and externally."
It continues:
"Plaintiff also lost ink toner that was used to print Defendant's unsolicited advertisement content. Plaintiffs fax machine also incurred additional wear and tear in receiving and printing Defendants added advertising content. Plaintiffs employee time was wasted reading the advertisement, as it required additional labor to attempt to discern the source and purpose of the unsolicited advertising message Defendant added to its users fax. Finally, Defendants added advertising content invaded Plaintiffs privacy interest in exclusion; an interest to be left alone so Plaintiff could conduct its business free of unlawful advertising."
This, the amended complaint alleges, violated the federal Telephone Consumer Protection Act ("TCPA") because the one-line promotion constituted an unsolicited advertisement, and also amounted to a "conversion" of the plaintiff's fax machine. It seeks certification of a class, statutory damages of $500 for each violation of the TCPA, injunctive relief, and other relief, including the award of attorney fees.
District Court's Decision
The single promotional line, White held, is merely an "incidental advertisement," not a "prohibited communication," but even if it were in violation of the TCPA, the breach would not give rise to liability. He said that in order for a plaintiff to have standing, under Article III, there must be a "particularized injury" to that plaintiff.
He said in his July 17, 2017 order dismissing the action without leave to amend:
"[T]he Court finds that the doctrine of de minimis non curat lex ["the law does not concern itself with trifles]" contradicts Plaintiff's contention that the harm is sufficiently particularized."
With respect to the cause of action for conversion, White said:
"The Court finds that Plaintiff does not sufficiently allege that Defendant intentionally exercised dominion or control over Plaintiff's fax machine or that Defendant so seriously interfered with the right of Plaintiff to control its fax machine."
Ninth Circuit's Affirmance
The Ninth Circuit affirmed in a memorandum opinion by Senior Circuit Judge Michael Daly Hawkins, Circuit Judge Susan P. Graber, and, sitting by designation, Fourth Circuit Judge Stephanie Dawn Thacker.
The opinion says:
"The district court determined that Sorbents' injury, if any, did not confer Article III standing because it was de minimis. On appeal, Sorbents argues that receiving any unsolicited advertisement by fax is sufficient to establish standing under the TCPA without any additional showing. But, even if Sorbents had standing, its statutory claims fail because the Identifier is not an 'unsolicited advertisement.' "
Agreeing with White, the panel said it is an "incidental advertisement," not banned by the TCPA.
"Sorbents' conversion claim also fails," the opinion declares. "RingCentral neither intentionally nor actually controlled Sorbents' fax machine because RingCentral's customers, rather than RingCentral itself, chose to send the fax containing the Identifier."
It adds:
"Moreover, the damages claimed by Sorbents—the resources used to print the Identifier—are too minimal to support a claim for conversion under the doctrine of de minimis non curat lex."
White applied California law. A footnote indicates that the panel saw no need to decide whether the law of California, where RingCentral is domiciled, or Texas, Sorbents's home state, governs.
"…Sorbents' claim would fail under the law of either state," it says. "In both states, a defendant commits conversion by intentionally controlling a plaintiffs property…, and both states recognize the doctrine of de minimis non curat lex…."
The case is Supply Pro Sorbents, LLC v. RingCentral, Inc., 17-16528.
Representing Sorbents at both the trial and appellate level were Phillip A. Bock and David Max Oppenheim of the Chicago firm of Bock, Hatch, Lewis & Oppenheim, LLC, along with La Jolla attorney Denise Diaz.
Mary Ann Leonardi Wymore, a member of the State Bar of California now working at Greensfelder Hemker & Gale in St. Louis, acted for RingCentral at both levels. She was joined in the appeal by Clement S. Roberts and Brian Philip Goldman of the San Francisco law firm of Orrick and by Raghav Krishnapriyan of Durie Tangri LLP, also based in San Francisco.
Wymore commented Wednesday:
"RingCentral is very happy with the result, which helps to bring much needed clarity to the question of what constitutes an unsolicited advertisement under the TCPA. Courts and the FCC have struggled with this question, resulting in inconsistent decisions."
She added:
"We anticipate further clarity on this issue when the United States Supreme Court issues its opinion in the PDR Network case, which the Court recently accepted for review. We anticipate the focus in PDR Network will be on the key issues of what constitutes an 'advertisement' under the TCPA, and how much deference courts should afford the FCC on the issue."
Bock did not respond to a request for comment.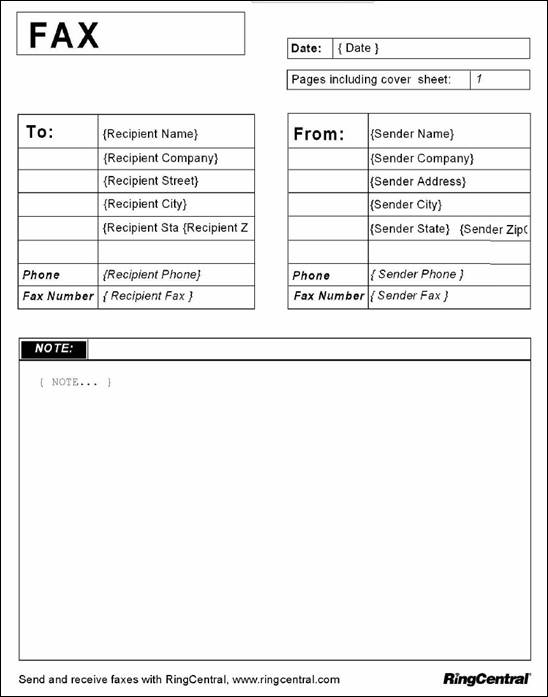 Above is a RingCentral fax cover sheet which a customer could fill in. The Ninth U.S. Court of Appeals on Tuesday affirmed dismissal of a putative class action contending the promotional message at the bottom violates the Telephone Consumer Protection Act and causes a conversion of the recipient's fax machine.
Copyright 2018, Metropolitan News Company