Monday, November 19, 2018
Page 1
Ninth Circuit Affirms $2,500 Sanction on Lawyer For Disobeying Orders in Tobacco Case
$250 Penalty, Imposed on Him in Another Case, Was Upheld Last Year
By a MetNews Staff Writer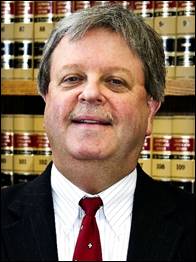 GILBERT L. PURCELL
personal injury attorney
The Ninth U.S. Circuit Court of Appeal on Friday affirmed the imposition of a $1,500 sanction on an attorney who repeatedly defied a judge's order in a case seeking to affix liability on two tobacco companies for the plaintiff's lung cancer not to elicit testimony regarding other diseases and seeking to introduce other inadmissible evidence.
For personal injury attorney Gilbert L. Purcell of the Novato law firm of Brayton Purcell LLP, it is the second affirmance within the past 15 months of a sanction imposed on him by a district court. On Aug. 21, 2017, the Ninth Circuit upheld a $250 sanction for bad-faith trial tactics in an asbestos-exposure case.
In the present case, Purcell unsuccessfully sought damages from Philip Morris USA Inc. and R.J. Reynolds Tobacco Co. on behalf of plaintiff Nikki Pooshs. The case started in 2004 and ended with a defense verdict by a jury on Feb. 8, 2016, with a detour to the California Supreme Court for an answer to a question certified to it.
On March 7, 2016, District Court Judge Phyllis J. Hamilton of the Northern District of California imposed the $2,500 sanction which the Ninth Circuit affirmed, rejecting Purcell's contention that he had been denied due process because no evidentiary hearing was held.
Hamilton's Ruling
Hamilton, in her order, recited that Purcell was resistant to restrictions she laid down and had to issue the same orders eight times. She wrote:
"The fact that the court was compelled to issue the same pretrial rulings over and over again was unprecedented in the undersigned's many years of experience on the bench. More disturbing, however, was the continued effort of plaintiffs counsel Gilbert L. Purcell throughout the trial to seek to elicit testimony or to introduce evidence that clearly violated those rulings."
She quoted a portion of the transcript reflecting this admonishment:
"I will advise you, Mr. Purcell, that after the trial has concluded, there will be sanctions. You've continually violated this court's orders repeatedly. And I am now persuaded that all of the violations you've committed over the last few weeks have been intentional, deliberate, and you will be sanctioned monetarily, and I'm going to refer you to the State Bar."
Other warnings were also mentioned.
Memorandum Opinion
A three-judge panel said in Friday's memorandum opinion:
"Due process required that Appellant receive the following before the district court imposed a monetary sanction against him: 1) notice of the grounds for the sanction and the potential type of sanctions that may be imposed; and 2) an opportunity to be heard….The district court repeatedly warned Appellant during the trial that he was violating prior district court orders. Appellant had ample opportunity to stop violating the orders, but chose not to do so. In addition. Appellant was verbally warned during the trial that his continued violations would result in sanctions, specifically, that his continued violations would result in monetary sanctions and a referral to the state bar association.
"Although the court did not hold a hearing before it imposed sanctions against Appellant, the court was not required to hold one….Appellant had ample time to brief the sanctions issue before the district court filed the Sanctions Order, but chose not to do so. Approximately one month elapsed between the district court's verbal warning about the imposition of sanctions and the filing of the Sanctions Order. Thus, Appellant had a sufficient opportunity to be heard."
The panel was comprised of Chief Judge Sidney R. Thomas, Circuit Judge Susan P. Graber, and District Court Judge Leslie E. Kobayashi of the District of Hawaii, sitting by designation.
The previous sanction was imposed on May 26, 2015, by District Court Judge Vince Chhabria of the Northern District of California based on Purcell telling him he would not call a particular witness and, the next day, doing say. Purcell's explanation was that he had said he would not call a different expert witness, and didn't.
Chhabria wrote:
"There are two possible explanations for Mr. Purcell's conduct. The first is incompetence. The second is that Mr. Purcell was attempting to sneak this testimony from Dr. Horn into the trial, notwithstanding Mr. Purcell's prior statements, made in open court, unequivocally denying that Dr. Horn would testify on this topic and conceding that Dr. Horn did not disclose an opinion on this matter in his report. In his response to the Court's order requiring him to explain his conduct, Mr. Purcell has disclaimed the former explanation. Accordingly, the Court finds that Mr. Purcell acted in bad faith, and he is sanctioned $250 for this misconduct."
The Ninth Circuit, in a brief memorandum opinion, found no error.
Purcell received the "Trial Lawyer of the Year Award" from the Marin County Trial Lawyers Association in 2014 and from the San Francisco Trial Lawyers Association in 2015 and was given Pepperdine University School of Law's "Distinguished Alumni Award" in 2013.
No State Bar discipline has been imposed on him and no proceedings are pending.
Copyright 2018, Metropolitan News Company