Friday, January 12, 2018
Page 2
PERSONALITY PROFILE:
SUSAN WESTERBERG PRAGER
Lawyer, Educator, Administrator Leads Southwestern
Was Dean of UCLA Law School for 14 Years, Has Held Other Trailblazing Roles
By SHERRI OKAMOTO
usan Westerberg Prager has never been a stranger to hard work. Southwestern Law School's 11th dean—who is also its chief executive officer—is known for her packed schedule and long hours.
She has also been a trailblazer among women, being the first female to lead Southwestern, as well as UCLA Law School and Occidental College. And on top of it all, she is "mom" to two beautiful daughters.
Through it all, Prager admits, maintaining a work-life balance "was hard," just as "it is stressful and challenging for everyone."
Prager says the best advice she ever got was from her mother-in-law, now deceased, who told her to "just take it one day at a time." And she did, with the support of her husband, Los Angeles attorney James M. Prager.
"If I needed to be somewhere at night, Jim would be at home," Prager explains.
That meant that when the girls were young, she was often flying solo at events. Prager jokes that she suspected people thought her husband "was a myth," since they were so rarely together in public.
It was difficult, she says, but they were able to make the best of their situation. Prager said she often worried that she didn't spend much time with her children, but she learned when "in those periods of precious time with them, to really focus on them," and make the most of the moment.
She also resorted to some slightly unconventional tactics to have time with her children, recruiting her daughter to be a member of her staff at the age of 11, and having her family accompany her on business trips.
Farm Girl
Prager was born Susan Ann Westerberg on Dec. 14, 1942, the eldest child of Perce and Aileen Westerberg. She grew up on a family farm in Sloughouse, in Sacramento County, with her brothers—a set of identical twins two years her junior.
The main crop for the family was hops, and Prager spent her summers helping with the harvest. Prager recalls the work as "very intense" since hops need to be harvested in a 20-day period. She says her work ethic derives from this experience.
Prager attended Elk Grove High School, then went on to Stanford University, which was her father's alma mater.
Intern in Washington
She relates that her love of American politics led to her decision to became a history major. The "Stanford in Washington" program was launched in the summer of 1963, and Prager was among the first group of interns who went to the capital. The program continues to operate today.
Prager interned for California's senior U.S. senator and minority whip, Thomas Kuchel, and the internship led to a job offer after graduation. Prager also served as a staff member for U.S. Rep. Pete McCloskey, R-Calif., and California Assemblyman John Veneman, R-Modesto, before she headed off to law school at UCLA in 1968.
Prager had been working toward a doctorate degree in history from Stanford, but she altered her course upon learning "how difficult it would be for a woman to get an academic job in history." Job openings for history professorships were fairly rare to begin with, she says, and there were no female history professors back then.
Law School
She recalls that she had always had an interest in law school, "deep down," although it was still "very unusual" for women to attend.
The dean had seen one of her female classmates at Stanford go on to law school right after graduation (and Jean Eberhart Dubofsky eventually went on to become the first female justice on the Colorado Supreme Court), but when she mentioned the idea, people would ask her, "Why do you want to take a man's place in law school?" She says she was also told she "would never use the degree," since the common assumption was that women would leave the workforce after getting married.
But Prager says her father "really encouraged me to not listen to what people thought, and he told me, 'If you want to go to law school, you should go to law school.'"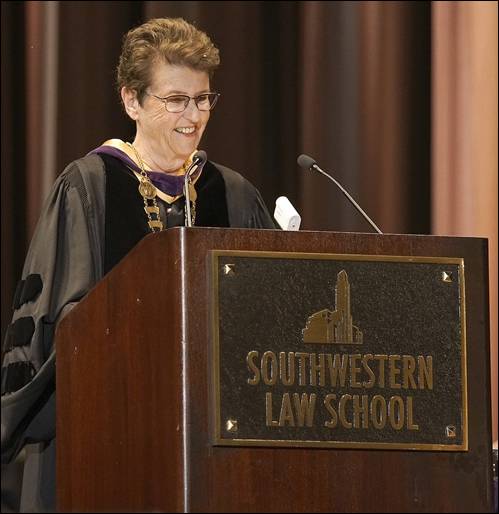 Southwestern Law School Dean/CEO Susan Prager is seen at 2017 commencement.
Successfully applying to UCLA, she became one of 33 women in a class of 330. Even though women were only a tenth of the incoming class, Prager notes, that was "a lot, compared to earlier times." She says she later heard that the school admitted every qualified woman who applied, because it was the first year that graduate students were being drafted for the Vietnam War, and the school was concerned that it would have empty classrooms unless more women were allowed in.
The school was also trying to achieve greater racial diversity, Prager says, so the class had a larger proportion of traditionally under-represented ethnic groups than in prior years.
These two factors "really contributed to classroom discussions and the types of issues raised." Prager observes.
Looking back, she says, her first year of law school was "a really important time in my own development," recalling that she loved the "interactive method of teaching, the way it was fed by thinking, and how I was being provoked."
First Teaching Experience
But it was during her second year that she found her calling. Prager was preparing a law review comment for publication about the then-new no-fault divorce law when a faculty member asked her to teach a family law class on the subject. Once she got her first taste of teaching, Prager says, she was hooked.
Asked to teach a class on the same topic the following school year, she remembers the experience "wasn't the same" because this time around, the students had different questions.
Teaching was so "exciting and unpredictable," Prager says, she was determined to make it her career. But how? At that time, she points out, "most law schools had still never hired a single female faculty member."
Prager went into private practice in North Carolina after graduation, but she says she "never wavered" in her goal of becoming a professor. She only spent a year practicing law before she received offers of teaching positions with Northwestern, the University of Michigan, and UCLA.
Returns to California
Returning to California, she joined the UCLA faculty in 1972, and Dean William D. Warren tapped her to become associate dean eight years later.
Warren "did so much to teach me about the school and his thinking about the issues that were important, as well as his personal philosophy of being in the job," Prager says. Were it not for him, she remarks, "I don't think the faculty would have thought of me as the future dean."
Prager actually hadn't thought of herself as a future dean either, she brings to mind. When Warren said he was planning to retire, Prager spent the day "trying to talk him out of it," she recounts. Then she went home and told her husband she wasn't sure what Warren's departure would mean for her.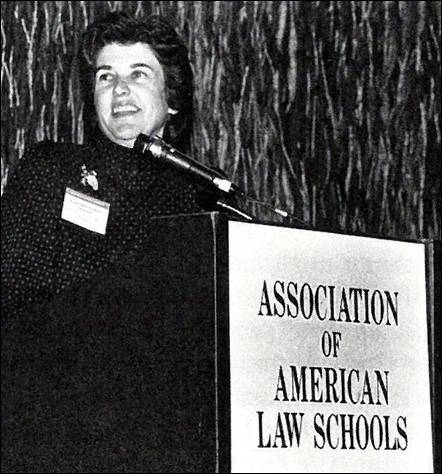 Prager is seen addressing the Association of American Law Schools of which she was executive director.
Husband's Encouragement
She says Jim Prager "didn't even take a breath" before telling her that she should pursue the position.
"My mind was not there, but his was, and that made all the difference," Prager says.
The faculty also backed Prager as Warren's successor, and 39-year old Prager became the head of UCLA's law school in 1982. At the time, there was only one other female law school dean in the nation.
Prager was also the first UCLA law school graduate to ever become dean, and the first female law dean in the University of California system.
She says "it was exciting, and it was scary."
"It was important to be able to prove that this could be done," Prager reflects, but at the same time, she wanted "to prove that it wasn't a big deal" for a woman to be running a major academic institution, so that others might seek out leadership roles too.
Steps Down
Prager served the longest tenure of any law dean in UCLA history. But, Prager says she didn't think it was good for the school to have a "dean for life," and that's why she decided to step down in 1998.
She had planned to remain at UCLA as a professor, but the day she began moving out of the dean's office, she got a call from Dartmouth College.
Dartmouth was looking for a new provost, and Prager accepted the position. She later became the president of Occidental College.
In 2008, Prager rejoined the legal community as the executive director and chief executive officer of the Association of American Law Schools. After five years with AALS, Prager became dean of Southwestern.
She says she was drawn to the school because she loves Los Angeles, and Southwestern is one of the city's oldest educational institutions.
'Place of Opportunity'
From its founding in 1911, Prager advises, the school has always been "a place of opportunity," especially for students who "didn't follow the typical path to law school." She appreciated the fact that the school offers multiple programs that make it possible for students with families and jobs to be able to attend classes.
"The icing on the cake is that I get to walk into the Bullock's Wilshire Building every day," she says. The school has performed "the most beautiful restoration" on the historic art deco structure, and for a self-described "historic preservationist," she remarks, it is an idyllic workplace.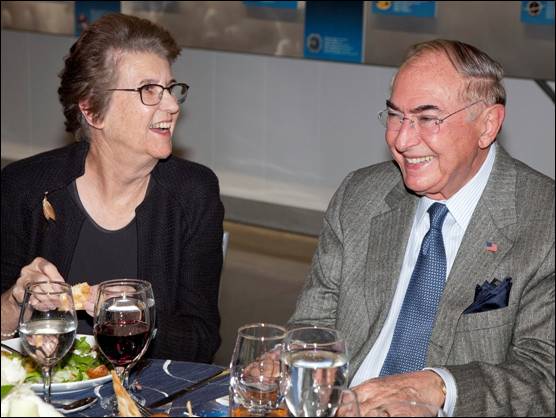 Prager is seated next to Southwestern Trustee Robert H. Philibosian. The former Los Angeles County district attorney will emcee the Jan. 26 "Person of the Year" dinner at which Prager will be feted.
Prager relates that her vision for Southwestern is to continue its tradition for innovation. The school is home to the longest-running, and largest, two-year law degree program in the country. It also has a part-time day program for students who need more time to complete their degrees, and a night school program for students with full-time jobs.
She says she also wants to continue attracting a diverse student body, and she believes that offering a variety of programs "provides access to people who might not otherwise be able to go to law school." With that in mind, Prager declares, the school is also preparing to launch a hybrid distance learning program, allowing students to participate in some of their classes online.
Looking over her current school enrollees, Prager says she believes that women have achieved parity with their male counterparts when it comes to education, but she says there is still work to be done.
Back in the 1970s, Prager notes, "we thought that if we could solve access issues, with jobs and education, then everything would be fine." Unfortunately, she says, "that was not proven to be the case."
Prager says she has seen a "pervasive rise of the two-income family model," but it is "very difficult to have children and spend time with family when you have two people with very demanding professional lives," and there is still "a disproportionate number of women leaving the big law firms."
The educator sees the establishment of firms that prioritize a work-life balance as "a positive development," and says she believes "there has been substantial progress" in terms of increasing the number of women in the law.
Prager says it is becoming less common for there to be a position that a woman has never held, but she hopes to live long enough to see a day when the "first female" title no longer has to be bestowed on anyone.
______________________________________
COMMENTS
I first met Susan in 1988. I had been encouraged to put my hat in for the deanship at Georgetown, but I was hesitant because I had children who were still very young. We were connected by a mutual friend, and it was so inspirational to speak with Susan.
She said to me, the men who have been deans don't have the same responsibilities as a mother, and her advice was that you've got to find a better balance, a better work-life balance, because you are going to have to be there for your children. You need to set realistic goals for what you can do to keep that balance.
I would not have become a dean when I did if it were not for Susan. She was a real leader, because she had not only done it herself, but she was always available and encouraging other women to do it too….At the time there were 12 women deans in the country, now there's more than 60, so it's been quite a dramatic shift.
Judith Areen
Former Dean, Georgetown University Law Center
[Twenty years later, Areen served as chair of the Association of American Law Schools search committee for a new executive director which selected Prager to lead the organization.]
She was a standout because she came in with a very strong personal commitment to diversity and inclusion. That's an issue that continues to challenge many law schools, and indeed the legal profession. But she went out of her way to really work on making the inclusion of traditionally underrepresented groups a core value, and she encouraged all of our participating law schools to do the same.
Coming into this position, following Susan, I was understandably nervous because she had been such a great role model for all of us. She could not have been more gracious in terms of spending time with me and making sure it was a smooth transition, and I remain grateful to her for making that happen.
Judith Areen
Executive Director, Association of American Law Schools
I've known Susan since 1982. She has always been a high achiever, in part because she's usually the smartest person in the room, and in part because she plays very well in the sandbox with people. As a law professor, that's a talent that very often goes unremarked upon. She also just works harder than everyone else. She's a prodigiously hard worker.
In our time working together, I don't think we ever had a cross word. When we would disagree, we would work things out and usually meet in the middle, or one would convince the other. And it wasn't just with me, it was the same with the whole executive committee, and that's several strong-willed law professors… Everybody trusted her, because she had a sense of fairness and openness, and an ability to communicate.
Back in 2011, there was a labor dispute at the hotel where AALS had a contract to hold its annual convention, and some members wanted the group to break the contract. It was very polarizing, and the politics of it were very difficult with 150 institutions being represented. But we got through it. She worked every single angle and she constantly kept her cool. I was impressed with how she could see around corners – she'd say this might happen, so I want to have this person prepared to speak up. She organized a meaningful dialogue and she mobilized both the leadership and the rank-and-file folks. We came away, in my opinion, better than when we entered the contest.
Almost every organization has fire and rain, like the James Taylor song. There's times you have to get into war room mode and rally the troops. I saw her deal with fire on that labor issue, and I thought her style was suited for that, but after, I saw this analytic and systematic side.
AALS was looking for a new office, and the experience showed me her seriousness of purpose, her sense of competing goods, how you weigh the various options. Zoning in Washington, D.C. is highly regulated so it was difficult to find a place, and for her it was a pure business decision as to how the building could be curbed for organizational advantage.
It was the complete opposite of the labor situation, and I was really quite impressed with her approach to this. Some people are really only good at one or the other, but she could handle both. I also had the chance to work on this project with her husband, real estate lawyer Jim Prager, who consulted with us.
I still interact with her in ways that are very life-affirming. She's just great to work with. I've even heard she's great to work against. It doesn't surprise me that she is being honored.
Michael A. Olivas
William B. Bates Distinguished Chair in Law,
University of Houston Law Center;
Past President, AALS
What comes to mind about Susan is her deep commitment to connect with and welcome incoming students. As you can imagine, starting law school is incredibly exciting but also quite intimidating. Since Susan became the dean, she started a tradition in the first week of classes to welcome small groups of incoming students to her historic office. I've been present during these visits (and other similar ones for prospective students and other groups). Susan is warm and works methodically to connect individually with each student. She talks passionately about our historic Bullocks Wilshire building and its place in LA's history, while beautifully connecting the building's long history to the even longer and more storied history of LA's law school—Southwestern. You can imagine how empowering and reassuring this kind of attention is to students from THE very distinguished dean of the school.
Anahid Gharakhanian
Southwestern Law School's Director
of the Externship Program,
Professor of Legal Analysis, Writing and Skills
Susan Prager is a remarkable leader on every front that counts. One thing that is often unappreciated is the fact that she's an incredibly great businesswoman. She could have been the CEO for any kind of private sector enterprise, and she would have been a star. She is also a great leader in education. She's one of a small percentage of deans, provosts, chancellors or presidents who care deeply about offering students a great education. All will say it, but most do not actually have education as their principal mission. She has from the beginning, and she continues to do so day.
From as early as the late 1970s…. she encouraged and supported faculty members who wanted to strike out in directions that were different and superior to the traditional model of legal education. She thought it made all the sense in the world to have an intellectually ambitious and practically effective clinical education. She is driven to establish great education, and she's an astute soul.
She's strong-minded, but willing to constantly reevaluate her own points of view, to adapt to different environments and to changing times, without losing sight of her vision. She is a deep thinker who can contemplate the contradictory nature of our circumstance at any time, and an exceedingly good practical problem solver, and that's how she does well with every constituency.
She has been, and remains, remarkably vital to legal education, and not just for the things she has accomplished — she's way better than just that.
Gerald Lopez
UCLA law professor
(Member of the search committee that selected Prager as dean of the law school)
Susan Prager is an accomplished leader: educator, strategic planner, fund and friend raiser—and a wonderful person.
Frank L. Ellsworth
Trustee Emeritus, Southwestern Law School
Susan Prager.
An amazing, caring, intelligent, thoughtful, incredibly hard-working person who truly deserves this recognition.
It's a privilege to support this accomplishment.
Tom Hoberman
Hansen, Jacobson, Teller, Hoberman, Newman, Warren, Richman, Rush, Kaller & Gellman L.L.P.
Dean Susan Prager recognition in the Metropolitan-News' Person of the Year issue is very well-deserved. She is consistently recognized as one of the most influential persons in legal education. Dean Prager has earned her sterling national reputation for so many reasons, including her passionate commitment to diversity in legal education and law practice, enthusiastic promotion of curricular innovation, and insightful leadership on the future of legal education. It was our good fortune several years ago that she returned to southern California to become Dean of Southwestern. Her tireless efforts in support of professionalism, opportunity and academic excellence enrich the entire Los Angeles legal community.
Ronald G. Aronovsky
Professor of Law, Southwestern Law School
Dean Prager has provided steady and wise leadership for Southwestern during a period in which legal education has been under stress. The law school is emerging from this period on a strong footing with an exciting vision for the future.
Warren Grimes
Associate Dean for Research,
Irving D & Florence Rosenberg Professor of Law,
Southwestern Law School
No one of her generation has contributed more to our legal community than Susan Prager. As a law school administrator and scholar, she has no peer. As a mentor, colleague and participant in the important issue of the day, she has made us all better lawyers and citizens.
Kent Richland
Founding Partner, Greines, Martin, Stein & Richland LLP
Congratulations to Dean Susan Westerberg Prager for the well-deserved Person of the Year award. Dean Prager has made tremendous contributions to legal studies, as a pioneer for women and a champion of intellectual and racial diversity. She has been an extraordinary and forward thinking leader for Southwestern Law School.
Lauren B. Leichtman & Arthur E. Levine
(Leichtman is a 1982 Southwestern graduate and is a member of the Board of Trustees; she and her husband have given a $1 million pledge to create the Lauren B. Leichtman and Arthur E. Levine Family Foundation Scholarship Endowment Fund at Southwestern).
To some it is a job, for her it is a passion. What Susan Prager brings to Southwestern's Administration in its ultimate leadership role is strong intelligence tempered with magical heart. Simply being around her, to hear her speak sincerely of her hopes for past present and future students of Southwestern, has inspired us to become more involved with the school. As husband and wife alums we are thrilled to see her honored in this way. She is deserving of the recognition, to be put on a pedestal, to be thanked in this fashion for her countless contributions to Southwestern.
George and Katrina Woolverton
(George Woolverton is a member of the Southwestern Board of Trustees and is co-president and firm manager of Stockwell, Harris, Woolverton & Muehl. His wife, Katrina Woolverton, is a recording artist/songwriter and former practicing attorney. Both received their law degrees from Southwestern.)
Copyright 2018, Metropolitan News Company