Wednesday, November 21, 2018
Page 3
Ninth Circuit:
Rights Group Has No Standing to Challenge Synagogue's Killing of Chickens in Ritual
By a MetNews Staff Writer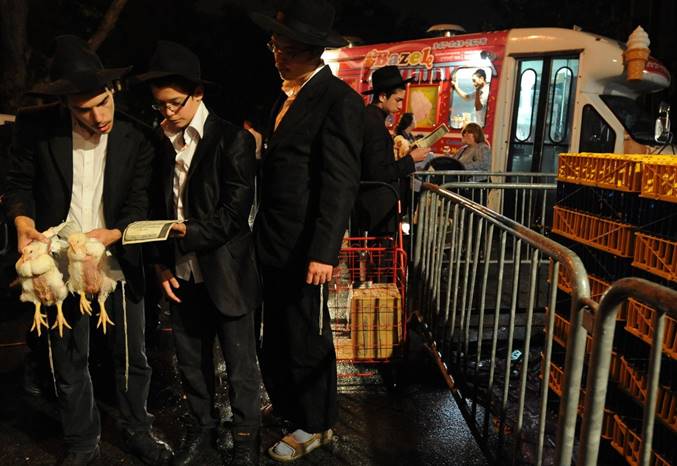 —AP
In this file photo, the ancient Jewish Kaporos tradition, which involves swinging and slaughtering chickens, is practiced in Crown Heights, Brooklyn.
A group dedicated to "compassionate and respectful treatment" of domestic fowl lacks standing maintain an action in federal court against an Orthodox synagogue in Orange County to halt its killing of chickens, as part of an annual religious ceremony, and discarding of the carcasses, the Ninth U.S. Circuit Court of Appeals held yesterday.
In a memorandum opinion, a three-judge panel agreed with District Court Judge Andre Birotte Jr. of the Central District of California that an action by United Poultry Concerns, a Virginia-based nonprofit organization, against Chabad of Irvine must be dismissed without leave to amend. However, Birotte dismissed the action for failure to state a claim under California's Unfair Competition Law which the panel said was the wrong reason.
It vacated Birotte's order that directed that on remand, the action be dismissed for lack of jurisdiction.
The panel—comprised of Circuit Judges Ronald M. Gould and Mary H. Murguia, joined by District Court Judge Carol Bagley Amon of the Eastern District of New York, sitting by designation—held that the plaintiff suffers no injury from the practice it challenges, known as "Kapparot," and absent injury, has no standing under Article III of the Constitution to sue in federal court.
Kapparot is a ritual performed on the eve of Yom Kippur (Day of Atonement) usually occurring in September or October.
Plaintiff's Objective
United Poultry Concerns sought to bar Chabad of Irvine from accepting donations in connection with the Kosher slaughtering of chickens or to require use the killed chickens for food.
The plaintiff insisted that it does have standing because the defendants' practice caused a diversion of the time of its employee, Ronnie Kudlow Steinau (described in its website as an "office assistant"). That argument won favor with Birotte, who said in a May 12, 2017 order:
"Drawing all reasonable inferences in Plaintiff's favor, the Court finds Plaintiffs can establish that Defendant's acts have frustrated Plaintiff's mission by causing them to divert resources to combat Defendants' allegedly unlawful acts. Therefore, the Court finds that Plaintiffs have established Article III injury-in-fact."
Ninth Circuit's View
Disagreeing, the Ninth Circuit panel declared:
"Had Plaintiff not chosen to divert Steinau's tune to investigate the Defendant, its mission 'would have been totally unaffected' by Defendant's actions….Defendant's annual practice of Kapparot, standing alone, does not implicate or frustrate Plaintiff's mission of 'education and advocacy' against the use of chickens in Kapparot."
Acknowledging that diversion of Steinau's time constituted a cost to the plaintiff, it said the diversion was not caused by the synagogue, but was a matter of its own choice as to how it would utilize its resources.
The action under the Unfair Competition Law was based on the alleged illegality of Kapparot under California Penal Code §597(a) which provides that "every person who maliciously and intentionally maims, mutilates, tortures, or wounds a living animal, or maliciously and intentionally kills an animal, is guilty of a crime…."
The case is United Poultry Concerns v. Chabad of Irvine, No. 17-55696
Animal Sacrifices
In the 1993 U.S. Supreme Court decision in Church of the Lukumi Babalu Aye, Inc. v. Hialeah, then-Justice Anthony Kennedy (now retired) wrote for the majority in finding unconstitutional ordinances that rendered it a crime to kill an animal in a ritual where the primary purpose of the killing was not for food consumption. Kennedy wrote:
"Our review confirms that the laws in question were enacted by officials who did not understand, failed to perceive, or chose to ignore the fact that their official actions violated the Nation's essential commitment to religious freedom. The challenged laws had an impermissible object; and in all events the principle of general applicability was violated because the secular ends asserted in defense of the laws were pursued only with respect to conduct motivated by religious beliefs."
In his order of dismissal, Birotte noted that "the Court declines to address the merits of the parties' arguments regarding the Constitutionality of California Penal Code 597(a)."
Copyright 2018, Metropolitan News Company