Thursday, January 18, 2018
Page 1
Court of Appeal:
Report of Attempted Suicide Justified Warrantless Entry
Yegan Says 'Community Caretaking' Exception to Search and Seizure Rules Applied; Perren Dissents, Saying Exigent Circumstances Did Not Exist
By a MetNews Staff Writer
When police, arriving in response to a call that a man was in a house with firearms and had announced an intent to kill himself, did not breach the Fourth Amendment when they made a cursory sweep of the house to make certain no one was injured and there were no firearms out in the open, the Court of Appeal for this district held yesterday.
The fact that the man had come out of the house and was presently unarmed, the court said, did not preclude entering the residence on a "community caretaking" theory.
Justice Kenneth Yegan wrote for the majority in affirming the conviction of the man, Willie Ovieda, based on what officers spotted: equipment for manufacturing concentrated cannabis and an unlawful assault weapon. Justice Steven Z. Perren dissented.
 "Over 50 years ago, wise and prescient Chief Justice Phil Gibson planted the judicial seed for what we now call the 'community caretaking' exception to the Fourth Amendment," Yegan said. " We apply it here."
Perren's Dissent
Perren countered:
"Chief Justice Gibson's 'judicial seed' will not blossom in this fallow field."
He asserted:
"Relying on a 'community caretaking' theory, the majority approves a warrantless intrusion into a home based solely upon police speculation about what they 'could' find inside. The officers admittedly had no information that anyone, child or adult, was inside the house and required help. Indeed, everyone reported to be in the house was outside and completely under the officers' control, including the person they came to rescue, appellant Ovieda. The officers did not believe that appellant was a danger to himself or others. Because the officers had no objectively reasonable belief that searching the home was imperative, I conclude that the trial court should have granted appellant's motion to suppress evidence seized during the search."
Gibson's 1956 Opinion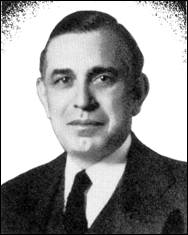 PHIL GIBSON
Chief Justice, 1940-64
Yegan quoted Gibson—who was chief justice from 1940-64—as saying in the 1956 case of People v. Roberts:
"Necessity often justifies an action which would otherwise constitute a trespass, as where the act is prompted by the motive of preserving life or property and reasonably appears to the actor to be necessary for that purpose."
He further quoted the chief justice as declaring that in undertaking a cursory search of premises officers do "not have to blind themselves to what was in plain sight simply because it was disconnected with the purpose for which they entered."
Applying the community caretaking rule to the case at hand, Yegan said:
"Pursuant to the community caretaking exception, police officers are expected to check on the welfare of people who cannot care for themselves or need emergency services…
"Appellant contends that the community caretaking rule does not apply to residential searches. Surely a police officer may enter a residence to protect a suicidal person and secure the premises if firearms are believed to be present….
"When it comes to choosing between the Fourth Amendment protection against warrantless searches and the preservation of life, the preservation of life controls."
Moans and Groans
That, he said, was the situation in Roberts.
There, officers went to an apartment in connection with an investigation of a burglary of a music store, knocked on the door, and received no response. They heard moans and groans and, discerning a need for emergency medical attention, asked the landlord to let them in, and made a warrantless entry.
No one was present, but in the kitchen was a new table model radio. They took down the serial number and ascertained that it matched that of a stolen item. A search warrant was then obtained, leading to an arrest.
Gibson observed:
"The trial court found on substantial evidence that the entry was lawful for the purpose of rendering aid, hence the officers were justified in entering each room of the apartment to look for someone in distress. The radio was in plain sight, and it fitted the general description of property known by the officers to be stolen. Under the circumstances, there appears to be no reason in law or common sense why one of the officers could not pick up the radio and examine it for the purpose of dispelling or confirming his suspicions. The fact that abuses sometimes occur during the course of criminal investigations should not give a sinister coloration to procedures which are basically reasonable."
Dissimilar Fact Situation
Perren termed that case "factually distinguishable." He said:
"At the time of this search, no one was in appellant's house moaning and groaning…."
When officers arrived, he noted, Ovieda was "outside of his house, unarmed and unharmed," declaring:
"There was no justification for the officers to enter appellant's house to render aid."
He insisted:
"The totality of the circumstances in the present matter did not present an emergency justifying a warrantless entry. The officers were not faced with a tense, uncertain or evolving situation at the time of the search. No gunshots were reported before their arrival. They knew that appellant had been armed with a gun and were entitled to handcuff and frisk him when he walked outside and approached them, to preserve their safety and that of third parties. At that point, the need for the police to render emergency aid ceased."
Yegan's Retort
Yegan, who was joined in the opinion by Presiding Justice Arthur Gilbert, countered:
"Here, the officers did not fully comprehend what was confronting them when they entered appellant's residence. Police officers have a healthy skepticism about what they are told in a volatile situation preferring to conduct their own investigation. Here, they wanted to safeguard everyone and they wanted to separate appellant from his firearms. As factually found by the trial court, they were not required to believe that there was no one in the house and that the firearms were secured. Should they be allowed to enter a residence and defuse a "powder keg" waiting to explode when appellant would return to his residence? The answer is 'yes.' "
The case is People v. Ovieda, 2018 S.O.S. 276.
Copyright 2018, Metropolitan News Company