Tuesday, June 19, 2018
Page 1
Retired Superior Court Judge Steven Ogden Dies
By a MetNews Staff Writer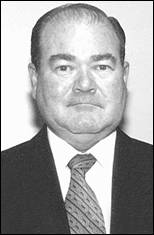 STEVEN D. OGDEN
1943-2018
Retired Los Angeles Superior Court Judge Steven D. Ogden, who spent his entire 16-year judicial career in the Antelope Valley, has died.
He was 74.
Ogden was elected to the Antelope Municipal Court in 1998 and ascended to the Superior Court judge through unification in 2000. He left office Sept. 24, 2014, and subsequently sat on assignment in the North District.
He and his wife, Mary J. Ogden, moved to Cape Girardeau, Missouri in 2013. The retired judge died there on Thursday.
Tribute by Cooley
Former Los Angeles County District Attorney Steve Cooley commented:
"Steve Ogden was a career Deputy DA and very accomplished in that role. Steve was my assistant head deputy in the Antelope Valley Branch for several years.
"He went on to serve as a judge in the North District of the Los Angeles County Superior Court until his retirement. Steve knew his craft as a DDA and judge."
Ogden told the MetNews shortly before retiring:
"I enjoyed my time on the bench and as a deputy district attorney. I had no complaints about coming to work every day.
"I didn't look forward to Friday and I didn't regret Monday. I was always ready to go to work."
Ogden received his law degree from UCLA Law School. He supported himself by driving a newspaper delivery truck, and continued to do so, for a time, after passing the bar exam.
Seeks Attorney Position
He once told an interviewer:
"I was about to ask this girl I was dating to marry me, so I finally went to a lawyer and asked him if he would hire me. He said that he couldn't afford to train me, but if I worked for the DA for a year, he would take me in.
"I was totally convinced I didn't want to be a district attorney, but went in for an interview anyway."
Ogden continued:
"The DA hired me, the girl said no, and I stayed with the DA for 29 years, 10 months and two weeks. My truck driving days were over."
Northridge attorney Meredith Evans, a friend of Ogden, said:
"My information is that Judge Ogden will be cremated there in Missouri and that there will also be a private memorial service out here at some time yet to be determined at some place yet to be determined."
Copyright 2018, Metropolitan News Company