Tuesday, December 11, 2018
Page 1
Court of Appeal:
Orchestrator of Court Reporting Services Is Subject to State Regulations of CSRs
By a MetNews Staff Writer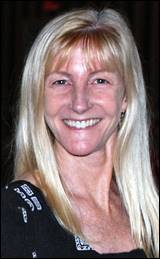 HOLLY MOOSE
Court reporter
The Sixth District Court of Appeal has rejected the contention of an out-of-state company that in arranging for services in California of certified shorthand reporters, it does not subject itself to state regulation with respect to such services because it merely connects customers with independent contractors.
The appeals court nonetheless affirmed a judgment against the plaintiff, Holly Moose & Associates, a Riverside County court reporting firm, because, Acting Presiding Justice Franklin D. Elia explained in an unpublished opinion Friday, it failed to adduce evidence of economic harm to itself in its action under the Unfair Competition Law ("UCL").
The company of certified shorthand reporter ("CSR") Holly Moose sued U.S. Legal Support, Inc., a Texas corporation doing business in the state, under the "unlawful" prong of the UCL, Business & Professions Code §17200 et seq., claiming that it violates statutes applicable to court reporting firms.
Violations Alleged
Specifically, it alleged that U.S. Legal is in violation of the Moscone-Knox Professional Corporation Act (Corporations Code §13400 et seq.), which sets forth the requirements for professional corporations.
Corporations Code §13410(a) states in part:
"A professional corporation or a foreign professional corporation qualified to render professional services in this state shall be subject to the applicable rules and regulations adopted by, and all the disciplinary provisions of the Business and Professions Code expressly governing the practice of the profession in this state, and to the powers of, the governmental agency regulating the profession in which such corporation is engaged."
Moose also alleged violations of various Business & Profession Code provisions specifically governing court reporting companies, such as §8044 which requires every director, shareholder and officer of such an entity be licensed.
U.S. Legal did not dispute that its officers and shareholders are not court reporters, nor did it dispute that its gifts to certain law firm personnel exceeded $100 per year, which regulations governing court reporters bar.
Legal Conclusions Rejected
Though affirming the judgment by Santa Clara Superior Court Judge Carrie Zepeda-Madrid in U.S. Legal's favor, following a bench trial, Elia's opinion rejects the judge's conclusion that the defendant is not itself a shorthand reporting professional corporation, subject to California laws governing such entities.
He wrote:
"[T]he company not only supplies the court reporting activity actually performed by the CSR at the subject proceeding—i.e., the making of the verbatim record—but ensures the copying and delivery of the transcript to its clients and other parties through its Production Department. U.S. Legal also notifies all parties to a deposition that the deponent failed to make changes to the transcript, failed to certify it, signed it without changes, or signed it with changes on an attached sheet."
Elia recited:
"U.S. Legal insists, however, that it is not subject to the Act because it is not a 'professional corporation' within the meaning of section 13401, subdivision (b), as none of its officers, directors, or employees is a licensed natural person who renders 'professional services' within the meaning of section 13401, subdivision (a). In other words, because it is not authorized to perform professional services in California, it is not liable for 'unprofessional conduct' when it actually engages in those services.…U.S. Legal thus appears to suggest that it is free to render, provide, or perform services without the obligation to adhere to the restrictions applicable to those individuals and corporations that are authorized to render those same services. Thus, for example, its violation of the requirement that each shareholder and director be licensed in the profession is the very reason it avoids liability for that very violation."
He remarked:
"Such circular reasoning to evade this state's laws and regulations is, at a minimum, unpersuasive."
The case is Holly Moose & Associates v. U.S. Legal Support, Inc., H043819.
Copyright 2018, Metropolitan News Company