Monday, July 16, 2018
Page 1
Exception to Litigation Bars Granting Anti-SLAPP Motion—Court of Appeal
Allegations in Marital Dissolution Case About a Nonparty Not Protected—Lui
By a MetNews Staff Writer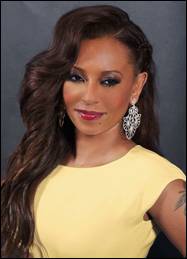 'MEL B'
Actress
Melanie Janine Brown, an English singer/actress and former "Spice Girl" known as "Mel B," on Friday lost her bid in the Court of Appeal for this district to gain a reversal of the denial of her anti-SLAPP motion in an action brought against her for defamation, invasion of privacy, and intentional infliction of emotional distress.
Presiding Justice Elwood Lui of Div. Two wrote the opinion, affirming an order by Los Angeles Superior Court Judge Delila Corral Lyons. The opinion applies an exception to the litigation privilege.
The plaintiff is Lorraine Gilles, a nanny who had worked for Brown and her then-husband, producer/director Stephen Belafonte. Gilles is suing over allegations by Brown in declarations in support of restraining orders.
The allegations were widely reported in news accounts.
In a declaration filed April 3, 2017, in support of an order against Belafonte, whom she was then suing for divorce (which is now final), Brown alleged a sexual relationship between Belafonte and Gilles; that Belafonte set Gilles up as her "rival"; and that he caused Gilles to become pregnant and paid for her abortion.
A declaration filed April 10, 2017, in support of a restraining order against Gilles (which was granted) contains similar allegations.
Gilles insists in her April 20, 2017 Superior Court complaint that Brown falsely accused her of being a "homewrecker, prostitute, and extortionist," and "maliciously" described her "as being impudent, unscrupulous, and exploitive."
Protected Activity
In responding to Brown's special motion to strike, Gilles acknowledged that the first prong of the anti-SLAPP statute, Code of Civil Procedure Code §425.16, was met because the action arises from protected activity: litigation. However, she contended, and Lyons agreed, the second prong—probability of success on the merits—could not be shown in light of an exception to the litigation privilege.
Civil Code §47(b)(1) renders the privilege inapplicable to an "allegation or averment contained in any pleading or affidavit filed in an action for marital dissolution or legal separation made of or concerning a person by or against whom no affirmative relief is prayed in the action."
In his opinion affirming denial of the anti-SLAPP motion, Lui said:
"Appellant's challenged statements fall within the express scope of the divorce proviso. Respondent's claims are based on 'allegation[s]' and 'averment[s]' that Appellant made concerning her in a declaration that was 'filed in' Appellant's dissolution action. Appellant's request for a restraining order against Ex‑Husband was filed under the same case number as her dissolution action, and the restraining order was issued in that action. Respondent was a nonparty in that proceeding who neither sought nor was the subject of any 'affirmative relief.'"
Distinction Rejected
Brown put forth the contention that the exception does not apply because, in asking for a restraining order, she was "not seeking 'marital dissolution or separation.' " Lui responded:
"Civil Code section 47, subdivision (b)(1) is not ambiguous about the judicial filings to which it applies. It applies to 'any pleading or affidavit filed in an action for marital dissolution or legal separation.'…It does not say that it applies only when a particular type of relief is sought. Nor does it exclude any category of filings."
Harry W. R. Chamberlain II, Efrat M. Cogan and Robert M. Dato of Buchalter represented Brown, and Marshall A. Caskey, Daniel M. Holzman and Neama Cory Barari of Caskey & Holzman acted for Gilles. Donald M. Falk, Kim J. Zaneta; Erin Canfield Smith and Jennafer Dorfman Wagner of Mayer Brown represented Family Violence Appellate Project, as amicus curiae, on behalf of Brown.
Initials Used
The case, litigated in the Los Angeles Superior Court as Gillis v. Brown, bears the Court of Appeal caption of L.G. v. M.B. It appears at 2018 S.O.S. 3472.
Lui explained in a footnote:
"Because this case involves allegations of abuse and M.B. and S.B. have a minor child, we do not use names in this opinion. We refer to M.B. as 'Appellant,' S.B. as 'Ex-Husband,' and L.G. as 'Respondent.'
In response to queries as to whether the parties requested anonymity, Chamberlain said:
"I recall that prior requests to preserve the privacy of the parties and minor children had been made in the related trial court proceedings, but to my knowledge, were not granted. The Court of Appeal did so on its own initiative…."
Caskey responded:
"We didn't request initials instead of names and we are unaware of any request by our opponent(s) to do so."
Copyright 2018, Metropolitan News Company