Tuesday, July 17, 2018
Page 1
Denial of Anti-SLAPP Motion Sought by Mayweather Is Partially Reversed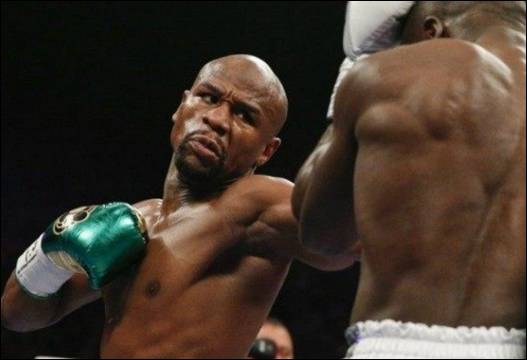 —AP
In this file photo, Floyd Mayweather Jr. is seen in a WBC-WBA welterweight title boxing fight.
By a MetNews Staff Writer
The Court of Appeal for this district yesterday partially reversed the denial of an anti-SLAPP motion by former boxing champion Floyd Mayweather Jr. in response to an action by his ex-girlfriend who claims he lied in an interview about beating her in front of their children.
Justice Jeffrey Johnson wrote the opinion which affirms Los Angeles Superior Court Judge Melvin D. Sandvig's denial of the motion as to actress Josie Harris's cause of action for defamation, but reverses it as to her claims of intentional and negligent infliction of emotional distress.
On April 14, 2015—two weeks before Mayweather was to win what was billed as the "fight of the century" with Manny Pacquiao—Yahoo posted an interview of Mayweather conducted by news anchor Katie Couric. The former network journalist questioned him as to the 2011 incident, resulting in his pleading guilty to a misdemeanor battery charge and being sentenced to 90 days in jail.
He told Couric:
"Did I kick, stomp, and beat someone? No, that didn't happen. I look in your face and say 'No, that didn't happen.' Did I restrain a woman that was on drugs? Yes, I did. So if they say that's domestic violence, then you know what?...I'm guilty of restraining a person."
Harris disputed his recitation.
Protected Conduct
Johnson found that the action stemmed from protected activity—speech in a public forum, the Internet, on a matter of public interest—satisfying the first prong of the anti-SLAPP statute, Code of Civil Procedure §425.16. He explained:
"Here, the evidence unequivocally established that both Harris and Mayweather are individuals who have voluntarily put themselves in the public eye. The media reports submitted by both parties observe that (a) Mayweather is a '[w]orld champion,' 'undefeated' boxer, who also has a 'long history of domestic violence,' and (b) Harris has actively sought media attention, including appearing in a popular television show (Starter Wives Confidential) based on her relationship with Mayweather, and sat for multiple interviews (video and print) regarding Mayweather and domestic violence.
"In sum, we hold that Mayweather met his burden by establishing that the gravamen of Harris's complaint and each of its causes of action arose out of a statement made in a public forum regarding a matter of public interest. The burden then shifted to Harris to demonstrate that each of her causes of action was legally sufficient and factually substantiated."
Second Prong
Johnson said that, with respect to the defamation claim, Harris met the second prong of the statute by demonstrating a probability that she will prevail on the merits, declaring:
"[S]he presented clear and convincing evidence from which it could reasonably be inferred that Mayweather's statement was not only false and defamatory, but also made with actual malice."
The jurist went on to say that "assuming Mayweather's allegedly defamatory statement in the Couric interview was false, it cannot reasonably be characterized as atrocious conduct intolerable in a civilized society" so as to give rise to a cause of action for intentional infliction of emotional distress.
With respect to negligent infliction of emotional distress, Johnson wrote:
"As one of the leading treatises on California law explains, a plaintiff seeking to recover for the negligent infliction of emotion distress must allege the tort of negligence; recovery is generally allowed only 'where there is physical impact.'….
"Here, Harris asserted her negligent infliction cause of action purely as an alternative to her intentional infliction claim. She has not, in other words, alleged a negligence cause of action and has not alleged any physical impact."
The case is Harris v. Mayweather, B276174.
Attorneys on appeal were Rick Edwards for Mayweather and Daniel A. Friendlander for Harris.
Copyright 2018, Metropolitan News Company