Thursday, June 14, 2018
Page 1
Court of Appeal Justice Nora Manella Under Consideration for P.J. Spot
Judges Jaskol, Kim, Stratton In Contention as Manella's Successor
By a MetNews Staff Writer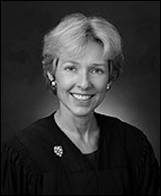 NORA MANELLA
Court of Appeal Justice
The State Bar Commission on Judicial Nominees Evaluation is seeking comments on the elevation of Court of Appeal Justice Nora Manella of this district's Div. Four to the post of presiding justice of her division.
She would replace Presiding Justice Norman Epstein who is slated to retire Aug. 22.
Assuming Gov. Jerry Brown's appointment of Los Angeles Superior Court Judge Gail Ruderman Feuer as a justice of Div. Seven is confirmed, there will be no vacancies in this district other than the post of presiding justice of Div. Seven, created by the death of Paul Arthur Turner. Yet the Commission on Judicial Nominees evaluation is seeking comments on the prospect of the appointment of Los Angeles Superior Court Judges Lisa Jaskol, Dorothy Kim, and Maria Stratton to an associate justice position, apparently being in contemplation of Manella's elevation.
12 Years
Manella, 67, has been an associate justice since 2006.
The daughter of the late Arthur Manella, a founder of Irell & Manella, her law degree was earned in 1975 at USC. She clerked from 1975-76 for U.S. District Judge John Minor Wisdom of the Eastern District of Louisiana (later a Fifth Circuit Court of Appeals judge, now deceased).
Manella served as legal counsel to the U.S. Senate Judiciary Committee (1976-78), worked at the District of Columbia office of O'Melveny & Myers (1978-82), and was an assistant U.S. attorney for the Central District of California (1982-90) before Gov. George Deukmejian in 1990 appointed her to the Los Angeles Municipal Court. That was the first of three appointments of Manella, a Democrat, by Republican governors.
Gov. Pete Wilson elevated her to the Los Angeles Superior Court in 1992. She left that post in 1994 when the Senate confirmed her appointment by President Bill Clinton as U.S. attorney for the Central District of California.
'Knows Her Stuff'
In that capacity, Manella gained an indictment of the governor of Arizona on 21 counts, including bank fraud. A June 16, 1996 article in the Arizona Republic said:
"In U.S. Attorney Nora Manella, Arizona Gov. Fife Symington has an adversary every bit as cultured and sophisticated as he. Symington hails from Maryland's hunt-club set, and majored in 18th century Dutch painting at Harvard. The woman responsible for his indictment Thursday is a product of Wellesley College, an Italian major, and an opera singer whose fondest desire is to become 'the ultimate dilettante.' But that doesn't mean she's not an aggressive prosecutor who knows her stuff."
(Symington was convicted on seven counts of bank fraud; the conviction was reversed based on the judge's dismissal of a juror; President Bill Clinton pardoned the former office-holder.)
Manella also gained convictions of former Rep. Walter R. Tucker III, D-Compton; Rep. Jay C. Kim, R-Diamond Bar; and former Compton City Councilmember Patricia Moore.
In 1998, Clinton named her to a judgeship on the U.S. District Court for the Central District of California. She resigned in 2006 when then-Gov. Arnold Schwarzenegger appointed her to her present post, which was ratified by the Commission on Judicial Appointments.
Manella told the MetNews at the time of her appointment that after her years as a trial judge, she looked forward to the "intellectual heavy lifting of appellate work," adding:
"I like deciding cases, I like the law, I like writing opinions. I want to explain in care and concise prose who prevails and why they should prevail."
She noted that she was "particularly thrilled" to be appointed to Div. Four because of her admiration of Epstein.
A Nov. 19, 1993 article in the Los Angeles Times notes:
"In addition to her legal skills, Manella is known for her fine singing voice and her skills as a songwriter."
Copyright 2018, Metropolitan News Company