Tuesday, July 10, 2018
Page 1
Ninth Circuit:
Police Justified in Searching Ex-Convict In High-Crime Area, Appearing Nervous
By a MetNews Staff Writer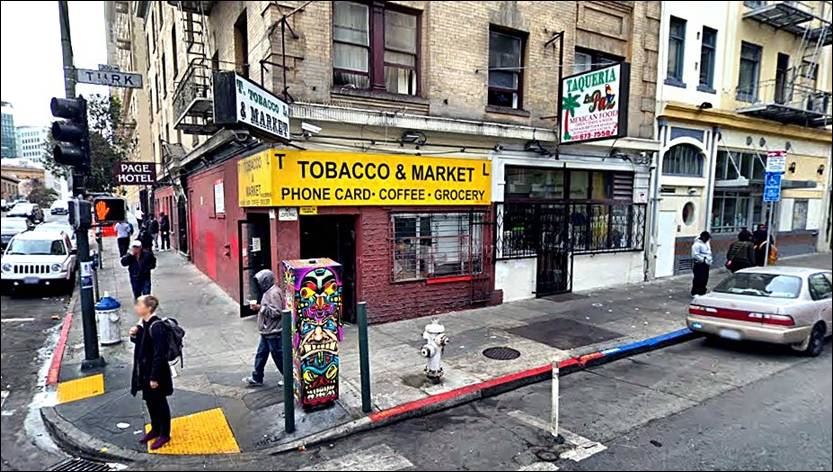 Depicted is the northeast corner of Turk and Leavenworth Streets in San Francisco's "Tenderloin" area. It was near this intersection that officers spotted defendant Darrell Luckett Jr. whom they detained based on what the Ninth U.S. Circuit Court of Appeals found, in an opinion Friday, to have been reasonable suspicion.
The Ninth U.S. Circuit Court of Appeals has held that police had reasonable suspicion that a man was engaged in criminal conduct based knowledge that he was an ex-convict, because he was spotted in a high crime area—the "Tenderloin" section of San Francisco—and he appeared nervous, justifying a search.
In a memorandum opinion on Friday, a three-judge panel—comprised of  Circuit Judges Mary M. Schroeder and Ronald M. Gould, along with District Court Judge Miranda M. Du of the District of Nevada, sitting by designation—affirmed the denial of a suppression motion by District Court Judge William Horsley Orrick of the Northern District of California. The judge rejected the contention of defendant Darrell Luckett Jr. that officers violated his Fourth Amendment right when they forcibly searched him, and that the fruits of that search should have been excluded as evidence.
What San Francisco Police Officers Michael Cunnie and Steve Orengo found on March 20, 2016, was that Luckett was carrying a Colt .45 pistol. Luckett had previously pled guilty in state court to robbery and was on probation.
Under 18 U.S.C. §922(g)(1), it is a federal offense for a person convicted of a felony entailing violence to carry a firearm which has traveled in interstate commerce. It was stipulated that the weapon toted by Luckett was manufactured outside the State of California.
It was also stipulated that if Cunnie were called to the stand, he would testify that Luckett was attempting to evade him and Orengo when they encountered him near Turk and Leavenworth Streets.
The Tenderloin area is generally considered to be the section between Van Ness Avenue on the west and Mason Street on the east, bordered by Geary Street on the north and Market Street and on the south.
According to a declaration by Cunnie, the area is "infamous" for illicit drug sales and is referred to as "Pill Hill." (The California Supreme Court is headquartered at the western edge of the area.)
The Ninth Circuit panel said, with respect to Orrick's factual finding as to the character of the vicinity:
"[T]he government offered specific evidence showing that the area was a high-crime area, and Luckett's evidence to the contrary was insufficiently granular to rebut the government's specific evidence. There is no clear error."
It observed that a suspect's "criminal history is part of the totality of circumstances officers may consider in their reasonable suspicion calculus, though criminal history alone cannot establish reasonable suspicion." The opinion adds:
"[O]ne of the officers was aware of Luckett's multiple criminal convictions, including an arrest for carrying a loaded firearm. It was therefore reasonable for that officer to suspect that Luckett was engaged in criminal activity. Moreover, that officer's suspicion arose from additional considerations—Luckett's nervous behavior and Luckett's presence in a high-crime area. In context, Luckett's criminal history was probative."
The opinion says that "Luckett's nervous and evasive behavior may be  considered as part of the totality of the circumstances."
The case is U.S. v. Luckett, No. 17-10178.
Copyright 2018, Metropolitan News Company