Friday, September 21, 2018
Page 1
West Los Angeles, Mental Health Courthouses To Be Put on the Market, Under Signed Bill
By a MetNews Staff Writer
The main West Los Angeles Courthouse and adjacent court facilities, shuttered since June 14, 2013 as the result of court budgetary constraints, will be up for sale, under a bill signed into law by Gov. Edmund Brown Jr.
The erstwhile court complex, at 1633 Purdue Avenue, is presently open to the public for skating and is known as the "West LA Courthouse Skate Plaza."
Also going on the market will be the Mental Health Courthouse, located at 1150 N. San Fernando Road in the City of Los Angeles. It closed Nov. 3, 2016, due to structural damage.
Brown announced late Wednesday his signing of the bill, AB 2309, authored by Assembly member Richard Bloom, D-Santa Monica.
According to Assembly and Senate analyses, sale of the buildings should bring in "millions of dollars," to go into the Immediate and Critical Needs Account of the State Court Facilities Construction Fund. The analyses say that the Judicial Council will be spared the current $240,000 maintenance expense in connection with the structures.
The bill, which went into immediate effect as an urgency measure, authorizes the Judicial Council to sell the buildings "at fair market value." The County of Los Angeles has the right of first refusal.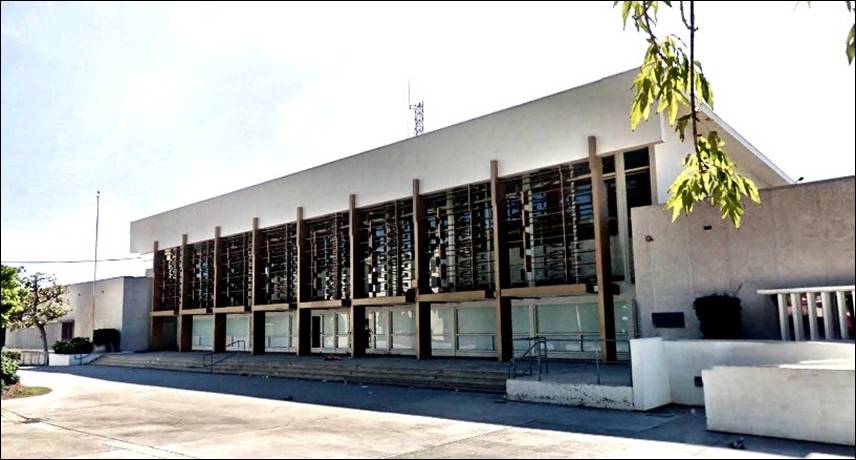 The main West Los Angeles Courthouse, pictured above, along with adjacent court facilities, will be put up for sale, under legislation signed Wednesday by Gov. Edmund Brown Jr.
Courthouses were owned by counties up until the Trial Court Funding Act of 1997, which provided for state financial support for the courts, was followed by the Trial Court Facilities Act of 2002 which transferred ownership to the state.
In 1984, the then-governor, George Deukmejian (now deceased), signed a bill to expand the West Los Angeles Courthouse, a 24-year-old facility in a converted drug store at Purdue Avenue and Santa Monica Boulevard. Since 2008, by contrast, 53 courthouses in California have closed, as well as 215 courtrooms being shut down.
Among California courthouses that have been sold is that in San Pedro.
Other bills the governor signed this week include AB 2664, by Assembly member Chris Holden, D-Pasadena. Where an official court reporter is not available, it dispenses with the requirement that all parties in a case agree to use of a specific private court reporter before the judge may make an appointment of that person as a pro tem reporter.
Government Code §68086 is amended to provide:
"[I]f an official court reporter is not available, a party may arrange for, at the party's expense, the presence of a certified shorthand reporter to serve as an official pro tempore reporter. At the arranging party's request, the court shall appoint the certified shorthand reporter to be present in the courtroom and serve as the official reporter pro tempore unless there is good cause shown for the court to refuse that appointment."
The Assembly floor analysis says:
"This bill will ensure that no one party to litigation can effectively veto the appointment of an otherwise qualified court reporter as the official reporter pro tempore simply by refusing to agree to an appointment."
Another bill that was signed creates an exception to the rule that where a client of an attorney has a guardian or conservator, it is that guardian or conservator who holds the attorney-client privilege. AB 1290, by Assembly member Jay Obernolte, R-Big Bear Lake, adds language to Evidence Code §953 specifying that "[i]f the guardian or conservator has an actual or apparent conflict of interest with the client, then the guardian conservator does not hold the privilege."
Alison Merrilees, chief counsel to the Assembly's Committee on the Judiciary, explained in an analysis:
"[T]his blanket rule—that a conservator holds all attorney-client privileges of a conservatee— begins to break down when we consider the rights afforded to a conservatee or a proposed conservatee to have appointed counsel (such as in proceedings that seek to terminate a conservatorship, or remove a conservator). For example, if a temporary conservatee petitions the court to remove the conservator, existing law allows the court to appoint counsel for the temporary conservatee. But since existing law provides that a conservator 'hold[s]' the privilege, the communication between the temporary conservatee and appointed counsel could be 'held' by the conservator—the person the temporary conservatee is seeking to remove. While we would hope that a conservator would not assert his or her privilege to gain a procedural advantage, a plain reading of the statute appears to allow for it. This literal reading would appear to reach a result that is inconsistent with the general public policy aimed at protecting the rights of a conservatee. In other words, it's absurd."
Copyright 2018, Metropolitan News Company