Thursday, July 19, 2018
Page 1
Ninth Circuit:
$3 Award for Mistaken Raid of Home Was Adequate
Opinion Says Judge Wright Did Not Abuse Discretion by Denying New Trial Based on Inadequacy of Damages;
Pointing Gun at Homeowner Suspected of Being Burglar, 45-Minute Handcuffing, Was 'Investigatory Stop'
By a MetNews Staff Writer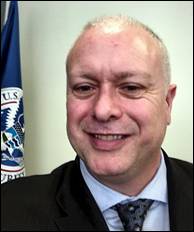 RAYMOND KOVACIC
Immigration Official
The Ninth U.S. Circuit Court of Appeals has held that a District Court judge did not abuse his discretion in declining to grant a new trial to a man and his son who were awarded only $3 by a jury in connection with an early-hours raid on their home, during which both they and their five house guests were handcuffed, with the incident apparently resulting from error on the part of sheriff's deputies.
The appeals court found that the man, a high-level federal official who owned the home and was mistaken by deputies for a burglar, though confronted at gunpoint and detained in a patrol car in handcuffs for three-quarters of an hour, was reasonably found by the jury to have merely been subjected to an "investigatory stop."
Affirmance of the July 11, 2016 order by Judge Otis D. Wright II, of the Central District of California, came in a memorandum opinion, filed Tuesday.
The plaintiffs were Raymond Kovacic, then-assistant field office director for the U.S. Department of Homeland Security in the Greater Los Angeles Area, and his son, Jared, who was 17 at the time of the occurrence, on July 31, 2013. (Kovacic is now assistant director of the U.S. Immigration and Customs Enforcement's Office of Congressional Relations.)
The Sheriff's Department contended that it acted reasonably based on a suspicion by deputies on car patrol, Jonathan Boden and Christopher Redenbaugh, that a burglary was in progress at the Kovacics' Westlake Village home. The Kovacics asserted that the actions by deputies were wholly unwarranted.
Cause for Presence
Just what it was that brought deputies to the home, shortly after 1 a.m., was not determined. One allegation in the complaint, repeated by Jared Kovacic in a declaration in opposition to the county's motion for summary judgment, suggested that deputies might have come to the wrong address.
Sgt. Edward J. McDonald allegedly told Jared Kovacic, as he was being handcuffed by either Boden or Redenbaugh, "We got you. Fred." After the youth protested he was not "Fred," McDonald purportedly asked:
"Well, if you're not Fred, then where's your sister?"
He has no sister. A deputy, it was alleged, repeatedly addressed him as "Fred."
After a search of the premises, and after it was ascertained that the supposed burglar was the owner, Raymond Kovacic—who had been in the backseat of a patrol car for about 45 minutes, with his hands allegedly becoming numb from the metal restraints being affixed too tightly—and the others, were released. McDonald, according to the complaint, attempted to explain the department's actions to Raymond Kovacic.
The pleading (supported by a later declaration) sets forth:
"Sgt. McDonald….told Raymond Kovacic that the deputies had been 'responding to a burglar alarm' from within the Kovacic house, and that the two deputies who had initially forced Mr. Kovacic off his property at gunpoint, handcuffed him, and threw him into the back of their cruiser were 'two of his best guys.'
"…After Raymond Kovacic explained that his house was not equipped with an alarm, Sgt. McDonald… left and returned to Raymond Kovacic's location, this time claiming that the deputies 'heard a crash' at the house. This was another completely false statement by Sgt. McDonald…."
Judge Ridicules Assertions
In denying the county summary judgment on the cause of action for violation of the Fourth Amendment right against unreasonable searches and seizures (while granting it as to other claims), Wright said:
"Plaintiffs here have sufficiently raised material facts as to whether Defendants had reasonable suspicion to seize and handcuff Raymond and Jared Kovacic. Even if the Court accepts Deputies Boden and Redenbaugh's claims that they heard a 'crash' and then saw through a seven-foot tall brick wall and into the Kovacic living room, where a burglar-esque figure was holding a flashlight and placing items in a bag—and for the Court to accept this tale would give Defendants far more benefit of the doubt than their story deserves—additional facts draw into question the existence of reasonable suspicion….
"It is in dispute that an officer could reasonably believe that a burglar, who after hearing police radios outside, would walk out the front door, clad in slippers and a sweatshirt, and throw on all the lights….To the contrary, any suspected burglar worth his salt would be jumping that seven-foot wall and fleeing out the back. And even if the deputies had reasonable suspicion to detain Raymond, they certainly did not have the requisite level of suspicion to detain his teenage son. Jared emerged from the home just a few minutes after his father; he too was dressed rather un-burglar-like in his boxer shorts and t-shirt….What burglar runs toward the sounds of shouting officers, and do so in his underwear?"
Jury's Verdict
The jury reached its verdict on May 6, 2016. The plaintiffs moved for a new trial on June 3, 2016, on the ground that the nominal-damage award was contrary to the evidence which, they maintained, showed substantial harm to them.
Wright on July 11, 2016, denied that motion, as well as an earlier-filed post-trial motion pursuant to Rule 50(b) of the Federal Rules of Civil Procedure. That rule permits entry of "judgment as a matter of law" after a jury trial, upon renewal of a motion for such relief that had been made, under Rule 50(a), before verdict, and denied.
The problem for the Kovacics was that their lawyer, though he had assertedly intended to make such a pre-verdict motion, hadn't.
The opinion declares:
"Even assuming we may review the district court's denial of the Kovacics' Rule 50(b) motion for plain error, there was sufficient evidence for a jury to reasonably find that the seizure of Raymond Kovacic was not an arrest, but rather an investigatory stop justified by reasonable suspicion."
'No Actual Damages'
The opinion declares with respect to damages:
"A jury could reasonably find that the Kovacics suffered no actual damages from an unreasonable search of the home."
It adds that "[a]lthough Jared Kovacic was detained for 20 minutes, a jury could reasonably find that this brief deprivation of liberty does not amount to a per se actual injury," contrasting this with a 100-day period of incarceration found by the circuit in its 2013 opinion in Hazle v. Crofoot to have been unlawful.
There, an atheist was placed on parole; a condition was attending a religion-based treatment program; he declined and was subjected to an additional 100 days of imprisonment; he sued after his release; and a jury awarded him zero dollars in damages. The Ninth Circuit reversed the denial of a motion for a new trial.
The trial court had made a finding of "actual injury" and, under a statute, assessment of compensatory damages was mandatory.
Tuesday's opinion adds that "the Kovacics' evidence of damages was based solely on their conclusory testimony" concerning the injuries which, it says, the jury is at liberty to discredit.
The panel—comprised of Circuit Judges Sandra Segal Ikuta and N. Randy Smith, joined by Senior District Court Judge Stephen M. McNamee of the District of Arizona, sitting by designation—opted to decide the case without oral argument.
The case is Kovacic v. County of Los Angeles, No. 16-56141,
Copyright 2018, Metropolitan News Company