Thursday, October 11, 2018
Page 1
C.A. Reinstates Action by Congregation In Estonia Over Assets of an Estate
Reverses Dismissal Based on Time Bar; Says Knowledge of Alleged Skullduggery In Inducing Woman to Change Her Will in 2000 Did Come Until 2012
By a MetNews Staff Writer
The Court of Appeal for this district yesterday reinstated an action by a congregation in Estonia alleging that it was deprived of proceeds of the estate of a woman who died in 2003 and whose assets were allegedly siphoned by caretakers who exerted undue influence over her, rejecting the contention that the suit, brought in 2013, was time-barred.
The opinion by Justice Thomas Willhite of Div. Four reverses a judgment of dismissal which followed Los Angeles Superior Court Judge Clifford Kleinís sustaining of a demurrer without leave to amend. Klein found that whether a three- or four-year statute of limitation applied, the action came too late.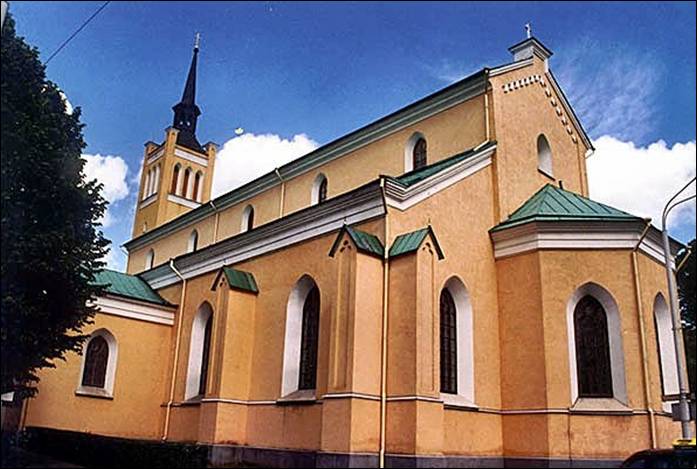 Depicted above is St. Johnís Church in Tallinn, Estonia, opened on Dec. 17, 1867, and belonging to Eelk Tallinna Jaani Kogudus, a congregation of the Estonian Evangelical Lutheran Church. The Court of Appeal yesterday held that an action by Jaani to set aside amendments to a will and trust, made in 2000, is not time-barred because it did not learn until 2012, according to its pleading, that there had been earlier instruments leaving an entire estate to it.
Taking allegations of the coimplaint as true, a cause of action did not accrue, Willhite said, until plaintiff Eelk Tallinna Jaani Kogudus, a congregation of the Estonian Evangelical Lutheran Church, learned in 2012 that decedent Aime Amalie Henriette Niiís will and trust had originally left everything to it, but had been changed in 2000 limiting what it would receive.
Nii, who was diagnosed in 1998 as suffering from dementia, died on Aug. 26, 2003. The congregation in 2004 received $124,942.45, and was provided a copy of the will a year later, but was not told of the prior instruments.
According to its allegations, Niiís former caretaker, defendant Peet Jurgenstein, had induced Nii to change her will and trust to give him her home on Sycamore Avenue in Los Angeles, rather than the congregation receiving proceeds from the sale of the property, as previously provided. As executor, it was averred, he pocketed about $800,000 from Niiís bank accounts, which should have gone to the plaintiff.
The action, against Peet Jurgenstein and his wife, Laine Jurgenstein, who had also been a caretaker, was shifted from the civil department to the probate court in 2016.
Willhite wrote:
ďThe trial courtís theory underlying application of the statute of limitations is that Jaani was on notice of changes to Niiís bequest in 2004, when Jaani received the cash bequest from respondents, and at the latest in 2005, when Jaani received the Amended Will. However, in order for inquiry notice to exist under these circumstances, Jaani would have had to have known about the prior version of both the Amended Will and Amended Trust. Jaani has not pleaded that it knew about the prior versions, and the inference from the various versions of the complaint and petition is that Jaani did not know of the bequest to it of the Sycamore Avenue property.Ē
He continued:
ďSimply because the Will had been amended would not, without Jaaniís knowledge of the original version, establish inquiry notice. The only manner in which Jaani, under the facts pleaded, could have acquired notice of the original version is if respondents had discharged their duty under Probate Code section 16061.7, subdivision (a) to notify the beneficiary of the change of trustee and change in terms. This notice was not given. Thus, Jaani was not on inquiry notice. Rather, Jaani received actual notice in July, 2012 when someone from the local church advised it that the terms of the bequest been changed.Ē
The case is Kogudus v. Jurgenstein, B283536.
West Los Angeles attorney H. Michael Soroy, the honorary consul for Norway in Los Angeles, along with Katherine Hofmann, represented the congregation. J. Andrew Douglas and Max Yueh of Wright Kim Douglas acted for the Jurgensteins.
Copyright 2018, Metropolitan News Company