Thursday, February 8, 2018
Page 1
Funeral Services Scheduled for Ross M. Klein, 63, Los Angeles Superior Court Judge
By a MetNews Staff Writer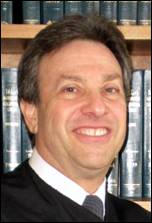 ROSS M. KLEIN
Los Angeles Superior Court Judge
2005-2018
Funeral services are set for Friday for Los Angeles Superior Court Judge Ross M. Klein, who served as a judicial officer for 20 years.
He was 63.
Klein was elected by judges as a commissioner of the Southeast Municipal Court, effective Jan. 1, 1998, serving first in the Huntington Beach branch, then in South Gate.
In 2000, trial court unification took place, and Klein became a commissioner of the Los Angeles Superior Court. In 2005, then-Gov. Arnold Schwarzenegger awarded him a judgeship, and in 2009, placed him under consideration for appointment to the Court of Appeal.
'Brilliant Judge, Lawyer'
"He was a brilliant judge and lawyer and a beloved friend to many," Los Angeles Superior Court Presiding Judge Daniel J. Buckley said in an email to colleagues.
Klein was most recently stationed at the Governor George Deukmejian Courthouse in Long Beach. One judge there who had known him for several years is Judith Levey Meyer.
As a deputy district attorney, she had been his calendar deputy for a year. In a 2003 interview, she said of Klein in a newspaper interview:
"He remembers how he wanted to be treated when he was a public defender. He never raises his voice, he allows both sides to make their arguments and, when he rules, he comes out with a logical, legally correct ruling backed by law. He is not condescending to one side or the other."
Meyer's Reflection
On Tuesday night, Meyer reflected:
"Ross was my mentor, my colleague, and my friend. His untimely demise leaves an irreplaceable hole in the L.A. Superior Court...and my heart."
Judge Daniel J. Lowenthal, who also sits in Long Beach, said yesterday:
"I had the great pleasure of working with Ross, during my first assignment, at the Downey courthouse. He spent countless hours answering my questions and showing me the ropes.
"He possessed encyclopedic knowledge of criminal procedure, was patient, kind and an absolute mensch. I will miss him dearly."­
Klein was a deputy public defender for 18 years—from 1980-98—prior to being hired as a commissioner. In 1978, he became a volunteer law clerk for Bet Tzedek Legal Services, which provides free legal services to the indigent, and, after his admission to the State Bar the following year, assumed a position as an attorney for the organization.
His law degree is from the University of La Verne School of Law. His desire to become a lawyer was fixed during high school; he spent his summer vacations sitting in on proceedings in the Van Nuys Courthouse.
Services will be held Friday at 11 a.m. at Harbor Lawn-Mt. Olive Memorial Park & Mortuary, 1625 Gisler Avenue, in Costa Mesa.
Klein resided with his wife, Janine Klein, in Orange County. They have a daughter and a step-daughter.
Copyright 2018, Metropolitan News Company