Tuesday, January 23, 2018
Page 1
Executor of Kerkorian Estate May Oppose Widow's Petition
Says Judge Properly Authorized Personal Representative to Seek Defeat of Claim by Woman Who Married Magnate, 96, Renouncing Claim to Share of Estate in Exchange for $10 Million
By a MetNews Staff Writer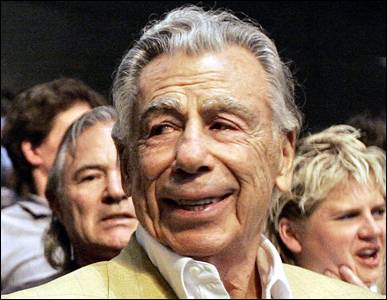 —AP
Kirk Kerkorian is seen in the Oscar De La Hoya and Floyd Mayweather Jr. boxing match at the MGM Grand Garden Arena in Las Vegas in 2008. He died in 2015 and litigation persists over his estate.
The Court of Appeal for this district has upheld a Los Angeles Superior Court order allowing the executor of the estate of multi-billionaire businessman Kirk Kerkorian to oppose an "omitted spouse" petition by the decedent's widow, who expressly waived the power to bring such a petition in a prenuptial agreement.
The opinion, by Justice Lamar Baker of Div. Five, was filed late Friday. It affirms an order by Judge Maria E. Stratton granting the petition of executor Anthony Mandekic, pursuant to Probate Code §11704, to "assist the court" by participating in litigation over Una Davis's bid to acquire a third of the estate, as the surviving spouse.
That portion is estimated at more than $600 million.
Davis and Kerkorian were wed March 30, 2014. He was 96; the Wall Street Journal had earlier described her as "much younger" than he.
They separated two months after the wedding.
Kerkorian—who built the MGM Grand Hotel in Las Vegas and on three occasions purchased and sold MGM Studios—died June 15, 2015, at age 98.
Probate Code Provisions
Davis maintains that she is entitled to take the same share of the estate she would have received had Kerkorian died intestate. But he did have a will, executed in 2013, and she was not included in it.
The widow relies on Probate Code §21610 which provides that "if a decedent fails to provide in a testamentary instrument for the decedent's surviving spouse who married the decedent after the execution of all of the decedent's testamentary instruments, the omitted spouse shall receive a share in the decedent's estate."
That section says that the share is to be "equal in value to that which the spouse would have received if the decedent had died without having executed a testamentary instrument."
$10 Million Payment
However, Mandekic maintains that that Davis waived any right under §21610.
Two days before the marriage, Kerkorian gave Mandekic, chief executive of his private holding company, $10 million to confer on Davis after the wedding. This was to be the totality of what she would receive from him.
A day before they were wed, Davis signed a prenuptial agreement under which she agreed that in exchange for the $10 million payment, she would receive nothing from her husband's estate. The terms included a disavowal of entitlement to seek a share as an "omitted spouse."
Davis's petition, in which she does seek a share a of the estate, includes her declaration in which she attempts to minimize the significance of the prenuptial agreement, saying:
"Kirk and I never discussed any such agreement directly, but I was willing to do whatever was necessary to wed the man that I loved. I honestly was not too concerned with the specific terms of any premarital agreement and neither for that matter was Kirk. We just wanted to be married and to move forward with our lives together."
She contends that she signed the prenuptial agreement "under duress," that her husband was too infirm to understand what he was doing, and that the instrument was, in any event, ineffectual because it bears only her signature, not his.
Probate Code §11704
The question decided Friday was whether Stratton properly granted consent to the executor to take a side in the dispute over Davis's "omitted spouse" petition. The resolution depended on an interpretation of Probate Code §11704 under which a personal representative of an estate may enter a controversy with court approval.
It specifies:
"A petition filed pursuant to this subdivision may be granted only upon a showing of good cause….The court may direct the personal representative to file papers as a party to the proceeding, or to take other specified action, if deemed by the court to be necessary to assist the court."
Davis argued that Stratton erred by finding "good cause" while neglecting to consider whether Mandekic's participation was "necessary to assist the court" and, aside from that, "good cause" did not exist for authorizing Mandekic to take a part in the proceeding.
Baker's Opinion
"Petitioner is wrong on both counts," Baker responded, explaining:
"A probate court's good cause finding necessarily subsumes its determination of the assistance that will be necessary because a court cannot appropriately assess whether good cause exists to allow an executor to participate in an action without some notion of what form that participation will take. Section 11704's use of the word 'necessary' must be read in context, and as courts have long recognized, it often carries—as it does here—a meaning more akin to 'useful' rather than 'indispensable.' The probate court expressly found good cause to permit Mandekic to participate in the action as he proposed, namely, as a litigant opposing petitioner's motion to obtain one-third of Kerkorian's estate, and that good cause determination was well within the court's broad discretion."
Davis argued that because moneys (about $1.6 billion) were left by Kerkorian to unspecified charities (to be determined by three members of a committee designated in the will), the Office of Attorney General necessarily gained involvement, and that it was competent to deal with the "omitted spouse" petition.
Baker wrote:
"Mandekic's unusually high degree of personal familiarity with the matters relevant to petitioner's proceeding, combined with his lack of self-interest in the distribution of the estate, supports the probate court's determination good cause was shown."
Although Mandekic did receive $7 million under the will, that sum had already been distributed to him at the time Davis filed her petition.
The case is Estate of Kerkorian, 18 S.O.S. 349.
Attorneys on appeal for Davis were Robert K. Sall and Michael A. Sall of Sall Spencer Callas & Krueger, along with Robin S. Bentler, John P. Deily, James C. Harvey, and Brendan J. Coughlin of Bentler Mulder. G. Jill Basinger, Elizabeth G. Chilton, and David Zarmi of Glaser Weil Fink Howard Avchen & Shapiro represented Mandekic.
Copyright 2018, Metropolitan News Company