Monday, July 16, 2018
Page 1
Judge Michael K. Kellogg Slates Retirement
By a MetNews Staff Writer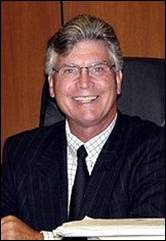 MICHAEL K. KELLOGG
Superior Court Judge
Los Angeles Superior Court Judge Michael K. Kellogg is readying to retire, with Sept. 14 being his last day on the bench, the MetNews has learned.
Kellogg, 75, was appointed to the Los Angeles Municipal Court in 1996 by Gov. Pete Wilson, and gained elevation to the Superior Court in 2000 through unification.
Then known as "Mike" Kellogg, he was a fullback for the Denver Broncos in 1966 and 1967.
An April 5, 1967 article in the Long Beach Independent observes that Kellogg "earned the reputation last season as being one of the most effective blocking backs in the American Football League."
It notes that earlier, he was signed "as a free agent by the Oakland Raiders after also receiving an offer from the San Francisco 49ers," but "[a]fter starting the '65 season with Oakland, Mike was sent to the Continental League for the remainder of the year before Denver obtained rights to him last spring."
The remarkable aspect of Kellogg playing professional football was that at the age of 6, he was diagnosed with polio, and appeared destined never to walk normally. On Feb. 23, 2012, he was presented with the "Inspiration Award" by the San Fernando Valley Bar Association based on his having overcome polio as a youth and, more recently, cancer.
One of his two younger brothers is Joseph Keith Kellogg Jr.—who goes by the name "Keith"—a retired U.S. Army lieutenant general who is currently serving in the Trump Administration as executive secretary and chief of staff of the National Security Council.
From 1984 until his appointment to the bench, Michael Kellogg was a sole practitioner in Torrance, performing criminal defense work. Before that, he was a sole practitioner from 1979-81, a partner in the Torrance law firm of Donahue, Kellogg & Donahue from 1981-83, and a member of the city prosecutor's office in Torrance from 1983-84.
Kellogg graduated from Santa Clara University, where he played on the football team. A classmate was John Carson, who also went into law and has served as president of the Los Angeles County Bar Association.
The judge's law degree is from the California College of Law, in West Los Angeles, which no longer exists.
He is married to Lisa Grace-Kellogg, an attorney and publisher of newspapers including the Compton Bulletin. She is the daughter of the co-publishers of the MetNews.
Copyright 2018, Metropolitan News Company