Thursday, February 15, 2018
Page 1
Court of Appeal:
No Relief for Woman Who Sued Party, In Place of One With Similar Name
Statute of Limitation Has Now Run on Suing Intended Defendant
By a MetNews Staff Writer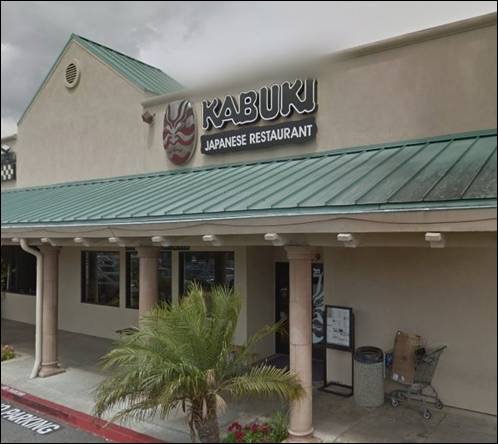 The Kabuki restaurant in Pasadena, pictured above, is where plaintiff Elizabeth J. Tenorio suffered personal injuries in 2012.
The Court of Appeal for this district has held that a woman who was injured when a waiter tripped and caused her to fall on her back cannot sue the company that owns the restaurant she was at it because, by mistake, she sued a corporation with almost the same name and it's now too late to bring a new action.
Acting Presiding Justice Judith Ashmann-Gerst wrote the opinion for Div. Two. It was filed Tuesday and not certified for publication.
The opinion came in a trip-and-fall case. Plaintiff Elizabeth J. Tenorio suffered injuries on Feb. 24, 2012, at Kabuki Japanese Restaurant, on Foothill Boulevard in Pasadena.
During the period from Feb. 24, 2012, to March 18, 2013, her attorney corresponded with Golden Eagle Insurance, whose insured was identified by both Tenorio's lawyer and the insurer as "Kabuki Restaurant, Inc. dba Kabuki Japanese."
2013 Lawsuit
On July 16, 2013, Tenorio, represented by Pasadena attorney Pius Joseph, brought suit not against Golden Eagle's insured, but against "Kabuki Japanese Restaurant & Sushi, Inc." Service of process was effected on its agent; it did not answer.
Tenorio filed a request to enter default on Oct. 17, 2013, After some difficulty in preparing the paperwork in connection with obtaining a judgment, on Jan. 6, 2016, a default judgment was entered against Kabuki Japanese Restaurant & Sushi, Inc. for $141,743.25.
On that date, Tenorio dismissed Doe defendants.
Letter From Attorney
Joseph on March 10, 2016, received a letter from Dordaneh Ghaemi of Kirk & Myers, the lawyer for Kabuki Japanese Restaurant, Inc. dba Kabuki Japanese—the company that owns the restaurant where Tenorio was injured. Ghaemi advised that his client had not been sued and had no connection with the party that was sued.
Thirteen days later, Tenorio moved for leave to amend the complaint to substitute the name of Ghaemi's client. The motion was opposed, and Los Angeles Superior Court Judge Howard L. Halm denied it.
In explaining the affirmance, Ashmann-Gerst said:
"The case authorities cited by plaintiff are inapposite to the extent they involve plaintiffs who made mistakes because a defendant conducted business under a fictitious name or used business names interchangeably….That is not the situation here."
No 'Misnomer'
She continued:
"[I]it may be that plaintiff intended to sue Kabuki Restaurants, Inc., but that is not what she did. She named and served Kabuki Japanese Restaurants & Sushi, Inc. and then attempted to substitute Kabuki Restaurants, Inc., after the statute of limitations had expired on her claims against it, under the guise of an amendment to correct a mistake in a party's name. But there was no misnomer here; rather, there was a failure to name the correct party as a defendant. As such, plaintiff's claims against Kabuki Restaurants, Inc., are time-barred, and the trial court did not abuse its discretion in denying plaintiff's motion for leave to amend."
The case is Tenorio v. Kabuki Japanese Restaurant & Sushi, Inc., B276443.
Tenorio was represented on appeal by Joseph and Ghaemi acted for Kabuki Restaurants, Inc., as amicus curiae.
Copyright 2018, Metropolitan News Company