Tuesday, May 29, 2018
Page 8
JUDICIAL ELECTIONS: Los Angeles Superior Court Office No. 67
ALJ, Prosecutor, Are in Contest With Unemployed Lawyer
By ROGER M. GRACE, Editor
There are three aspirants for this office: State Bar Court Judge Maria Lucy Armendariz, Los Angeles Deputy District Attorney Dennis P. Vincent, and unemployed lawyer Onica Valle Cole.
Cole, a discharged Los Angeles deputy city attorney, was profiled on Thursday.
Below: a look at the other two candidates.
MARIA LUCY ARMENDARIZ
State Bar Court Judge Puts Emphasis on Her Judicial Experience
As a hearing officer for the State Bar Court, Maria Lucy Armendariz (she goes by "Lucy") has the title of "Judge." In her campaign for election to the Los Angeles Superior Court, she's milking that title for all she can.
A casual visitor to her campaign website would be apt to assume she's the incumbent. She bills herself as "JUDGE LUCY ARMENDARIZ, and below that, in huge type, there appear the words, "Proven Judicial Experience."
She does indicate in small type that she is a judge of the "State Bar Court of California."
"I'm the only judge in the race," she says in an interview.
With her Democratic Party connections—Armendariz was chief of staff to then-Senate Majority Leader Gloria Romero, D-East Los Angeles (2002-07), and counsel to then-Assemblyman Antonio Villaraigosa, D-Los Angeles (1997-99)—it seems odd that she is going to the trouble of campaigning, rather than seeking appointment to the bench by the Democratic governor, Jerry Brown. It was another Democratic governor, Gray Davis, who gave her the job of ombudsperson for women's prisons.
But Armendariz relates that she has not applied for appointment to a judgeship.
"I might consider an appointment if the election doesn't work out," she says, but notes that there was, this year, a "good opportunity" to gain a superior court judgeship through election, apparently referring to there being 10 open seats.
Thousands of Cases
She says of her post with the State Bar Court:
"I've been there for 11 years, so I've handled thousands of cases."
In order to understand how an attorney went off track in handling clients' matters, Armendariz declares, it is necessary for her to "know civil, criminal, business law."
The hearing judge represents:
"I am very rarely appealed and never have I been reversed."
She quickly amends her statement by saying that the State Bar Court's Review Department "may have lowered discipline" sometime or other, but never found that she was flat-out wrong.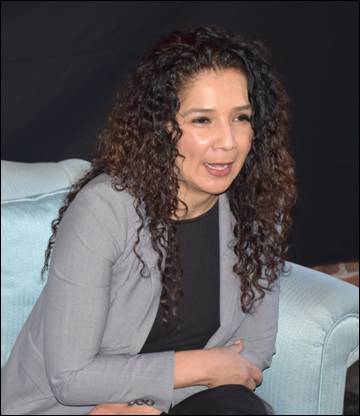 ARMENDARIZ
Disbarment of D.A.
Armendariz points to what was probably the most publicized of her cases: that involving then-Del Norte District Attorney Jon Alexander, who engaged in an ex parte communication with a represented defendant and had a disciplinary history.
"I disbarred him," she claims.
Actually, on April 4, 2013, Armendariz recommended disbarment; the Review Department on April 30, 2014, following an independent review, made its own recommendation for disbarment in an opinion by Judge Judith A. Epstein; the California Supreme Court on Nov. 21, 2014, effected the disbarment by denying a petition for review of Epstein's decision, rendering her decision its own.
Armendariz also says of a lawyer who stole $20,000 from a client: "I disbarred him."
The administrative law judge makes known that she does "not grant a lot of continuances" and explains:
"To protect the public, there needs to be resolution quickly."
Armendariz was appointed as a hearing judge by the state Senate Rules Committee in 2007 and was reappointed by that body in 2016.
Foster Homes
The Oakland resident, 47, grew up in Los Angeles. At the age of 10, she was removed from the custody of her parents, who were found unfit—when she was 8, her mother was sentenced to life-imprisonment—and she was placed in a series of foster homes. In 2006, then-Chief Justice Ronald George placed her on the Supreme Court's Blue Ribbon Commission on Children in Foster Care.
She is a member of Hispanics Organized for Political Equality ("HOPE") and Leadership California, both of which seek to encourage girls and women to assume leadership roles, as well as the California Judges Association.
 Her law degree, obtained in 1997, is from UC Hastings School of Law. She is unmarried and has a daughter who is a freshman in college.
Armendariz said early this year that to win the contest "outright in June"—which is her goal—would require an expenditure of about $100,000. She indicated that she is "not independently wealthy," did not want to put her own money into campaign coffers, and would be "asking mostly family and friends" for donations.
She apparently has many family members and friends. The candidate has garnered donations from persons whose jobs would not seem to indicate a financial ability to provide such sums, such as $3,100 from a City of Oakland firefighter; $1,000 from one teacher in the Los Angeles Unified School District, $500 from another, and lesser sums from other teachers; $250 from one social worker and $200 from another; and $250 from an Immigration and Customs Enforcement agent.
DENNIS P. VINCENT
Went From Air Force, to Criminal Defense, to Prosecution
There are various stock reasons for going into law. Among them are a desire to follow in the footsteps of a progenitor, having been inspired by watching episodes of "Perry Mason," and because it's a springboard to political office. Los Angeles Deputy District Attorney Vincent was motivated quite differently to become a lawyer.
He came to realize, through a family tragedy, how huge a difference a caring and competent lawyer can make in a person's life.
Vincent was in the Air Force, stationed in Alaska, when, in his home state of Minnesota, a family member, who was a waitress, was kidnapped, raped, and left in the woods. The rapists were apprehended. The prosecutor initially assigned to the case, insensitive to the victim's needs, did not keep her informed of developments. Then, a different prosecutor took over.
"That person was very attentive," Vincent says, enabling his family member to be "able to go through the process" and testify.
Vincent was shifted in 1988 to Edwards Air Force Base in Kern County, northeast of Lancaster. His wife immediately landed a job as a technician with Antelope Valley Hospital, where she remains employed. Vincent soon enrolled at the University of LaVerne College of Law, then in Encino, travelling from the base after work to night classes there. He gained his law degree in 1994, passing the bar exam that year, leaving the Air Force after nearly 17 years of service, and becoming a criminal defense attorney.
His practice was centered in the Antelope Valley but, he recounts, he handled cases in other parts of the county and in seven other counties.
Turns Down Cases
There were two cases he turned down. One was a rape case. He recalls that then-Los Angeles Superior Court Judge Steven Ogden, in a private conversation, castigated him, arguing that the accused deserved representation. Vincent says he agreed with that proposition, but was not willing to be the one to provide that representation. The facts were just too close to those in the case of his family member.
(Ogden, now retired from the court, has endorsed Vincent.)
Vincent relates he also declined to represent a person accused of the slaying of a young girl.
If elected, Vincent says, he would not have trouble presiding over rape cases—recognizing that "[w]e don't want to convict the wrong person"—but that if the facts of a particular case did evoke emotions on his part based on the incident in Minnesota, "I would obviously recuse myself."
While Vincent was a defense attorney, he encountered a deputy district attorney named Stephen Lawrence Cooley, who happened to become district attorney in 2000. Vincent says Steve Cooley later encouraged him to apply to become a deputy DA; he did; he got the job.
Vincent, 59, was a criminal defense attorney for 10 years and has been a deputy district attorney for 13 years. Cooley is endorsing him in his quest for election to a judgeship.
Handles Alternative Sentencing
Presently, Vincent is assigned to alternative sentencing. His supervisor in the Antelope Valley Courthouse, Steven Frankland, says of Vincent's work:
"Mr. Vincent created, implemented and monitors the Alternate Sentencing Courts that exist within the Antelope Valley. He met with various mental health professionals throughout the Antelope Valley and created the Alternate Resource Court. It has proven to be an overwhelming success and there is a waiting list to get into the program."
He goes on to say:
"In addition, he has excelled in reconnoitering with various veterans groups to make them aware of our Veteran Alternative Sentencing Court. With his expert guidance and dedication to the vision of [District Attorney] Jackie Lacey. Mr. Vincent has increased participation and success within the veteran community."
Frankland adds:
"In addition, Mr. Vincent has developed protocols for all of the Alternative Sentencing programs. The protocols include but are not limited to identifying potential participants, providing notification, memo preparation, scheduling evaluations and providing appropriate contact information. As a result of Mr. Vincent's efforts to ensure that Alternative Sentencing is a successful operation within the AV community, Mr. Vincent was awarded 'Prosecutor of the Year' for the Antelope Valley."
These comments come from Vincent's office performance evaluation for the period of June 15, 2016 to June 14, 2017. He is given the overall rating of "Exceeded Expectations (Very Good)" which he has received for at least the past seven years.
Other Plaudits
Frankland also says of Vincent, in his latest evaluation report:
•"[H]e meets with community groups and he thoughtfully addresses their questions and concerns. He is well liked by law enforcement and has the express trust of the political leaders of the Antelope Valley."
•"Mr. Vincent is superb at legal writing and legal research. He is the equivalent of having an in house appellate attorney in the AV Branch. He does a fabulous job mentoring new DDAs and he is always available to assist any DDA researching and briefing…complex legal issues."
•"Inasmuch as the bench in the Antelope Valley does not always have a firm grasp on the law, Mr. Vincent does an excellent job of educating them without insulting them. He is a tremendous asset when addressing legal questions and is considered an authority on the law throughout the court house."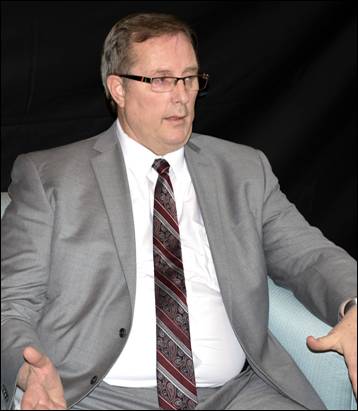 VINCENT
2014-15 Report
Frankland's 2014-15 report terms Vincent "the consummate team player."
It tells of his help to law enforcement by way of training and "in other areas as well," specifying:
"Mr. Vincent assisted on creating a fill-in-the blank form to expedite search warrant application process for obtaining access to cell phone information. He also created spread sheets and information doctrine regarding Proposition 47 issues [retroactive lowering of offenses] that proved beneficial to DDAs and to law enforcement."
The report discloses:
"Mr. Vincent was also instrumental in correcting a traffic court issue in which the Court on its own motion was amending and changing traffic citations. Mr. Vincent wrote an extensive memorandum on the issue demonstrating to the bench officer in question the error in his ways. Said memorandum also convinced the Presiding Judge that the traffic bench officer was in error. The traffic court now runs efficiently."
Almost Ran Earlier
Two years ago, Vincent took out nominating papers for two Los Angeles Superior Court open seats but filed for neither seat. As of March 9 of that year, when Vincent declared he was dropping out, one deputy district attorney had filed nominating papers for one of those seats, two from his office had filed for the other, and there were other colleagues who had filed qualifying documents and were eying each of the seats.
The MetNews reported on May 10, 2016, that Vincent "changed his mind" about running "because he didn't 'want to get in the middle of a D.A. fight,' and also because of a personal issue he needs to address."
The personal matter, he now says, is that he had undergone spinal fusion surgery in 2013, a screw had come loose, and he had chosen not to have a second operation to remove the screw. Rather, he opted to see if a bone would grow around it, a natural process but one that that would take longer to resolve the problem—and in 2016, after-effects of the operation, he acknowledges, persisted.
Back Is 'Fine'
Now, he says, "My back's fine," so there's no need to wait further before running.
"I waited until I knew I was healthy enough," the prosecutor explains, rather than finding himself in a situation such as that of Pamela Rogers, a judge in his neck of the woods, "long ago."
As a judge of the Antelope Valley Municipal Court, Rogers displayed bizarre behavior on the bench, attributed to the use of prescription pain medication, and had a shoddy attendance record. The Commission on Judicial Performance instituted disciplinary proceedings in 1998, and eventually let her off with a public reprimand for deciding seven cases beyond the 90-day deadline, with her medical and attendance records being monitored for two years. Two Antelope Valley attorneys ran against her in 2000 for her municipal court seat but, by the time of the primary election, it became a superior court race in light of trial court unification. She won. Rogers applied for a disability retirement in 2002 after being absent from the bench for a year with back problems, and her application was granted.
Vincent remarks:
"I didn't want to be that person. I didn't want that to be my legacy."
Opponent's Judicial Experience
The candidate is now in a race in which opponent Lucy Armendariz, as a State Bar Court hearing judge, can boast of judicial experience—which he lacks, except for a few half-day stints as a volunteer judge pro tem.
He says that chores that a judge would be "handling in a normal Los Angeles court are not going to be what she's doing now."
For 23 years, on both sides in criminal cases, he's been "mostly" in the courtroom, he points out, participating in Los Angeles Superior Court trials, rather than administrative hearings,
As a calendar deputy in the Antelope Valley, Vincent says, he's dealt with "calendars that are huge," with 35-50 matters coming up "plus a trial going on in that same courtroom."
Vincent says he is not a member of any organization.
He and his wife have three daughters, three granddaughters, and two grandsons.
Copyright 2018, Metropolitan News Company