Thursday, May 24, 2018
Page 8
JUDICIAL ELECTIONS: Los Angeles Superior Court Office No. 67
'Attorney/Mother' Is Up Against State Bar Judge, DDA
By ROGER M. GRACE, Editor
Maria Lucy Armendariz has a distinct advantage in this race: the word "Judge" in her ballot designation. She's listed as "Judge of the State Bar Court, State Bar of California."
She says she hopes to win election to the Los Angeles Superior Court in the primary—a goal that appears feasible.
Unknown, however, is what sort of effect on voters will be the unconventional designation of Onica Valle Cole who is labeled "Attorney/Mother." She is represented by the leading campaign consultant in Los Angeles judicial races, David Gould.
Also in the race is Dennis P. Vincent, identified on the ballot as "Deputy District Attorney, County of Los Angeles."
On her campaign website, Armendariz lists nine sitting Los Angeles Superior Court judges as endorsers—including Assistant Presiding Judge Kevin Brazile—one retired judge of that court, a retired Santa Clara Superior Court judge, and former California Supreme Court Justice Carlos Moreno. More prominently featured are names of 31 state and local nonjudicial officeholders, five persons who formerly held such posts, and the chairs of the California Democratic Party and Democratic County Central Committee. The Los Angeles County Democratic Party and 12 Democratic clubs are reported to be in her corner. She is endorsed by the Los Angeles Times.
Cole, on her website, sets forth endorsements by nine current Los Angeles Superior Court judges, one of its former judges, a current commissioner, and former Court of Appeal Presiding Justice Candace Cooper. She, too, lists nonjudicial officeholders—13 of them—and five former politicians, including ex-Los Angeles City Attorneys Carmen Trutanich and Rocky Delgadillo. Cole was a deputy city attorney until being fired in January. Three Democratic Clubs and three Democratic Party activities are shown as supporters.
On his own campaign website, Vincent provides names of four sitting judges of the Los Angeles Superior Court and two former judges of that court who call for his election. He also notes the backing of the then-district attorney who brought him into the office in 2005, Steve Cooley, and the endorsement by the MetNews, as well as by four nonjudicial officeholders.
According to the latest campaign financial reports, covering the current calendar year, Cole has raised $165,397.79 including $99,650 in loans from herself; Armendariz took in $71,651, including a $20,000 loan from herself and $10,000 from the Commerce Hotel Casino; and Vincent has no campaign committee, limiting his expenditures in the primary to no more than $2,000, sparking speculation that he might be holding off on spending now in anticipation of being in a runoff.
Today: a look at the multi-faceted Cole. She can be pleasant and likeable; she can be belligerent and bellicose. She has an undergraduate degree from Yale and a law degree fromLoyola, as well as a law license, but is now out of a job and receiving unemployment compensation.
The candidacies of Armendariz and Vincent will be examined subsequently.
ONICA VALLE COLE
Candidate Is Booted From Job As Deputy City Attorney Following String of Episodes
Onica Valle Cole is a former deputy Los Angeles city attorney. Fired Jan. 3, she charges that the office retaliated against her for filing a workers' compensation claim, for challenging management as a union representative—"I have been a constant confronter of management," she says—and for other unsuitable reasons.
The reasons stated by the office are alteration by her of a doctor's report on her medical condition and insubordination by serving as a judge pro tem after authorization to continue to do so was denied.
"I'm so pissed off by how I've been treated in the office," Cole declares, asserting:
"I have suffered greatly for standing up for myself and for other workers in the office."
She boasts of her treatment of management personnel while a union representative by "getting in their face and calling them liars." The former prosecutor discloses that she's "been involved in some sexual harassment complaints."
Displaying the defiant spirit that got her in trouble, Cole says:
"I'm not going to apologize for being aggressive. I am never going to apologize for doing things that may not be politically correct."
She adds (apologizing—but sarcastically):
"I'm sorry if I ruffle feathers."

Cole is candid in recounting from her own perspective, the events leading to the termination of her employment.
Drawing upon her recitations in an interview, as well as other sources (which don't include the City Attorney's Office, which won't comment), here's a timeline of Cole's activities as counsel, complainant, combatant, and candidate—and, if her side of the story is credited, a victim:
1998
Dec. 7: Cole is admitted to the State Bar of California.
2002
March: She becomes a Los Angeles deputy city attorney.
2015
Aug. 7: Walking from the parking garage at City Hall East, Cole slips and falls.
She goes on medical leave and proceeds to file a workers' compensation claim. From then on, she later asserts, the office subjected her to harassment.
While on leave, she receives word that she is under investigation by her office. An alleged victim tells a target of an investigation that Cole, assigned to the Consumer and Workforce Protection Unit, is siding with him, is in his pocket, and is at the moment having drinks with his wife. Cole is exonerated; she was in the hospital at the time she was allegedly drinking at a bar.
2016
March 3: Cole is accepted into the Los Angeles Superior Court volunteer pro tem program under which attorneys handle minor matters such as traffic cases and unlawful detainers.
March 16: She files her nominating papers for a Los Angeles Superior Court open seat.
March 18: The lawyer sits as a pro tem judge at the Chatsworth Courthouse, handling a half-day calendar. She subsequently claims on her campaign website, based on that one stint: "Onica volunteers as a Temporary Judge for the Los Angeles Superior Court and is regularly called upon to fulfill the duties of a judge."
April 4: Assistant City Attorney Renee Stadel tells Cole, by email, that if she plans to run for office, there would be a need for "possible approval by the office through your chain of command."
June 7: Cole comes in last in a field of five candidates, accumulating only 7.9 percent of the vote.
October: She files an "informal complaint" over discriminatory treatment based on her seeking workers' compensation benefits.
2017
Jan. 20: Cole protests to management, in an email: "Is there a place for me, working mom, person of color, disabled mom, special needs mom in this office?"
Jan. 27: She has a car accident coming into the City Hall East garage. Notwithstanding being in pain, she relates, she later that day meets a commitment she had made by serving as a pro tem judge.
Feb. 24: Leela Ann Kapur, the city attorney's chief of staff, tells Cole her request for permission to serve another year as a pro tem judge is being denied.
March 6: Despite Kapur's admonishment that she may no longer sit as a judge pro tem, Cole handles a night court calendar in Downey. Her rationale is that despite outside-employment rules, the City Attorney's Office may not dictate what she does outside of work hours.
April: A juror swings open the door to a courtroom, while exiting; Cole is entering; this causes, she says, "a good whack on my left ankle," which had previously been injured.
A doctor finds she has a "limited ability to walk" based on trauma to her left leg and left ankle and directs that she not stand or walk for more than 15 minutes in any given hour. She is limited to working four-hour days.
Reflecting on her stance at the time, Cole says:
"I'm of the impression I can still litigate. I'm of the impression I can still be a prosecutor.
"The office and I are in a dispute about it and they're trying to force me into a medical retirement. I refuse to medically retire. There's nothing to prevent me, with accommodations, from being a paper tiger, if need be, from being a valuable member of the team."
She maintains:
"My mind's strong. My heart's strong."
April: She is no longer allowed to fill-in her own time sheets.
May 24: In light of a new office investigation of her and a new policy that deputies prosecuting consumer fraud cases must put in eight-hour days, she is told she is being shifted to a unit that deals with police body-cam evidence.
May 26: Cole says: "They packed up my office and threw most of its content into a cubicle," in preparation for her move to another unit.
May 30: She presides, in the morning, as a pro tem judge in the Antelope Valley Courthouse—her 34th half-day calendar—then, as she puts it, "I hustled my butt down here" to the Los Angeles Civic Center for four hours of service at the City Attorney's Office in her new assignment. She finds she can't do anything because her ergonomic equipment has not been set up, and she retreats to her old office.
Four members of management come to her cubicle, wanting to talk with her, and proposing that they go somewhere private. Cole declines, saying to them, she recounts, "I don't trust you guys in private." Her lawyer previously told her not to talk with management without a witness present, she recites, and "they were refusing to tape record the meeting." Cole continues: "They were just increasingly more hostile. So, eventually, Cristina came down." She's referring to City Human Resources Director Cristina Sarabia. "She was very hostile," Cole remarks. Tension rose. "It was surreal," Cole says. "I was feeling really, really bullied."
June 1: She makes a complaint under the state Fair Employment and Housing Act and under the federal Equal Employment Opportunity Commission concerning her treatment by the city.
Also on that day, her office contacts her doctor to ask whether portions of the medical report he provided to the city are in his handwriting and he advises that they are not. Cole notes that he later informs the city that while he did not make the notations—notably, the schedule for her treatments, on mornings—they were consistent with his advice.
And, she handles a half-day calendar as a pro tem. Her pro tem service on March 6, May 30, and June first are to comprise the charge of insubordination and her adding to the medical report is to form the basis of the charge of altering a document.
June 15-July 31: Cole is off work because she is "so stressed" and suffers neck pain.
July 24: While off work, Cole emails Vivienne A. Swanigan, managing assistant city attorney for the Labor Relations Division, asking where the photos are that were on her office door.
Swanigan responds on July 27 that Human Resources has them, and notes that Cole has been in the office on three days despite not having been cleared by doctors to return. She seeks to set up an interview.
Cole shoots back an email that day, saying:
"Why were photos removed? Where is my sofa and file cabinet…[¶] Vivienne why does the office continue to harass me, how do u know I was in for 3 days? Are u monitoring my emails? We can schedule interview second week of August if my attorney is available. What has been result of misconduct investigation? [¶] Also why harass an employee whose husband about to go under the knife? This is another example of Retaliation. [¶] When will my ergonomic station be put back together!"
Aug. 8: Cole files a civil harassment action against Sarabia in Los Angeles Superior Court. She says of Sarabia's conduct during May 30 incident:
"She insisted on speaking with me at this time, demanding to know what I had done at work that day, in a very nasty and intimidating tone. She carried on the conversation for at least ten minutes, my head was cocked to the side cradling the phone as I was still on the phone. This resulted in an injury to my back and neck which resulted in me being off work for at least six weeks. Cristina Sarabia…entered the space of the cubicle I was working in, and started poking her finger in my face. I was afraid she was going to hit me."
Cole adds:
"I am not sure how I ended up facing Cristina Sarabia, but I suspect she grabbed the back of the chair I was seating in, in frustration that I continued with my telephone call, forcing me to face her and strain my body even further."
Los Angeles Superior Court Judge Rolf Treu on the day the action is filed grants a temporary restraining order requiring Sarabia to stay at least 10 yards away from the petitioner. Cole recalls her office was "furious" with her for alerting the MetNews to the matter. A news story appears in the Aug. 11 issue.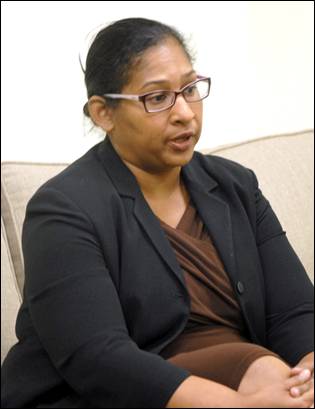 COLE
Aug. 31: Los Angeles Superior Court Judge Virginia Keeny denies a restraining order against Sarabia after a two-day hearing, finding no evidence of continuing harassment.
Sept. 4: Cole receives a "Notice of Intent to Terminate" her employment, dated Sept. 5.
Nov. 17: Los Angeles Superior Court Judge Shirley K. Watkins makes an order awarding attorney fees to the city in Cole's action against Sarabia.
Dec. 17: Cole is at a Democratic Party Christmas Party. Someone starts to stumble and she reaches out to steady him (noting he is simply tripping, not appearing to be intoxicated). It's City Attorney Mike Feuer. She remembers: "He was shocked to see me there. He had thought he had gotten rid of me." Cole links that occurrence to what was to happen on Jan. 3.
2018
Jan. 3: An e-mail tells Cole she's fired.
Jan. 7: The lawyer applies for unemployment compensation.
Jan. 29: Cole files a declaration of intent to run for Superior Court Office No. 67.
Jan. 31: The Employment Development Department rejects the city's protest to Cole's unemployment benefits claim, saying: "YOU DISCHARGED THE CLAIMANT FOR ENTERING FALSE INFORMATION ON WORK RECORDS. AFTER CONSIDERING THE AVAILABLE INFORMATION, THE DEPARTMENT FINDS THE REASONS FOR DISCHARGE DO NOT MEET THE DEFINITION OF MISCONDUCT CONNECTED WITH THE WORK."
Feb. 2: The candidate emails her campaign consultant, David Gould, saying "Hey David, I've heard that the office was trying to get someone to run against me."
Feb. 26: In an effort to come under a portion of Elections Code §13107 permitting use of a former occupation, Cole asks the State Bar to put her on inactive status, not realizing a provision in the Code of Regulations would thwart her effort.
March 1: The State Bar accommodates Cole's request, but does not immediately change her status on its website.
March 9: She files her nominating papers in the last half hour of the last day for seeking an open seat. The Los Angeles County Office of Registrar Recorder accepts "Consumer Protection Prosecutor."
March 13: The Office of Registrar-Recorder informs Cole she may not use the designation "Consumer Protection Prosecutor" or either of her proposed alternatives: "Consumer Prosecutor/Attorney" or "Los Angeles Prosecutor/Attorney." Unaware that she is on inactive status, it cites a new provision in the Elections Code applicable to active lawyers.
March 19: A writ petition is filed in Los Angeles Superior Court contesting the county's decision to disallow her preferred ballot designations.
March 22: The Court of Appeal dismisses the appeal in Cole v Sarabia based on Cole's failure to procure the record.
Also, Los Angeles Superior Court Judge James Chalfant denies an alternative writ in Cole's challenge to opponent Maria Lucy Armendariz's designation as "Judge of the State Bar Court, State Bar of California." She wanted Armendariz to be labeled a "Hearing Judge, San Francisco."
March 28: Los Angeles Superior Court Judge Amy D. Hogue holds that because Cole was on inactive status on March 9 when she filed her papers, she cannot use any of her preferred ballot designations. Hogue points to Code of Regulations §20714 which says: "A candidate who holds a professional, vocational or occupational license issued by the State of California may not claim such profession, vocation or occupation as one of his or her 'principal' professions, vocations or occupations if…the candidate's licensure status is 'inactive' at the time the candidate files his or her nomination document…." The judge holds: "Because all three of Petitioner's proposed ballot designations contain either the term 'prosecutor' or 'attorney,' Petitioner may not use any of the three proposed designations." Despite the ruling that Cole was not entitled to use the word "Attorney," Registrar-Recorder Dean Logan would not change the designation his office previously approved of "Attorney/Mother."
On at least one slate mailer, Cole is identified as "Consumer Fraud Prosecutor," to which is added: "Yale/Loyola Scholar/Temporary Judge LA Court."

Cole denies she was fired. She says of the Jan. 3 communication to her:
"I received via email something that purported to terminate my status at the office. Unfortunately for the office, I had already quit."
She contends:
"So, there's a dispute as to who fired whom."
However, she does not pinpoint a particular date on which she resigned, saying:
"Did I send an email saying, 'I resign'? No."
She takes alternate approaches in supporting her assertion that she quit.
•On Jan. 3, before receiving the email telling her she was discharged, an email arrived from Kapur cancelling a meeting slated for the following day to discuss her employment status. Her reaction, which she does not contend was communicated to anyone was: "So, like I'm out of here."
•She equates having purportedly been constructively discharged with having quit. Cole says:
"I think I was constructively discharged back in April [2017] when they stopped allowing me to do my own time sheets. Or was it when they held my mail [rather than forwarding it when she was on leave]? Or was it when they destroyed my office on May 26?"
She states this position:
"I'm not going to agree that I was fired. I'm going to agree that my status is no longer deputy city attorney. I'm going to agree I'm no longer an active city employee. I'm going to agree that I'm a terminated city employee. I'm not going to agree that I was fired."
What she wants, Cole says, is a hearing at which she would proclaim (now acknowledging having been fired):
"OK, you fired me for excessive community service and following medical advice. That's essentially why I was fired, OK? So, let's litigate if you have the right to fire somebody for excessive community service….Who are you…to discipline her for following medical advice?"

Cole, 47, is married to a Los Angeles police officer. They have two minor children.
Her 1998 law degree is from Loyola. She was a "Loyola scholar" from 1995-98 and was on the dean's list from 1995-97.
Cole has an undergraduate degree in molecular biophysics and biochemistry from Yale.
Since Oct. 31, 1996, she has held a substitute teacher permit from the Los Angeles Unified School District.
Whatever the outcome of the contest for Los Angeles Superior Court Office No. 67, Cole has a plan to seek elective office in the future. She says she will for the city attorney's post in 2022.
Copyright 2018, Metropolitan News Company