Thursday, May 10, 2018
Page 8
JUDICIAL ELECTIONS: Los Angeles Superior Court Office No. 113
Three Unsuccessful Candidates in 2016 Races Make Another Try
By ROGER M. GRACE, Editor
All three aspirants for Office No. 113 made thwarted attempts two years ago to gain election to the Los Angeles Superior Court. They were in separate contests.
One of the three, Deputy District Attorney Steven Schreiner, also ran four years ago. He was not among the two who made it into a run-off.
Schreiner and Deputy District Attorney Javier Perez both lost in the last election, in November run-offs, by roughly 20 percentage points. In his race, Ribons went down in the primary, fourth in a four-person race.
Perez and Ribons have in common that they are both 55 and each earned a degree at Whittier College of Law.
Of the three, Perez appears to have the edge. He's waging an active campaign while Ribons and Schreiner do not appear to be doing so. Too, he has an Hispanic surname, not long ago viewed as a detriment to a candidate, now considered a plus. 
JAVIER PEREZ
Prosecutor Expresses Confidence That His Current Bid for Election Will Succeed
This time, Deputy District Attorney Javier Perez says, "I think I'm going to be successful" in gaining a judgeship at the polls, terming himself "very confident."
Two years ago, he got into a run-off with then-Assistant Attorney General (now Judge) Susan Jung Townsend and pulled 40.37 percent of the vote to her 59.63 percent. He "learned an awful lot" from that campaign, he says.
"I'm going to campaign harder," Perez vows. "I'm going to work more diligently in terms of getting support and endorsements from organizations and community leaders."
In 2016, he secured endorsements of more than 40 judges. This year, so far, he's collected only 11 such endorsements, but has the support of the Democratic County Central Committee, seven Democratic clubs, five unions, 13 politicians, former District Attorney Steve Cooley and Long Beach City Prosecutor Doug Houbert.
Perez says he intends to raise in excess of $100,000 in the primary. He is working with a campaign consultant and has a website.
The candidate indicates he is not daunted by the fact that a rival in the race, Deputy District Attorney Steven Schreiner, has handled well in excess of 200 felony jury trials.
"I think there's a lot of factors that go into what makes a person qualified to be a superior court judge," he says. "One is experience, one is knowledge."
He mentions other factors:
"Temperament, decisiveness, courage."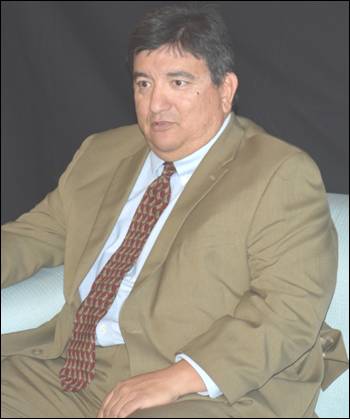 PEREZ
2014 Allegation
Schreiner's temperament was made an issue in his 2014 bid for election to a judgeship. A rival candidate in the primary, criminal defense attorney Andrew Stein, asserted that Schreiner "doesn't have the judicial temperament to be a judge."
His charge was based on a single incident the year before. In addressing a jury that was deadlocked, Schreiner tried to use the 10 minutes allotted him to jolt jurors into voting to convict, using in two instances colorful language.
(Stein was defeated in the November run-off by then-Los Angeles Deputy City Attorney Thomas Griego, now a judge.)
Perez remarks that people who know both him and Schreiner would say that he has "the better temperament" but declines to elaborate, saying:
"I believe that I'm supremely qualified to be a judge, and I'd rather not talk about Mr. Schreiner's temperament."
Praise From Supervisors
A testament to Perez's own temperament comes in his latest office performance evaluation, for Nov. 24, 2015 through Nov. 23, 2016. His then-supervisor, Carol A. Burke, says in her report:
"Mr. Perez handles his duties calmly and professionally. Due to his many years of experience, he does not get flustered or rattled by problems or the 'crisis of the day.' He simply evaluates the situation and implements an effective solution."
Her evaluation continues:
"He is fair and ethical in his handling of cases and follows office policy and procedure. Recently, a local defense attorney praised Mr. Perez saying that he is approachable, reasonable, and polite, even when he is saying no. Mr. Perez's former supervisor now retired Head Deputy Tom Higgins. described Mr. Perez as a hands-on manager, passionate mentor and effective leader. This rater agrees with both of these assessments."
Burke gave Perez an overall rating of "Met Expectations (Competent)." During that period, Perez was deputy-in-charge of the West Covina office.
Higher Previous Rating
 In the two previous years' evaluations, Higgins awarded him an overall evaluation of "Exceeded Expectations (Very Good)." One of Higgins's comments in connection with the 2014-15 period is:
"Mr. Perez has extensive experience as a trial attorney and a manager. He is a resource for his deputies and law enforcement on statutory law case law, criminal process and evidentiary matters. He is a valued resource to his deputes regarding legal and factual issues. He gives sage advice regarding trial issues. In discussions with his head deputy, he demonstrates excellent legal knowledge and perceptive insights into personnel issues He is a passionate and persuasive advocate for his point of view, but is always gracious when there is an occasional difference of opinion."
Although the performance evaluations laud his prowess as a manager, he has been removed from that role, which he initially assumed in 2010 as deputy-in-charge in East Los Angeles. Perez is now a filing deputy, handling juvenile cases.
Candidate's Background
While an undergraduate student at UCLA, majoring in history, he had a part-time job with a law firm in Century City.
As a second-year student in Whittier College of Law, Perez worked as a law clerk in the District Attorney's Office and, he recalls:
"I loved it."
He was admitted to the State Bar on Dec. 4, 1990, and that same month was hired by then-District Attorney Gil Garcetti as a deputy.
He is a member of the Mexican American Bar Association and president of the recently formed Latino Prosecutors Association, of which there about 35 members.
Perez, 55, and his wife have three children, ages 20, 17, and 13—the youngest having tentatively set his goal on becoming a prosecutor. The candidate says he has a "great relationship" with his parents, immigrants from Mexico, crediting his father with having spurred him to get an education and not be relegated to a role, such as his, as a laborer.
MICHAEL P. RIBONS
Attorney/Realtor Claims He's Tried 'Hundreds' of Cases; Won't Say in What Courts
When attorney/realtor Michael P. Ribons ran unsuccessfully for a Superior Court open seat two years ago, he said that since becoming a member of the State Bar on June 11, 1996, he had handled "a handful" of jury trials and "between 15 and 20 bench trials." He added that of the "hundreds" of cases in which he represented a party—generally matters relating to real estate—most had been disposed of in the "preliminary stages."
Running again, Ribons now says on his campaign website:
"Currently a civil litigator with over two decades of experience in state and federal courts, Michael has conducted hundreds of trials…."
His trial experience has thus burgeoned from the "handful" of jury trials and "between 15 and 20 bench trials" two years ago to "hundreds of trials" now. The question is where these trials took place.
The Los Angeles County Bar Association has an online register (accessible by members, only) that is hooked into the Superior Court computer system. It is possible to search cases using various criteria, such as the name of an attorney. Searching by Ribons's name, it shows no cases in 2017 and none this year.
It shows two in 2016. Neither case went to trial.
The register does not include criminal, probate or family law cases or limited jurisdiction cases—and, of course, the database does not contain information on federal cases or cases in other counties.
So, is the online search system on LACBA's website faulty? Has Ribons handled "hundreds of trials" in limited jurisdiction courtrooms? Or in Ventura County, with which he has ties? Or is there another explanation?
The candidate won't say.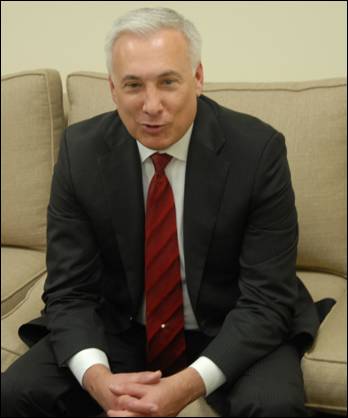 RIBONS
13 Earlier Cases
The register reflects Ribons's involvement in 13 other cases from 2002 through 2015. In a "commercial/business tort" case, filed in 2002, he and one of his companies, MRI Property Management and Investments, were the defendants. The outcome is not reflected; it was reclassified as a limited jurisdiction case.
Three of the cases, involving a suit by Ribons's client for legal malpractice, were related; Ribons and his law firm were cross-defendants. The cases were settled.
In a collections case, Ribons was a plaintiff in pro per and obtained a default judgment.
Only two cases reflected on the LACBA website went to trial. In a breach of contract action, filed in 2008, there was a seven-day jury trial which Ribons's client, the plaintiff, lost. There was a full day of trial in a personal injury case before then-Judge Arthur Lew (now retired) on Nov. 21, 2002, and Ribons's client, the defendant, prevailed.
Pro Tem Experience
Ribons also declares on his campaign website:
"As a judge pro tem in both the LA County Superior Court and Ventura County Superior Court, Michael has presided over 7,500 court cases."
A Los Angeles Superior Court spokesperson confirms:
"Mr. Ribons took his first assignment as a temporary judge on July 7, 2010, and has sat as a temporary judge a total of 291 times since then (291 calendars)."
The website notes:
"• Fee Arbitrator - State Bar of California
"• Fee Arbitrator - San Fernando Valley Bar Association."
A puzzling aspect is that the State Bar only conducts fee arbitrations in counties where local bar groups do not provide that service. In Southern California, only Imperial County has no such program.
Ribons has not responded to a request for a clarification.
Ballot Designation
The candidate will be listed on the ballot as "Arbitrator/Lawyer."
Neither of his opponents opted to go to the expense of challenging that description—which must, under the Elections Code, be a "principal" activity and, under the Code of Regulations, may not be "volunteer work."
Deputy District Attorney Javier Perez says:
"I've consulted with an attorney and spoken to my advisers regarding challenging the ballot designation.
"After careful consideration I decided that if Mr. Ribons makes it to a runoff to then challenge the designation."
In the June 7, 2016 primary, Ribons came in last in a field of four candidates, with 10.26 percent of the votes. In that election, he listed three endorsers: former Los Angeles Superior Court Judges Robert Letteau and Gregory O'Brien, along with a former mayor of Calabasas; this year, he tells of no endorsers.
Ribons, 55, has a law degree from Whittier College School of Law.
He is president of Monterey Real Estate Investments, Inc.
In December 2007, his then-wife brought an action in Los Angeles Superior Court for dissolution of marriage, but dismissed the action in February 2008. He then sued her for divorce later in the year in Ventura Superior Court.
They have two adult children.
STEVEN SCHREINER
Deputy District Attorney, This Time, Won't Put on Full-Fledged Campaign
Deputy District Attorney Steven Shreiner is making his third bid for election to the Superior Court. But this time, he won't be putting anywhere near the same time, energy or money into the campaign as he did before.
Another difference is that unlike two years ago, he's not up against a rival he brands as dishonest. Schreiner lost that election to then-Deputy District Attorney (now Judge) Deborah Archuleta.
"I'll be spending a lot less money" in this election than the last, he says, explaining:
"I'm not saying that's the recipe for success. Basically, I wiped myself out, spending my own personal funds, and I killed myself to raise money."
After the loss two years, Shreiner recounts, he was convinced he would not run again. More recently, the prosecutor says, he decided he would get into a race if it looked like it was one he could win.
When he took out and filed a declaration of intent to run for Office No. 113 on Feb. 7, the only other candidate who had filed a declaration for that seat was Los Angeles Deputy City Attorney Matthew Schonbrun. Schreiner says he thought to himself, "Oh, Schonbrun is a guy I could beat."
Deputy District Attorney Javier Perez had taken out papers the day before for Office No. 113 but had not filed them, and Schreiner says he had hoped his colleague would move on to some other contest.
As it turned out, Schonbrun switched to Office No. 4, Perez stayed where he was, and attorney Michael Ribons entered the fray.
Cites Courtroom Experience
"Putting modesty aside," Shreiner declares, "I think I'm the most experienced, the most qualified candidate in the field from the standpoint of actual courtroom experience—documented experience in the courtroom—in terms of ability, in terms of decisiveness, making decisions and spotting things as they take place."
When he speaks of his "documented" experience, he is referring to a list he offers of the cases he has tried since becoming a deputy district attorney in 1987. They include 224 felony jury trials, including 83 murder trials.
He says Perez "seems like a nice enough guy" but maintains that he is not even a "distant second" to himself in experience. However, the candidate lauds opponent Ribons, acknowledging that from what he discerned two years ago:
"I think, frankly, that he deserves to be a judge. I thought he was very impressive."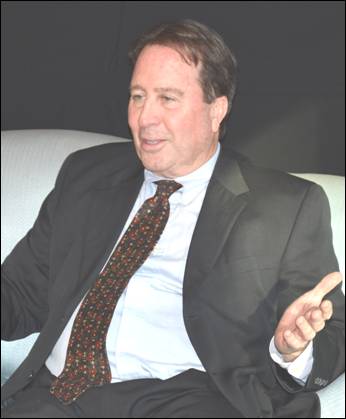 SCHREINER
Contest With Archuleta
That praise of an election foe is in contrast to what Schreiner had to say two years ago about Archuleta, and repeats now.
He remarks:
"I got crushed in the general election against a candidate who I think to be unqualified and who benefitted from dishonesty."
She received 59.82 percent of the vote to his 40.18 percent.
The allegation of "dishonesty" largely centers on her ballot designation as "Violent Crimes Prosecutor." Archuleta was then in the White Collar Crimes Division which does not deal with violent crimes.
Schreiner charges that Archuleta had "kind of a neat trick where she kept an attempted murder case from a couple of years before," when she was assigned to a different unit, and "kept kicking it down the road, and when I challenged her ballot designation…, she had a declaration where she described that she spent 85 percent of her time in preparing it for retrial."
In the course of that contest, the allegation emerged that Archuleta was putting aside duties in her current assignment by taking off a large amount of time to devote to her campaign, while continuing to put in work on the old case involving violence.
Reform Legislation
State Sen. Ben Allen, D-Santa Monica, made references last year to Archuleta's ploy in holding onto a case (though not mentioning her by name) in successfully carrying a bill, SB 235, which bars fanciful titles such as "Violent Crimes Prosecutor" and makes other changes with regard to ballot designations in judicial races.
Schreiner says of Archuletta that "a lot of the things she did I might not have respected," but acknowledges that "she was a better candidate" in terms of aggressive campaigning.
The prosecutor has no campaign consultant, no campaign website, and no endorsements. He acknowledges that Perez's Hispanic surname is an advantage.
"It's going to be difficult" to win, he concedes.
Schreiner did not accede to a MetNews request that he supply his three most recent office performance evaluations.
After receiving his juris doctor degree Santa Clara University School of Law in 1986 and being admitted to the State Bar of California Dec. 11 of that year, he went to work in 1987 as a deputy in the District Attorney's Office.
The candidate is 61 and single.
If he loses this time, would he try a fourth time?
"I'll never say 'never,' " he responds.
Copyright 2018, Metropolitan News Company