Monday, April 16, 2018
Page 8
Los Angeles Superior Court Office No. 16
Two City Prosecutors, One Deputy DA, Do Battle
By SHERRI OKAMOTO
The three candidates for Office No. 16 have some things in common other than a desire to be a judge.
Each has a law degree from Loyola.
And each is a prosecutor. Patricia Hunter is a Los Angeles deputy city attorney; Sydne Jane Michel is senior deputy prosecutor for the City of Redondo Beach, whose services that city provides to Hermosa Beach; and Hubert Yun, is a deputy Los Angeles district attorney.
SYDNE JANE MICHEL
Actress-Turned-Attorney Seeks to Land a New Role as Superior Court Judge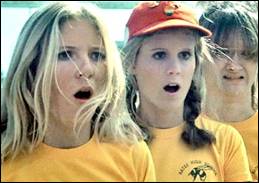 Janie Squire is seen in a scene from "Carrie."
Sydne Jane Michel, the senior deputy city prosecutor for Redondo Beach and Hermosa Beach, had pulled papers for three Superior Court races but says she decided to square off against Yun and Hunter, in part, because neither of them had formed campaign committees by the time she had to finalize her candidacy.
She says she also thought she could set herself apart from her opponents since she has 10 years of experience as a criminal prosecutor, and 10 years of experience before that as a civil attorney with Kirkland & Ellis. She was admitted to practice Dec. 4, 1995.
Before she be­came a lawyer, Michel was a professional actress, portraying one of the "mean girls" in the 1976 horror flick "Carrie." She then used the name, "Janie Squire," and later went by "Sydne Squire."
She appeared in the movies Piranha (1978), The Great American Girl Robbery (1979) and Americathon (1979), performed in plays, and had parts in various television shows, including "Alfred Hitchcock Presents" and "Empty Nest."
Wanted Steady Salary
Michel, 61, says she decided to leave acting and head to Loyola Law School because she wanted a steady paycheck, but says she still exercises her acting skills to connect with jurors in the courtroom.
She estimates that she gets a conviction in somewhere between 85 to 90 percent of her cases.
Michel has been married to attorney C.D. "Chuck" Michel for 20 years. She has two sons with the Long Beach practitioner who is known for representing the National Rifle Association in high-profile litigation.
Chuck Michel is the senior partner at Michel & Associates—the firm that was Trutanich Michel, prior to Carmen "Nuch" Trutanich's successful run for the position of Los Angeles City Attorney in 2009.
Trutanich's candidacy was launched with the support of then-District Attorney Steve Cooley—and Cooley has now thrown his support behind the wife of Trutanich's former law partner. Redondo Beach City Attorney Mike Webb and 10 current and two former judges have also endorsed Sydne Michel, as have three candidates in other races: Deputy District Attorneys David Berger and Wendy Segall and Senior Deputy County Counsel Rene Gilbertson.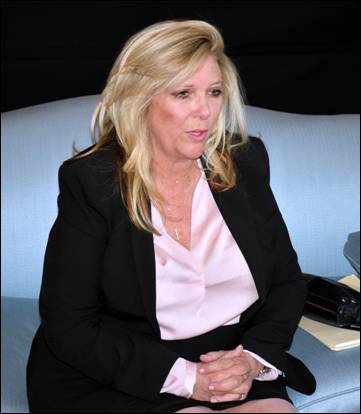 MICHEL
Will Finance Campaign
Michel further says she is prepared to put $300,000 of her own money into the race, and she has retained the services of campaign consultant David Gould to guide her in spending it.
The candidate is a member of the Los Angeles County Bar Association and various charitable groups in her hometown of Palos Verdes.
Through her company Trial Advocacy Consulting And Training, she coaches other lawyers on courtroom presentations.
PATRICIA (PATTI) HUNTER
Candidate Boasts '30 Years of Courtroom Experience,' Counting Time as Law Clerk
Deputy Los Angeles City Attorney Patricia "Patti" Hunter, admittingly lacking political savvy, says she is "learning a lot" as she proceeds with her campaign for an open seat on the June 5 ballot, and vows:
"I will figure out what I need to do to get the word out about who I am."
The question is whether she can figure out enough between now and the primary given that one opponent, Sydne Jane Michel, has a professional campaign consultant who already possesses expertise in judicial contests.
Campaign Contention
On her campaign website, Hunter boasts:
"OVER 30 Years of courtroom experience."
However, Hunter, 59, admitted to the State Bar of California on Dec. 11, 1987, says in an interview:
"I'm 28-plus years in the City Attorney's Office plus the two years that I clerked."
Included in her purported "30 Years of courtroom experience" are the two years she spent clerking for U.S. District Court Judge Laughlin E. Waters of the Central District of California, now deceased. She started her service in the federal court after graduating cum laude from Loyola Law School.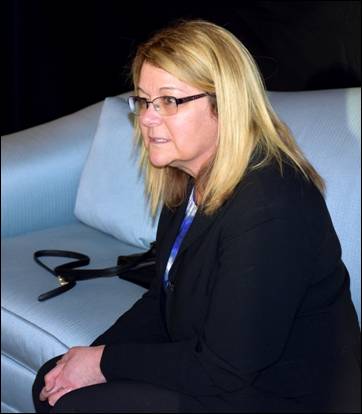 HUNTER
Advice From Lew
She recounts that as her stint in clerking for Waters was ending, it was U.S. District Court Judge Ronald S. W. Lew (now on senior status) who suggested that she apply for employment as a deputy in the Office of Los Angeles City Attorney—where he started his own career.
Following his advice, she applied, was hired, and has worked under four city attorneys handling, she says, "thousands of cases."
She was attached in her early days to the Department of Water & Power, being assigned employment cases, which entailed appearing in the Superior Court's Law and Motion Department, and conducting "a couple of trials."
Prosecution Side
Hunter has been a prosecutor in the office for 24 years and, she proclaims, has been "literally in court every working day."
Her endorsements by judges are relatively scant, however—as are those of her opponents. Five current and six former members of the Los Angeles Superior Court endorse her, as does Los Angeles City Attorney Mike Feuer.
Her husband recently retired as vice president of ticket operations for the Los Angeles Dodgers. The Hunters have three children.
HUBERT S. YUN
Candidate Who Lost in 2016 Says He's Now Better Qualified, Has Learned Some Lessons
Many people follow the adage, "once bitten, twice shy," but Deputy District Attorney Hubert Yun says he is approaching this year's judicial election two years older, wiser and more experienced than he was in his unsuccessful bid in 2016.
While Yun says he still is "the same person" he was two years ago, he says he has "matured" and his "legal knowledge has expanded" since he is "always learning something new."
Yun, 42, also has two more years of trial experience under his belt. He has now tried 77 cases to a verdict, and at least 30 of them involved murder or attempted murder charges.
Admitted to practice on Nov. 26, 2003, he worked for a civil law firm until joining the District Attorney's Office in July 2006.
The prosecutor says he believes that his courtroom experience has qualified him to be a judge, and comments that he now has a better idea of the logistics involved. Yun was eliminated from the 2016 judicial race at the primary election, finishing a distant third behind fellow Deputy District Attorneys Javier Perez and Susan Jung Townsend.
Townsend prevailed in the general election, and Perez is once more a judicial candidate this cycle.
Yun notes that in choosing which open seat to file for, he wanted to be sure not to run again against another deputy district attorney, explaining:
"We're all colleagues, and we all have common goals."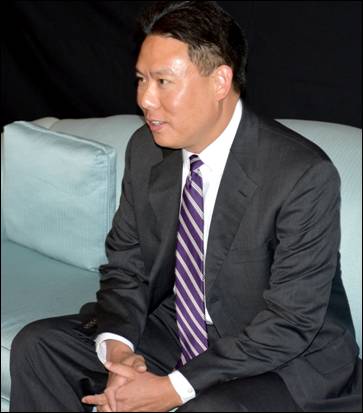 YUN
Will Spend Money
A lesson Yun says he learned from the 2016 election cycle was that "you've got to spend money." He lamented that this was an "unfortunate" fact, but "probably the most important" takeaway from his prior candidacy.
Yun relates that this time around, he's actively courting a campaign advisor, and he's already drawn pledges for $200,000 in support from family members.
Family is clearly important to Yun, who has three children with his wife, Deputy District Attorney Linda Kwon. He says that he "needs to have time at home with family."
Yun declares that he believes it is his responsibility as a parent to come home from work and pick up his children from school and daycare, but that doesn't mean he's shirking his work duties. He says prosecutors won't make it in the hardcore gang unit if they want to leave every day at 4:30 p.m. and be done.
Takes Work Home
Yun says he takes work home with him every night and puts in several hours of work after his children have gone to bed. When he's in trial, Yun notes, it's not unusual for him to be working until 1 or 2 a.m.—then he gets up before 5 a.m. to start a new day.
He says he loves his job, and he derives gratification from knowing he's "made a difference" by "getting someone dangerous off the streets."
Eleven current judges of the Los Angeles Superior Court have endorsed him.
Copyright 2018, Metropolitan News Company