Wednesday, April 11, 2018
Page 8
Judicial Elections: Los Angeles Superior Court Office No. 20
Two Prosecutors With Disparate Backgrounds in Office Compete
By ROGER M. GRACE, Editor
Los Angeles County Deputy District Attorneys Mary Ann Escalante and Wendy Segall are former friends, now locked in battle for a Superior Court open seat.
Their rift was discussed here yesterday. In a nutshell, there is what one person close to the scene denominates a "merry band of traveling judges and DDAs" (And, there are said to be a few criminal defense lawyers included.) They're all women. They travel to other cities to celebrate birthdays. Escalante apparently is among those who suspect that Segall reported to the Commission on Judicial Performance two of the judges who participated in a New York trip and purportedly received unreported gifts.
Escalante won't comment. Segall maintains that while she was interviewed by commission investigators and gave truthful answers, she did not report the jurists—Los Angeles Superior Court Judges Lori Fournier and Olivia Rosales, who sit in Norwalk.
Segall has staunch admirers and intense detractors.
Today: a look at how the candidates' office supervisors and colleagues regard them, and who's supporting their candidacies.
MARY ANN ESCALANTE
Veteran Prosecutor Seeks to Fulfill Dream She's Long Had of Being Judge
Los Angeles Deputy District Attorney Mary Ann Escalante says the desire to be a judge is no new aspiration for her.
"I wanted to be a judge my entire life, my entire life," she says. "I even wrote a paper about it when I was [a student] at San Diego State."
She recounts that she intended to apply for an appointment when Pete Wilson was governor in the 1990s, and started filling out an application. But she found she was so wrapped up in her cases that she was writing two pages to describe them rather than a few sentences, as solicited.
Escalante says she put the paperwork in a drawer, intending to get back to it soon.
But family matters interceded. She left the DA's Office, then returned on a part-time basis for about 12 years, reassuming full-time duties in 2015.
Her Father's Wishes
Her father had wanted her to become a judge, she notes. When she woke up last Feb. 8, Escalate relates, she decided to run for a judgeship this year. It was her father's birthday.
She remembers telling him:
"Happy birthday, Daddy. I think I'm going to go for it."
Escalante says she added:
"This one's for you."
She and her husband, physician Kent D. Nasser, have a daughter in the ninth grade and a son in the twelfth grade. The son, Escalante reports, has been writing essays to get into college and, in one, told of an aspiration to become a judge.
Gains Endorsements
In her own quest to gain a judgeship, Escalante has amassed the endorsements of Los Angeles Superior Court Presiding Judge Daniel Buckley and Assistant Presiding Judge Kevin Brazile, along with 42 other judges of that court and three of its commissioners. She also has the support of Court of Appeal Justice Victoria Chavez of this district's Div. Two and retired Justice Steven Suzukawa, who sat here in Div. Four.
(One of the judges endorsing her is her sister-in-law, Kristen Escalante, who drew a tentative election challenge this year that was dropped. A brother of Mary Ann Escalante, an art dealer who died last year, was married to Kristen Escalante.)
Fifty three fellow prosecutors are backing Escalante, along with 55 other lawyers, most of whom handle criminal defense.
One colleague says:
"Mary Ann is a very passionate person and extremely hard working. She is very experienced and knowledgeable of the law. In fact, I have often sought her advice on my cases. She gets along well with her colleagues as well as defense counsel. She is fair and level headed. I think she would be an excellent addition to the bench."
Energetic, Effective
Another prosecutor has this to say:
"Ms. Escalante and I worked in the [District Attorney's Office's] Compton branch in the late 1990s and, if memory serves, the early 2000s. I have not worked with Mary Ann since sometime around late spring or summer of 2001, and maybe earlier. At one point during out time in Compton she was my interim supervisor in the Compton Hardcore Gang unit. I remember Mary Ann as an aggressive, energetic, hardworking and highly effective prosecutor who put her heart and soul into her cases and who was good with the juries. She was direct and plain spoken, and also always had great rapport with the people who came in contact with the criminal justice system, especially the victims' families, with whom she was especially caring. I haven't seen her written work, and haven't discussed any significant legal points with her. I do think based on her trial experience and her life experience she would do a great job of respectfully listening to all perspectives and would exercise sound judgment."
Before going on part-time status, she handled more than 100 jury trials including 34 murder cases. In those early days, she says, "I was very ambitious" and "moved up very quickly."
One knowledgeable observer says that during her years as a part-timer, Escalante was paid 50 percent of the normal salary while doing about 80 percent of the work.
"I do not slouch on work," she says.
In those years, she dealt with plea bargains, as she continues to do.
Performance Evaluations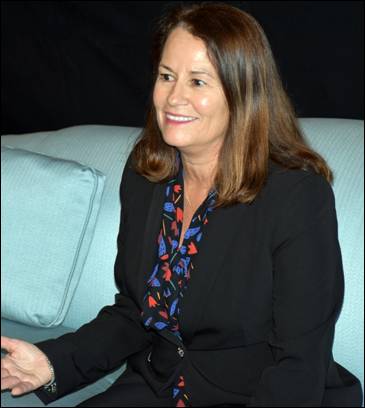 ESCALANTE
Escalante's performance evaluation for the period covering May 2, 2014 to May 1, 2015 was prepared by her supervisor at the time in Norwalk, Deputy District Attorney David Traum, who says:
"Ms. Escalante makes articulate and well reasoned arguments in her courtroom presentations. She displays a good understanding of the law and uses her trial experience and legal knowledge to make realistic and appropriate case settlement offers. She is also not reluctant to advocate for sentences which are appropriate, but inconsistent with the courts view. She preserves the record when necessary and vigorously argues her position. This rater views Ms. Escalante as a superior calendar deputy and consistently relies on her advocacy to keep her defense oriented bench officer in check."
Traum also mentions:
"Ms. Escalante makes full use of her office hours and frequently contacts victims seeking their input on case-related issues, including sentencing. Ms. Escalante has had a great deal of success in obtaining restitution from defendants at an early stage of the proceedings. Victims are certainly appreciative of her efforts in this regard and are likely often pleasantly surprised by her success. She frequently uses her lunch hour to work on future calendar matters and prepare disposition reports. As a result, her calendars are always well prepared and her cases are closed quickly."
Another Rater
Deputy District Attorney Victor Rodriguez's report covering the period of May 2, 2016 to May 1, 2017 observes:
"Ms. Escalante consistently delivered a high output of professional quality work product. During this rating period, 3,221 [Early Disposition Program] cases were heard in Department 'J'. A majority were handled by Ms. Escalante. She did an outstanding job evaluating her cases, extending appropriate offers, and obtaining fair and reasonable dispositions. She was also very successful at obtaining victim restitution and completed her Case Disposition Reports in a timely manner. Ms. Escalante also worked diligently to obtain discovery from the more than 34 law enforcement agencies that investigate cases in the Southeast Judicial District and prepare it for production to the defense."
It adds:
"The bench officer, before whom Ms. Escalante regularly appears [Judge Joseph R. Porras] commended Ms. Escalante's performance in his courtroom. He stated that her offers were appropriate and she was receptive to input from defense counsel. Members of the defense bar have also spoken highly of Ms. Escalante's professionalism and demeanor in her courtroom interactions with them."
Her overall rating for both periods was "Exceeded Expectations (Very Good)."
Birthday Celebrations
The birthday get-aways started in 2011 when Escalante turned 50. Her celebration was held in San José del Cabo, Mexico.
"Wendy Segall was there," she says. "Everybody had a fabulous time."
Escalante notes that she gave notice of the party a year in advance, and 73 well-wishers showed up.
"I'm all about bringing people together," she remarks.
"We went to Chicago for Wendy's 50th," Escalante says.
That was in 2013.
They went to Boston, she brings to mind, for Deputy District Attorney Karen Nishita's birthday, to Napa for Deputy District Attorney Maria Ramirez's birthday, and, she thinks, to Palm Springs to celebrate Los Angeles Superior Court Commissioner Maria May Santos's birthday.
Nishita, Ramirez, and Santos have endorsed Escalante; Santos has also endorsed Segall.
Escalante has a law degree from Loyola. She was admitted to practice on Dec. 14, 1987.
Her outside activities include involvement, along with her daughter, in local activities of the National Charity League, and with her son in a chapter of the League of Young Men.
She has no affiliation with any voluntary bar association.
WENDY SEGALL
Prosecutor Gains Publicity, Praise, for Handling of Stalker Cases
For eight years, Los Angeles Deputy District Attorney Wendy Segall was in a one-person unit of the Target Crimes Division, handling prosecutions of stalkers—including those whose victims were celebrities, judges, and other public officials.
Los Angeles Superior Court Judge Shannon Knight is one judge who was the victim of a stalker, a former juror.
"We went to trial on her case," Segall notes.
She recalls that it was determined that the man had "mental health issues that had gone undiagnosed." Knight is among Segall's endorsers.
All of the cases involving threats to judges were routed to her, she says, though there were filings in few of them.
In 2010, Segall gained a two-year prison sentence for a man who stalked television personality and model Audrina Patridge, who had recently been a "Dancing with the Stars" contestant. As was typical in these cases, she also obtained a 10-year stay-away order.
That year, she also prosecuted a man who had jumped the fence at CBS Studios in the course of stalking Olympic gold-medal gymnast Shawn Johnson, who was taping an episode of "Dancing with the Stars." He was ordered to be confined to a mental facility for five years.
A man Segall prosecuted in 2010 for stalking actress Jennifer Garner and her husband was found not guilty by reason of insanity by Los Angeles Superior Court Judge Katherine Mader.
There was a no contest plea in 2012 by a man who had shown up at Oscar-winning actress Halle Berry's home for three days in a row, menacing her. Segall secured a 386-day jail sentence.
In 2016, a man pled no contest to cyberstalking singer Lana Del Rey and breaking into her home when it was unoccupied. He was sentenced to 84 days in the county jail and placed on probation for five years.
In what Segall told jurors in 2016 was "a case of a love-obsessional stalker that is never going away," she pointed to 566 unwanted communications by the defendant to Oscar- winning actress Gwyneth Paltrow over a 17-year period. The man was acquitted.
Last year, she prosecuted a man who broke into the home of actress Sandra Bullock in 2014, while the star was inside. There was a "no contest" plea and the man was sentenced to five years of formal probation, with treatment mandated at a mental health facility.
She's been interviewed on CBS's "48 Hours" for a two-hour special, and on the erstwhile CNN show, "Larry King Live." In 2011, Segall was on the CNN show hosted by Dr. Drew Pinsky, who was the victim a year before in a cyberstalking case she handled.
Segall is now dealing with, she says, "multi-million-dollar fraud cases."
Stalking Prosecutions Lauded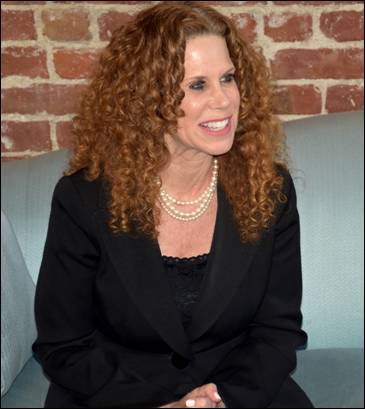 SEGALL
Her office was well satisfied with Segall's work in handling the stalking cases, as evidenced by her annual performance evaluations.
"Ms. Segall has consistently demonstrated that she can successfully prosecute felony trials, while carefully vetting these extremely sensitive cases for filing consideration," a report covering the period June 15, 2012 to June 14, 2013, prepared by her supervising attorney, Darren Levine, says. He gives her the overall rating of "Exceeded Expectations (Very Good)," which she received in the next two annual evaluations.
Levine's assessment of Segall's performance for the period from June 15, 2013 to June 14, 2014 says:
"Ms. Segall has served as the sole deputy district attorney assigned to the Stalking and Threat Assessment Team (STAT) of the Target Crimes Division. During this rating period. Ms. Segall has demonstrated that she is a capable and seasoned career prosecutor. She is the Office's most knowledgeable prosecutor on all aspects relating to the prosecution of stalking and terrorist threat related cases, and as such, she handles some of the most complex and high profile stalking and threat related cases in Los Angeles County. Ms. Segall is able [to] perform effectively and adapt to a wide variety of stressful situations inherent in her specialized assignment."
In a report for the following one-year period, supervisor David Demerjian sizes up her performance by saying:
"During the evaluation period, Ms. Segall reviewed and filed 18 high-profile felony stalking cases. Many of the victims in these cases are well-known celebrities As a result, these cases have to be handled delicately. As a result of her significant experience, Ms. Segall has become very adept at prosecuting these cases effectively while dealing with the victims in a professional, low-key manner."
Colleagues' Perceptions
A colleague provides this assessment of Segall:
"Wendy Segall has been a full time DDA for 23 years, she is a hard worker, has always been in complex trial assignments….Ms. Segall would be an amazing Judge."
In a subsequent email, the sender says:
"My experience with Wendy is that she is extremely loyal and trustworthy. Wendy goes out of her way to be kind to others and has always had integrity and character."
Another colleague offers this view:
'Wendy is an excellent lawyer who possess common sense. Common sense is an important attribute to me because if you don't have common sense you have no business being in a position where you are responsible for making decisions that affect people's lives. Though Ms. Segall is a prosecutor, I strongly believe that she can easily make the switch from advocate for one side to being a gate keeper for justice for all."
Norwalk attorney Michael Balmer, however, terms Segall a "vindictive, just nasty person" with a "very entitled attitude."
Candidates Compared
A lawyer in the District Attorney's Office depicts Escalante as "a very social person" who "has always enjoyed a great party" and has an "ebullient personality," while saying of Segall:
"While she is very social, she does not 'party'—she does not drink. She has an expansive group of friends with a wide variety of interests and professions."
The prosecutor goes on to say:
"Ms. Segall is much more subdued in her social behavior. She does not behave in extremes."
The lawyer labels Escalante's philosophy a "conservative" one while viewing Segall as "more of a centrist," adding:
"She believes in capital punishment, and strong sentencing in appropriate cases. On the other hand, she has long supported gay rights, rehabilitation for criminals with issues like mental health, women's rights, and some (but not all) of the recent changes in the criminal justice system. That is not to say she is liberal or progressive. Far from it. I know her points of view, which I do not always agree with, are thoughtful rather than knee jerk or pro-forma. She is truly an independent.
"I also know Ms. Segall to be enormously concerned about being fair. That to me is the singularly most important quality for a judge—not to adhere to stereotypes or a pedantic point of view, but to consider each case, and its component parts, and reach a conclusion that fits the facts and circumstances."
She is endorsed by former Los Angeles County District Attorney Steve Cooley, 101 sitting Los Angeles Superior Court judges including Scott Gordon, who supervises the criminal courts, six of the court's commissioners, 11 of the court's retired judges, and as well as by former California Supreme Court Justice Carlos Moreno.
Candidate's Background
Segall, who is unmarried, has a law degree from Loyola and an LL.M. from New York University School of Law.
After gaining admittance to the State Bar of California on Dec. 4, 1990, she spent a year as a civil practitioner and two years as a criminal defense attorney before joining the DA's Office.
She is a member of the Los Angeles County Bar Association, the Association of Deputy District Attorneys, the Inns of Court, and the Women Lawyers Association of Los Angeles.
Segall is also on the membership roster of the California Narcotics Officers Association and other groups she joined in connection with her earlier prosecutions of proprietors of methamphetamine laboratories and parents who endangered their children by subjecting them to the presence of such labs in their homes.
Copyright 2018, Metropolitan News Company