Thursday, March 29, 2018
Page 8
Judicial Elections: Los Angeles Superior Court Office No. 146
Court Commissioner, 63, Competes With Deputy District Attorney, 36
Primarily distinguishing Los Angeles Superior Court Commissioner Armando Durón and Deputy District Attorney Emily Theresa Spear in this two person race are age and experience.
He's 63, admitted to practice May 1, 1981. For her, transpose the numerals; she's 36, and has been a lawyer since Dec. 1, 2005.
Durón's political advantages include having a professional political consultant—which Spear doesn't—and having a base of supporters, as well as personal savvy as to fundraising.
But Spear—who, as an amateur, ran the 2014 campaign of then-Deputy District Attorney Carol Najera that resulted in the challenger toppling an incumbent—knows about social media, which she utilized four years ago and will be relying upon this year. She has a husband who can write programs enabling widespread dissemination of messages, which he did in Najera's campaign.
Durón does not have conversancy with social media, reflected in his seminal March 1 campaign tweet: "I never used Twitter before how do I send my first message welcoming everyone to a winning campaign?"
The contest might, ultimately, be one between traditional campaign techniques and more modern ones aimed at attracting younger voters.
ARMANDO DURÓN
Superior Court Commissioner, Known As Collector of Chicano Art, Seeks Primary Recognition as Judge
When the name of Armando Durón is searched on Google, the results point to his occupation as a Los Angeles Superior Court commissioner and his avocation as a collector of Chicano art.
Outside of the courtroom, he is called upon to give speeches that provide insight into the Chicano art culture.
"I spend a lot of time at art shows," he notes.
The Durón Family Collection consists of over more than 500 pieces of Chicano art, acquired over the past 30 years from artists in the Los Angeles area.
However, it's not as an art collector that he wants to be primarily known, but as a Superior Court judge.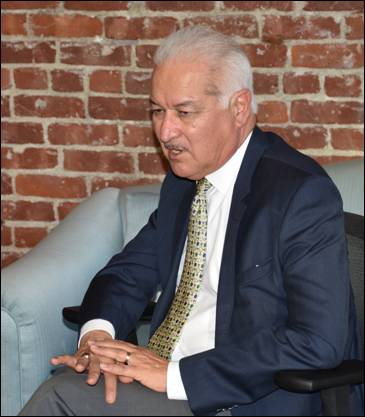 DURÓN
Previously a criminal defense attorney in Montebello, Durón says he possesses the temperament and skill set of a judge, having gained bench experience through his service since 2015 as a family law commissioner.
But the average voter, he laments, does not know what a court commissioner does.
"Even when you explain it to people, they don't quite get it," he says, recounting that he's been asked why, if he has powers of a judge, he's not called a judge.
Durón has worked three assignments since being hired by the judges as a commissioner, all in family law. He handled domestic violence hearings in the Stanley Mosk Courthouse, then heard child support cases at Central Civil West, and is now stationed in Compton on a general assignment.
Family Law
If elected, Durón says, it's likely that he will be a "family law lifer," in light of his background, but adds he would not balk at any assignment.
"I'll go wherever they send me," Durón says. "If they want me to do criminal, I'll do criminal.
"None of it is rocket science. Managing a caseload, knowing how to treat people, understanding that your job is to follow the law, those concepts you can apply anywhere."
Durón says that it can be difficult weighing the need to decide cases expeditiously with the need to ensure that both sides feel that they have been heard.
"It's not a science, it's not an art," he remarks, "but there is a skill involved," adding:
"Certainly, it helps if you are already sensitive to people and their needs and the diversity of this community."
However, sensitivity, he declares, would not justify failing to apply the law. He remembers learning that a young man was likely to lose a basketball scholarship due to his ruling, but he felt he could not alter it, explaining:
"I couldn't say, 'Well in that case, what you did to her was okay, there are not going to be any consequences."
Receives Plaudits
Los Angeles Superior Court Presiding Judge Daniel Buckley hails Durón as "extremely bright" and "extremely personable." He says the commissioner possesses "ideal demeanor" and has "great rapport with people that appear before him."
The former criminal defense attorney, he observes, has "adapted very well to the bench."
In a performance evaluation dated April 10, 2017, Los Angeles Superior Court Judge Thomas Trent Lewis, who supervises the Family Law Department, rated Durón's knowledge of the law as "outstanding" and commented:
"Armando is going to be [a] superstar family law judicial officer."
On April 25, 2016, Los Angeles Superior Court Judge Maren Nelson, who supervised him at Central Civil West, rated Durón "excellent" in all categories—"Knowledge of Law," "Impartiality and Integrity," "Temperament and Demeanor," "Timeliness and Efficiency," and "Attendance."
Campaign Finances
Durón says that he will likely need to raise about $150,000 to run a successful campaign, and notes he's more than half way there.
"It's not a matter of having wealthy friends, it's a matter of having a lot of friends," he says. "I've been involved in helping people run for office and helping people raise money for nonprofits since I was in college.
"I know how to raise money, I know how to ask for money."
Durón relates that he expects to be able to raise the needed funds within the next few months, and has various fundraisers planned.
"We'll do fine," he says.
His campaign consultant is Carlos Leon who handled the successful Superior Court campaigns of Judges Mildred Escobedo, Deborah Sanchez, and Patricia Nieto.
Malpractice Suit
Durón acknowledges having been sued once for malpractice in the early 1990s, but says the allegations were unfounded.
He explains that he was accused of failing to file a complaint on behalf of five persons in the greater Fresno area, but never received the information from his clients that was needed to craft a pleading.
No money was received from the clients—he says it was pro bono work—and no client contract was signed. The case was handled by Durón's malpractice insurer.
He explains the payout was a "nuisance settlement" and he didn't oppose it.
"That's what you pay insurance for," he comments. "If they were going to pay it, let them pay it."
Candidate Background
Durón, 63, was born in Los Angeles.
The commissioner was admitted to the State Bar in 1981 after earning his law degree at UCLA.
In 1986, while president of the Mexican American Bar Association, he joined with two others in forming the National Hispanic Media Coalition, which he chaired in 1987-91.
According to the group's website:
"We exist to challenge policy makers and influencers from Hollywood to Washington, DC and everywhere in between, to eliminate barriers for Latinos to express themselves and be heard through every type of medium. NHMC works to bring decision-makers to the table to open new opportunities for Latinos to create, contribute and consume programming that is inclusive, free from bias and hate rhetoric, affordable and culturally relevant."
Durón is no longer associated with the organization.
He and his wife, Mary Durón, havebeen married for the 39 years and have four children, one of whom is a second-year law student at Northeastern University.
EMILY THERESA SPEAR
Deputy District Attorney Has Campaign Experience, Predating Her Candidacy
Los Angeles Deputy District Attorney Emily Theresa Spear has already tasted success in a judicial race.
Four years ago, she spearheaded the successful effort to gain the election of another prosecutor in the office, Carol Najera, to the Los Angeles Superior Court, acting as campaign manager and treasurer. Najera defeated an incumbent, James B. Pierce.
Relying on her own expertise, Spear says, she will not hire a campaign consultant.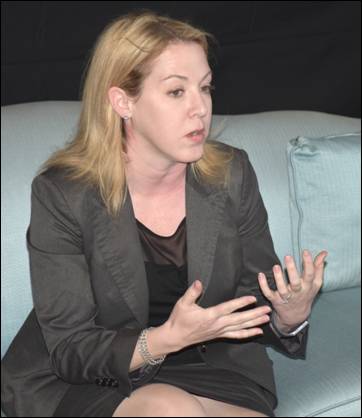 SPEAR
Spear recites that Najera did not have a huge campaign war chest, but made use of social media and emails to get her message to the voters. She terms Najera's campaign a "grassroots" one.
The candidate says she will use a like strategy in her own quest for election to a judgeship in the June 5 primary.
"For those in my generation"—she's 36—electronic social media is "their go-to," she comments, adding that it is "the way to go" in campaigning.
Displaying a trait becoming common among young persons, she utters declaratory sentences with a lilt at end, traditionally indicating the asking of a question. Her laugh approaches a giggle.
Deputy DA Experience
At so young an age, what makes her qualified for a judgeship? She says:
"In my experience working in Long Beach and Compton, I have met such an extraordinary variety if people—and I think it gives me a very unique perspective. I have had victims, witnesses, who were prostitutes, who were transients, but I have also had victims and witnesses who were CEOs and celebrities, and I think that kind of experience is very helpful in not only understanding the cases, and what's happening, but also adds some perspective."
Spear has worked for 11 years in the District Attorney's Office, and was in private practice for two years before that, first for Bonne Bridges Mueller O'Keefe & Nichols, then working for a friend who left that firm to set up her own practice, N. Denise Taylor.
"I took an extensive pay-cut" in going to work for the District Attorney's Office, Spear relates, but says she has "never regretted it."
She tells of having handled 58 jury trials and more than a dozen juvenile court proceedings.
The deputy is currently assigned to a special victims unit focusing on sex crimes in downtown Los Angeles.
Spear says she has been an attorney for 13 years, remarking: "So, I've been around a long time." She notes that she has "tried gang cases, sex cases, murder cases," and declares:
"I feel that what I've done in those 13 years is fairly significant."
Admitted to practice on Dec. 1, 2005, her reference in the March 1 interview to having been in practice for 13 years was nine months premature.
Candidacy 'Snafu'
On Feb. 7, Spear pulled declarations of intent to run for two Superior Court offices, Nos. 118 and 146. Another deputy in her office, Troy Davis, that same day took out a declaration to run for Office No. 118 (and remains in that race).
She says it was "a complete snafu, which is unfortunate because I'm actually really good friends with Troy."
As soon as she realized they were eyeing the same office, Spear notes, she determined she would not compete with him and would seek Office No. 146. She took out nominating papers only for that office on Feb. 12.
Yet, in a Tuesday, Feb. 20 email explaining a delay in responding to a Feb. 12 MetNews invitation to meet, she says, "I have been reluctant to schedule interviews until I decided what race I was running in," adding: "That decision was made over the weekend"—that is, on Feb. 17 or 18.
She describes Davis as a "wonderful squared away guy" and advises:
"We support each other, so we're good."
Won't Supply Evaluations
The Feb. 12 invitation, which went out to all judicial candidates in Los Angeles County, contains a request:
"If you are a member of a government law office or are a court commissioner, kindly email a copy of your last three annual performance evaluations."
When Spear came to the MetNews office on March 1 to discuss her candidacy, she was asked about those evaluations and said: "I didn't know you guys wanted that." She expressed the impression that only the evaluations of court commissioners were being requested, and said of the DA's Office reports pertaining to her:
"I can certainly scan them and send them over to you."
Those evaluations were again requested in emails of March 25 and 26.
Claims IALA Endorsement
The March 26 email also queried as to another matter:
"On your campaign website, you list the Italian American Lawyers Association as an endorser. However, I am advised by the president of the association that it did NOT endorse you. Could you please explain this?"
On Tuesday, both IALA President Alice Salvo and President-Elect Gregory Salvato confirmed that the association has only endorsed Los Angeles Superior Court Judge Malcolm Mackey, seeking reelection as a candidate for Office No. 63, and Deputy District Attorney Alfred Coletta, running for Office No. 4.
The representation of the group's endorsement of her remains on Spear's website, adorned by the IALA's logo.
Spear Responds
Spear emailed a response yesterday. With respect to her three latest performance evaluations, requested on Feb. 12, she says:
"I can't find all of them and I didn't want you to think that I deliberately left some out. Would you like the ones I can find?"
As her claim that the IALA has endorsed her, she explains:
"At their last event, one member of their board led me to believe that I was. I have followed up with Judge Frisco (also on their board and has endorsed me) to see where the confusion lies."
In 2005, after receiving her law degree from the University of Illinois College of Law, Spear moved to Los Angeles with her husband, a space craft engineer. The couple have two sons and spend their free time camping and gardening.
____________________________________________
Candidacy of Danielle R. A. Gibbons, Revisited
Update
Tuesday's profile on Los Angeles Superior Court Commissioner Danielle R. A. Gibbons, a candidate for election to a judgeship, indicated that, as a new commissioner, she had not yet received a performance evaluation. The supervising judge in Norwalk, Margaret Bernal, yesterday provided an evaluation of Gibbons's work last year as a bench officer.
She says that Gibbons is "a quick study and is doing well" in her assignment, is "respectful and handles each matter with appropriate consideration," has "has the perfect demeanor for her position," being "calm, and respectful to all litigants and attorneys," is punctual, and "is very efficient getting through her busy calendar with time enough to do all the" temporary restraining orders.
Bernal, who has endorsed Gibbons, comments:
"I am so happy to have Commissioner Gibbons as part of our team. She has been a great asset and is a joy to have."
Corrections
The profile on Gibbons noted that one candidate for election by judges as assistant presiding judge of the Superior Court, Judge Scott Gordon, had endorsed Deputy District Attorney David Berger for Office No. 71 on the June 5 ballot, while Gibbons had the endorsement of the other candidate for the administrative post. She does have his endorsement, but he was misidentified.
The APJ candidate is Judge Eric Taylor, immediate past president of the California Judges Association.
Also, a photograph of Patti Hunter, a deputy Los Angeles city attorney who is running for Office No. 16, was used rather than a photograph of Gibbons. Gibbons's photo appears below.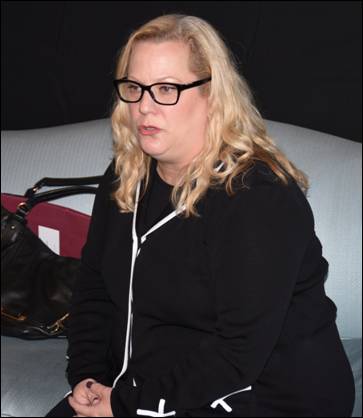 GIBBONS
Copyright 2018, Metropolitan News Company