Monday, February 26, 2018
Page 8
Judicial Elections: Los Angeles Superior Court Office No. 63
Obscure Woodland Hills Attorney Challenges Veteran Jurist
With the decision Wednesday by state Administrative Law Judge Klint James McKay to drop his election challenge to Los Angeles Superior Court Judge Kristin Escalante, there remains one judge of that court who potentially faces a competitor in the June 5 primary: Malcolm Mackey.
The challenger is Woodland Hills attorney Anthony Brandon Lewis.
Mackey is a well-known figure in the Los Angeles legal community. Lewis is not.
The challenger has pledged to state his reasons at a later time for running against Mackey.
MALCOLM MACKEY
Says His Age—88—Is Not an Impediment and His Years of Experience Aid Him
There are plenty of situations where age is a factor in a person's ability to perform a given task, but veteran Los Angeles Superior Court Judge Malcolm H. Mackey says he does not regard service as a judge as being one of them.
At 88, Mackey declares that he is in strong mental health. His physical well-being has dipped a bit, typical of persons approaching the nonagenarian age group, but, he says, it hasn't kept him from performing his daily tasks either at home or in the courthouse.
"I don't run races anymore," Mackey jokes. "I was a World War II vet and I'm not charging up any embankments."
Still, Mackey says that he hopes that age was not a factor in employment attorney Anthony Lewis's challenge to him for Office No. 63.
By virtue of experience, the jurist reflects, he is able to do a better job now than when he went on the bench.
He's been a judge for 39 years, having been elected as a Los Angeles Municipal Court judge in 1978—after 19 years as a sole practitioner—and to the Superior Court in 1988.
During his stint on the lower trial bench, he was chosen by colleagues to serve as assistant presiding judge for the last six months in 1984 and as presiding judge in 1985.
Attorney Fee Brouhaha
Mackey was at the helm during a controversy that impacted the municipal court system in 1985. In those days before the creation by the Board of Supervisors of the Office of Alternate Public Defender (which came in 1993), if a conflict were discerned between two defendants in a criminal case, and the Public Defender's Office would represented one of the accused, the judge would appoint a private attorney—often a friend of the judge—to represent the other.
There was commonly little scrutiny of the hours that the attorney, appointed under Penal Code §987, claimed to have spent on the case.
Mackey instituted guidelines to help cut into the county's costs. The award of fees dropped from $8.5 million in 1984 to $6.4 million under Mackey's guidelines.
In the Superior Court, he has presided Since 1994 over a fast track court.
Although he is not a settlement judge, Mackey says that his time on the bench has provided him with a knack of getting litigants to reach accords.
According to his campaign website, Mackey handles 500 cases a year and is sent 40 new cases a month.
"The job is great if you can do that," Mackey says. "If you can't, you're going to have a problem."
He remarks:
"I know the law, I apply it, and I can resolve cases."
Full Peer Support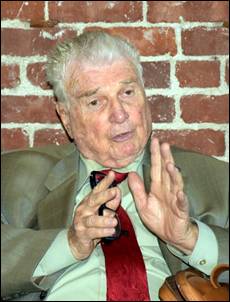 MACKEY
Mackey relates that he has received support in his bid for re-election from fellow judges and members of the legal community.
Los Angeles Presiding Judge Daniel J. Buckley said on Feb. 4 that he expects "the entire Los Angeles judiciary" to support Mackey in his election battle.
Colleagues, Mackey says, wanted him to seek another six-year term.
"[W]e're short on judges and someone with my experience is beneficial to the court," he explains, adding:
"I've dedicated my life to this. I was going to retire, but I feel I'm doing a service to the court through my experience and my sensibilities."
During his ill-starred 1980 campaign for the Superior Court as well as the successful one in 1988, Mackey told the MetNews that he was in favor of judicial elections. Now that he is being challenged, Mackey's opinion on the matter has not waivered.
"I'm still in favor of judicial elections," he comments. "There can be some problem judges."
Mackey notes that he is not perceived as one of those "problem judges."
The incumbent opines that the majority of attorneys who have appeared before him would say that he has a "good" demeanor.
Discrimination Cases
Mackey's opponent, though tight-lipped as to the bases for his challenge, has boasted that he will receive support from consumer and civil rights lawyers.
In the mid-1990s, Mackey's decisions to countermand two multi-million-dollar jury awards in race discrimination lawsuits drew fire.
On Dec. 15, 1994, the judge overturned a cumulative $89.5 million jury award in favor of two plaintiffs against Hughes Aircraft Company. Plaintiff Jeffrey Lane, an African-American, contended that he was denied promotion opportunities at Hughes based on his race and plaintiff David Villalpando asserted that he was constructively discharged based on declining to write an untruthfully negative performance evaluation on Lane.
Granting a judgment notwithstanding the verdict and, in the alternative, a new trial, Mackey found that those testifying for Hughes "were not liars, cheats or conspirators as indicated by the plaintiff, but were sincere businessmen and engineers" and that they "were not racist or biased and went out of their way to assist Lane and Villalpando."
He declared that the award was "so unsupported by the evidence it shocks the conscience of this court to the point where the court cannot countenance such a result," adding that "if the jury system is to survive, runaway verdicts such as this have to be reversed."
The Court of Appeal for this district reversed the judgment NOV and winnowed cumulative damages to $17.4 million.
Rogers's Opinion
Reversing that decision, the California Supreme Court held, in an opinion by then-Justice Janice Rogers Brown, an African American:
"Here, the trial court granted a new trial on the basis of insufficient evidence and stated reasons in support. Specifically, the court found (1) Lane and Villalpando had not established racism or retaliatory bias, (2) Lane's promotion history was comparable to that of Whites, (3) Villalpando had not significantly supported Lane's discrimination complaints, and (4) there was no indication of retaliation in management's decision to assign someone other than Villalpando to lead his section after merging it with another section. These findings undermined the essential assertions that form the basis of the jury's liability verdict, and therefore provided a sufficient basis for ordering a new trial as to liability."
$11.5 Million Award
On Nov. 9, 1996, Mackey overturned a $11.5 million jury verdict in favor of a Nigerian-born Pitney Bowes salesman who claimed almost four years of racial discrimination from coworkers. At the time, it was the largest workplace racial discrimination award in Los Angeles history that did not involve a firing.
In his order, Mackey wrote:
"Is our society so fragile that a salesman cannot take isolated comments, in a world where our movies, TV and media constantly use language which is offensive and salacious?"
Two weeks later, Rep. Maxine Waters, D-Los Angeles, who at the time was the newly elected chairwoman of the Congressional Black Caucus, and then-Assembly member Sheila Kuehl (now a member of the Los Angeles County Board of Supervisors), pointed to the two rulings as reasons for federal informational hearings. The hearings were held to discuss possibly restricting the power of state judges in overturning verdicts.
Mackey, now reflecting on those cases, says:
"I look at cases and have a duty to apply the law. It's my obligation to look at a case to make sure that the judgement is not excessive and to avoid mistakes."
Appellate Court Opinions
Mackey's background includes service on the Court of Appeal for this district in 1986, as an assigned judge.
Opinions he wrote included one in which the county's firing of Thomas Noguchi as county coroner was upheld and another in connection with a dispute concerning the estate of J. Paul Getty.
The then-presiding justice of Div. Seven, to which Mackey was assigned, was Mildred L. Lillie (since deceased). She wrote a letter to then-Gov. George Deukmejian recommending Mackey for appointment to the Superior Court, saying, in part:
"I was delighted he was assigned to this Division since he has a reputation for being a fine lawyer and a good judge. He served with us from June I, 1986 through July 31. 1986 and thereafter, until he completed and disposed of all matters submitted to him. I found him to be most cooperative and collegial and a very hard worker. He is an excellent writer and was of great assistance to us. I found him to have good legal background, excellent knowledge of the law and a wealth of practical experience."
As a lawyer, Mackey, a graduate of Southwestern Law School, frequently played a lawyer on daytime network television simulations of court proceedings. He was the president of the Lawyers Club, which met each Wednesday at lunchtime in the Central (now Mosk) Courthouse cafeteria, in 1977-78.
He lost three races for the Los Angeles City Council.
A Vigorous Fight
Mackey says he does not intend to take the present election challenge lightly and will fight a vigorous campaign to remain in office.
After learning about his campaign challenge on Feb. 2, Mackey got straight to work on his re-election bid. He retained campaign consultant David Gould to oversee his campaign. Gould is currently handling the campaigns of candidates in each of the 10 open seats for the June 5 primary election, alongside Judge Kristin Escalante who is also facing a campaign challenger in Klint James McKay, a California Department of Social Services administrative law judge.
Mackey reckons that he'll likely need to raise anywhere from $50,000-60,000 for his campaign, but wouldn't be surprised if it reached $80,000.
"It's a shame to have to raise the money in this situation," he says, "but I can't just roll over."
— Sean P. Thomas
ANTHONY LEWIS
Candidate Says His Campaign Will 'Debut…Shortly'
Anthony Brandon Lewis is a 47-year-old plaintiffs' employment law attorney with an office in Woodland Hills. He is asking voters to deny reelection to veteran jurist Malcolm Mackey and put him on the Los Angeles Superior Court instead.
But who is he?
Emails were sent to more than 1,400 lawyers in MetNews address books seeking comments on Lewis. There was a smattering of responses, all but two indicating no knowledge of him.
One prominent lawyer, with a major firm, declares:
"I've never heard of him. Did not get any feedback from a query that went to 300 colleagues. Suspect he ran to get his name on a couple of million ballots."
The one person responding who says that he knows Lewis and views him favorably is Jeffrey W. Cowan, a Century City employment and civil rights attorney. He comments:
"Tony Lewis is an excellent lawyer who went from the defense side at a big firm (Foley & Lardner) to representing plaintiffs on his own. I've discussed cases with Tony (as a fellow plaintiff's lawyer who also used to represent primarily corporations during the first 11 years of my career); and also have talked with prospective clients who [it] turned out had consulted with Tony. His analysis is invariably spot-on as far as I am concerned.
"The public would benefit immensely from having someone like Tony Lewis on the bench because he is highly competent and has no ideological bias. He has represented clients of all types, and knows that life is not black or white."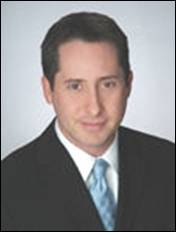 LEWIS
The other responding lawyer who knows Lewis says:
"Anthony 'Tony' Lewis was opposing counsel in a case of mine last summer. I found him to be the most unprofessional, rude, and volatile attorney I have encountered to date. My impression is that he is uniquely unqualified to serve on the bench."
No Explanation
Upon Lewis taking out and filing his declaration of intent to challenge Mackey on Feb. 2, the MetNews made inquiry of him, by email, as to why he targeted that judge. His response on that date says:
"I am not yet officially a candidate. I have filed a declaration of intention, but the nomination period, in which makes candidacies become official, is not yet open.
"I will be responding to press inquires [sic] after filing my nominating papers, and I will look forward to hearing from you then."
Comments on the challenge were obtained from judges and lawyers and published in a news story in the Feb. 6 issue of the MetNews. Speculation was voiced by some of those offering their views that the challenge might be tied to Mackey's age, 88.
A Feb. 8 email from Lewis, in reply to a request for a meeting that week or the next, says:
"I have seen your article posted on February 6, 2018, where you uncritically republish statements from supporters of Judge Mackey. The article contains a number of inaccuracies and false implications….[M]y campaign is neither baseless nor based on Judge Mackey's age. My campaign will debut with full information about me and why I am running shortly."
Expectation of Support
What he has disclosed, in communications to others, is that he anticipates consumers' lawyers and civil rights attorneys rallying to his cause.
Mackey, in the 1990s, overrode jury verdicts in two cases where there were multi-million dollar awards based on alleged employment discrimination.
Los Angeles Bar Association President-Elect Brian Kabateck, founding partner of Kabateck Brown Kellner, LLP, says:
"If Mr. Lewis thinks he will have broad based support from the plaintiffs' bar, I am willing to bet he is sadly mistaken and misguided. As a former president of the Consumer Attorneys of California and a long standing member of the Los Angeles plaintiffs' bar, I would be stunned if he saw any such support."
Jack Denove of the law firm of Cheong, Denove, Rowell & Bennett, a president of the Consumer Attorneys Association of Los Angeles and the Los Angeles chapter of the American Board of Trial Advocates, comments:
"I doubt there will be much support from the plaintiff's bar or the defense bar in a challenge to Judge Mackey. The opposite is true. Lawyers tend to rally in support of a sitting judge, especially when there is not valid reason to challenge him or her. Good lawyers hold dearly to the concept that the judiciary should be independent. If you don't like a judge's rulings use your [Code of Civil Procedure §] 170.6 challenge."
Other Bar Admissions
Lewis was admitted to the State Bar of California in 2005. He was previously admitted in Florida in 2002 and Illinois in 1999.
He received his law degree in 1999 from Northwestern University School of Law.
On his law firm website, he declares:
"I am dedicated to fighting for employee rights in complex disputes that require sophisticated legal representation. With experience in approximately 1,000 employment matters, I directly manage all cases handled by my firm. We intentionally keep our caseload low to ensure individualized attention and excellent client service. This means we are very selective, so we screen our clients and cases very carefully. We believe this approach allows us to achieve the best possible results for our clients."
On a website providing a directory of attorneys, in what appears to be an advertisement, Lewis says that he accepts cases on a contingency fee basis with his take ranging from 25 percent to 48 percent.
He has no campaign website and has declined to provide a resume or a photograph of himself.
It has been determined that he is not a member of the Los Angeles County Bar Association or the San Fernando Valley Bar Association.
—Roger M. Grace
Copyright 2018, Metropolitan News Company