Wednesday, July 18, 2018
Page 1
Michael P. Judge, County Public Defender For Nearly 16 Years, Dies at Age 74
Draws Praise as Administrator, Advocate, Visionary
By a MetNews Staff Writer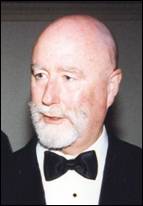 MICHAEL P. JUDGE
1944-2018
Michael P. Judge, who served as Los Angeles County public defender from 1994-2010, died yesterday following a long illness.
He succumbed at home shortly before noon, according to a longtime friend, former State Bar President Luis J. Rodriguez, a division chief in the Public Defender's Office. He said that Judge's wife, Delores, was with him.
Mike redefined what a public defender should be," Rodriguez said. "He was a visionary and trailblazer who always had his eyes towards serving those ostracized by society and broke down barriers for those held back by institutional norms.
"He made history."
Judge was the ninth public defender for the county. The post was created in 1913, and it was the first such office in the nation.
The Board of Supervisors appointed Judge on May 1, 1994. He had been a trial deputy in the office since 1969, the year he was admitted to practice.
Judge received his undergraduate and law degrees from UCLA.
Cooley Comments
Former Los Angeles County District Attorney Steve Cooley said yesterday:
"During our overlapping tenures, Mike Judge and I enjoyed a genuine friendship and mutual respect that allowed us to advance and improve Los Angeles County's criminal justice system. Mike was a strong and effective advocate for his office and his deputies."
Cooley and Judge were honored at a dinner on Jan. 29, 2010, as MetNews "persons of the year." His impending retirement came to light two days later.
At the dinner, Judge said:
"When I received the appointment from the Board of Supervisors, I had an agenda. I thought it would take an entire career to accomplish that agenda. Fortunately..., the agenda was really achieved within the first five or six years.
"And we were able to reload, take another look at the system, and accomplish even more."
Elaborates on Remarks
He elaborated three days later as to what his initial agenda was, saying that he wanted his office to be able to "communicate with the various communities" in the county, and for the clients to be "more open, trusting, and to follow our good advice and not be influenced by cell mates" and others.
Judge related he wanted to veer clients from the notion that "public defenders are public pretenders."
He added that he wanted to "hire a very qualified, diverse work force," making employment available "irrespective of culture or race or gender."
Brazile's Reflections
Los Angeles Superior Court Assistant Presiding Judge Kevin C. Brazile said of Judge:
"He was an amazing leader and phenomenal lawyer. He was a role model for both lawyers and judges. He was incredibly smart, fair and compassionate.
"A great mentor and someone who promoted diversity at all levels, and he was a wonderful friend to the court. He always found ways to give back to the community and legal profession."
Dickran Tevrizian, a former judge of the Los Angeles Superior Court and the U.S. District Court for the Central District of California, termed Judge an "excellent executive" who "surrounded himself with an outstanding staff of qualified administrators whose department sought and received justice for the clients that they represented," adding:
"He was compassionate, practical and fair in dealing with the judiciary and ran a very effective program in making sure the federal defenders ably represented indigent individuals accused of criminal violations of the law. There should be more dedicated public servants like him."
Dedication to Clients
Former Los Angeles Superior Court Judge Michael Nash, who now is director of the county's Office of Child Protection, said:
"During my years as presiding judge of the Juvenile Court, I so appreciated working with Mike Judge and the PD's office. He was collaborative within the system while remaining totally dedicated to his clients. On top of that, he was a visionary."
Robert Kalunian, a former chief deputy public defender, recited some of Judge's accomplishments, saying:
"During his tenure he guided the office during a severe budget crisis, the LAPD Rampart scandal, implementation of the Three Strikes Law and Sexually Violent Predator statutes, jail overcrowding, and a countless other criminal justice issues, never forgetting our primary duty was to provide quality legal representation to the clients."
Chotiner's Remarks
Retired Los Angeles Superior Court Judge Kenneth Lee Chotiner said:
"The criminal defense bar and California's legal establishment have lost a stalwart fighter for justice in the sad passing of Mike Judge.
"I worked with him over the years he was L.A.'s public defender and was always impressed by this ramrod straight defender of the downtrodden. He backed his deputies yet was always available to try to resolve issues between the court and his office.
"His involvement in the County's Criminal Justice System extended beyond the duties of his office. He was an active member of the Countywide Criminal Justice Coordinating Committee and head of the Information Systems Advisory Body which helped develop and coordinate information systems for the county's criminal justice agencies.
"He always had the big picture in mind and worked for the benefit of all, not just his own agency.
"Mike Judge had a passion for the defense of the indigent and imbued his deputies with his spirit.
"His passing is a blow to all who knew and worked with him."
Meeting in Elevator
Michael and Delores ("Dee") Judge were married for 30 years. They met in an elevator at the Pasadena courthouse, striking up a conversation.
He was a deputy public defender, she was a bailiff. Michael Judge knew her name was "Dee" and, with some difficulty, tracked her down.
"We had lunch and we just clicked," he recounted years later.
They dated for two years and were married in 1987.
He had three children from a prior marriage and she had one. They are Lamond Williams, Monique Judge, Michael Judge Jr., and Jennifer Judge.
No information on services was available yesterday.
Copyright 2018, Metropolitan News Company