Friday, May 25, 2018
Page 1
Jones Brings Lawsuit Against Campaign Rival Becerra
Insurance Commissioner Says Attorney General Is Illegally Using Courtroom as Setting for TV Commercial, Campaign Mailer
By a MetNews Staff Writer
Insurance Commissioner Dave Jones yesterday brought suit against state Attorney General Xavier Becerra in Los Angeles Superior Court for allegedly breaking the law by using Sacramento's Stanley Mosk Library and Courts Building as the setting for campaign advertising, in the forms of a television commercial and a mailer.
Jones and Bercerra, both Democrats, are the two major candidates in the June 5 primary for attorney general and are widely expected to be competitors in the Nov. 6 run-off.
Representing Jones in the action against Becerra and his campaign committee is former Los Angeles County Counsel Lloyd W. Pellman, along with Amber Maltbie and Alexander Suarez, of Nossaman LLP. Jones verified the complaint.
The complaint alleges that two advertisements "were produced in violation of California Government Code section 8314, which provides that 'It shall be unlawful for any elected state officer, appointee, employee, or consultant to use or permit others to use state resources for a campaign activity, or personal or other purposes which are not authorized by law.' "
It spells out:
"This applies to all state resources, including state facilities."
Started Mid-May
Airing of the commercial began May 16 and distribution of the mailer started May 18. Sec. 8314 provides:
"Any person who intentionally or negligently violates this section is liable for a civil penalty not to exceed one thousand dollars ($1,000) for each day on which a violation occurs, plus three times the value of the unlawful use of public resources."
The complaint sets forth (with paragraph numbering deleted):
"The conversion of a state courtroom into a campaign film set, in lieu of recreating a court room scene through purchasing scene materials with campaign funds, provided the Campaign with a significant monetary gain. The value of filming political campaign ads in the Stanley Mosk Library and Courts building was of such significant benefit to Defendant Becerra that Defendants used footage of the multiple scenes unlawfully staged in its ornate state courtroom and this historic state building in each of his four campaign commercials of which Plaintiff Jones has viewed to date.
"Moreover, Defendants' use of a state courtroom in the Subject Advertisements is misleading because Defendant Becerra was on inactive status with the State Bar of California for 26 years before being appointed as Attorney General by Governor Brown. This misleading material resulted in a substantial gain to Defendants."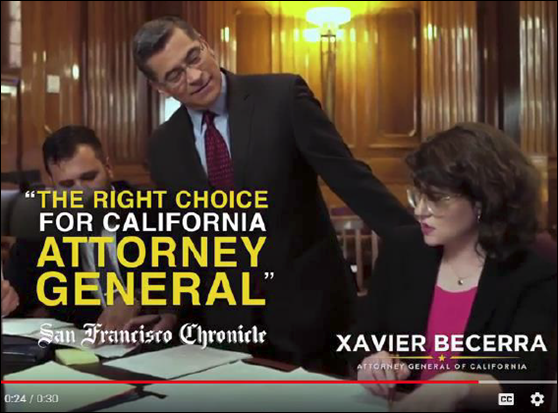 Above is a shot of the Becerra commercial, which is being aired on television, as seen on YouTube.
Interim Appointment
Becerra was appointed to fill a vacancy when then-Attorney General Kamala Harris became a member of the U.S. Senate.
Jones sent his campaign adversary a cease-and-desist letter on May 21, 2018. The commercial has continued being aired and, according to the complaint, at least $1.5 million has been spent in buying air time.
At a May 21 press conference, Jones called for special counsel to be appointed to probe whether Becerra has violated §8314.
Also on May 21, a spokesperson for Becerra declared:
"We obtained a permit from the California Film Commission to use the courthouse by going through the usual legal process just as any private citizen is entitled to do."
 "Even if a private citizen might be permitted to film inside a state courtroom upon approval of an application, Government Code section 8314 makes clear that state officials are held to a higher standard and are expressly prohibited from using state resources for campaign purposes."
Yet later on that date, a Jones spokesperson issued this surrebuttal:
"First, the Government Code Section 8314 prohibition on state officials filming campaign commercials in a state building supersedes any permit or permission that Becerra was able to obtain from the Film Commission or Highway Patrol using his influence as Attorney General. Second, the California Film Commission website states explicitly that there is no process to film inside an Appellate Court of the State of California: 'Filming requests for appellate courtrooms located within state office buildings will not be considered.'"
The Third District Court of Appeal sits in the building.
The complaint calls for declaratory relief, injunctive relief and monetary damages.
There was no immediate response by Becerra's office to a request, late in the afternoon, for comment.
Copyright 2018, Metropolitan News Company