Monday, November 5, 2018
Page 1
Court of Appeal:
State's Ivory Ban Upheld Against Vagueness Challenge
By a MetNews Staff Writer
The Court of Appeal for this district has rebuffed the contention that a 2016 statute that virtually bans importation or sale of ivory or rhinoceros horns is void for vagueness.
The opinion, filed late Thursday, was authored for Div. Four by Los Angeles Superior Court Judge Gary Micon, sitting on assignment. It affirms a judgment on the pleadings granted by Los Angeles Superior Court Judge William F. Fahey in favor of the California Department of Fish and Wildlife.
At issue is the constitutionality of Fish & Game Code §2022 which provides, in part, that, except to the extent permitted by federal law, "it is unlawful to purchase, sell, offer for sale, possess with intent to sell, or import with intent to sell ivory or rhinoceros horn."
Ivory is defined as "a tooth or tusk from a species of elephant, hippopotamus, mammoth, mastodon, walrus, warthog, whale or narwhal, or a piece thereof, whether raw ivory or worked ivory, and includes a product containing, or advertised as containing, ivory."
There are some exceptions, such as a piano with ivory keys and other musical instruments with ivory—provided the instrument is less than 20 percent ivory and was made before 1976—or antiques with no more than five percent ivory content.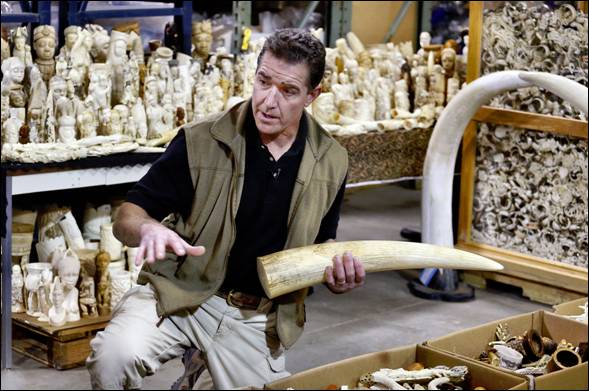 —AP
In this 2013 file photo, U.S. Fish and Wildlife Special Agent Steve Oberholtzer holds tusk as officials ready to crush more than 6 tons of confiscated ivory tusks, carvings and jewelry.
Federal Law Unclear
Challenging the law was the Ivory Education Institute. It contended the statute is unconstitutionally vague because, while it permits sale and importation of ivory or rhinoceros horn where permitted by federal law, federal law is murky and undecipherable, and guidelines are lacking for determining the volume of ivory in musical instruments or antiques.
What it is clear, Micon said, is that the California statute does nor bar any activity that is permissible under federal law. As to the content of federal law, he said that what the institute is calling for is an examination of "relevant federal laws, permits, and exemptions," and a determination as to "whether they are in conflict and, if so, whether they might take precedence over section 2022."
He declared:
"As such, the Institute strays from the path of void-for-vagueness analysis and veers head-on into the issue of federal preemption, an issue that it has expressly waived on appeal. We therefore decline to reach this issue."
Instruments/Antiques Exceptions
With respect to the ivory content of musical instruments or antiques, Micon wrote:
"After stating generally that the law does not explain what less than 20 percent or five percent by volume means, the Institute posits a number of hypothetical scenarios: does the bow of a stringed instrument count as a separate object?; why would the Legislature bar an ivory figure attached to a small antique where it constitutes five percent or more of that object, but permit an exception if the same piece were affixed to a larger object?; how could the owner of an Old Master's painting, many of which used black ivory in the pigments, know if the artwork fell within the volume exception when there is no way to measure the volume of the ivory?; and how could the heirs of General George S. Patton know whether they were complying with the law if they were to sell his famous ivory handled revolvers without knowing the age of the ivory or determining whether the handles exceeded the five percent minimum.
"However, such hypothetical concerns have no place in a void-for-vagueness facial challenge….Instead, any uncertainties that arise in enforcing section 2022 should be addressed later 'in a specific and concrete instance.' "
Sees No Difficulty
The jurist did not spot a problem in determining volume. He remarked:
"Because the musical instruments and antiques exceptions concern physical, tangible objects that occupy a verifiable amount of three-dimensional space, the percent of any such objects occupied by ivory can be readily determined."
The case is Ivory Education Institute v. Department of Fish & Wildlife, 2018 S.O.S. 5250.
Michael Harris of the West Los Angeles law firm of Rogers and Harris represented the Ivory Education Institute. Deputy Attorneys General Gary E. Tavetian and Carol Ann Zimmerman Boyd of Los Angeles acted for the department.
Legislative Declaration
In enacting §2022, the Legislature declared:
"(a) There is worldwide concern regarding the plight of elephants and rhinoceroses, who are being poached at alarming rates—an average of 96 elephants per day are killed in Africa.
"(b) Illegal poaching and wildlife trafficking is the fourth largest transnational crime and ivory helps fund the military operations of notorious terrorist groups. Smuggling gangs move tons of tusks to markets thousands of miles away.
"(c) International, federal, and state laws are all being strengthened to protect these iconic species from cruelty and extinction. The states of New York and New Jersey recently enacted strong prohibitions on intra-state ivory and rhinoceros horn commerce and the federal government has proposed strengthened ivory trade and import regulations.
"(d) California has prohibited the ivory trade since 1977, but a loophole has rendered the law unenforceable—allowing illegal sales to flourish. San Francisco and Los Angeles have consistently ranked among the top trading markets for illegal ivory in the United States."
The alleged loophole was that previously, ivory imported before June 1, 1977 was exempted by the ban existing prior to enactment of §2022.
Plaintiff's Outlook
Harris said Friday that a decision has not been made as to whether review will be sought in the California Supreme Court.
Offering "personal comments," he explained why the issue on appeal was narrowed to a vagueness challenge.
"We thought our best chance was to concentrate on the fact that no one with his family's old chess set can be sure whether it can be sold or whether doing so runs afoul of the law," he said, adding:
"Restricting sales of ivories from elephants killed decades ago serves no governmental purpose, but the state contends that it is so hard to distinguish old ivory from new, that all should be banned. We decided that our substantive due process argument (raised in the trial court) would not be successful so it was not pursued."
Responding to a question as to what the law envisions being done with a decedent's ivory if the estate is foreclosed from selling it, he suggested that "it can be given to a museum or to the next generation until the courts or the legislature re-examines policies that we believe are counter-productive."
Harris provided a statement from his client, appearing below.
____________________________________
Plaintiff/Appellant Comments
By Godfrey Harris
(The writer is managing director of the Ivory Education Institute, plaintiff/appellant in the case decided against it by the Court of Appeal on Thursday. His reference to the "Johnson" case is to the U.S. Supreme Court's 2015 decision in Johnson v. United States in which it was held that in challenging a statute based on based on vagueness, it is no longer establish that the statute is "vague in all its applications.")
Of the matters that now concern the Ivory Education Institute is the difference between "facial" and "as applied" constitutional challenges. We question whether a citizen really ought to have to wait for a situation to unfold to determine the constitutionality or unconstitutionality of something such as Sec. 2022. It seems to us that a citizen ought to be able to challenge the constitutionality of a law and not have to wait to be arrested, have a court hearing, then go to trial and receive a verdict to know whether he has broken the law.
We limited the appeal to vagueness because the Johnson case seemed so fresh and inclusive and the number of problems with Sec. 2022 seemed to fit into that framework.
The law is conveniently silent on the hypothetical question about what to do with inherited ivory. The legislature never invited anyone who knows anything about the CULTURAL value of ivory to testify. Even the opinion denigrated the historical references in our brief. I argue that most people see any ivory object as the end product of a dead elephant and refuse to recognize that elephants have died of natural causes and from disease and mating disputes since time immemorial. All those dead elephants — along with other non-endangered ivory producing species — provided ivory that got carved into culturally important objects. But reality offers complications that the fanatics in the animal rights groups do not want to deal with and a detail that the legislature is happy to ignore for the emotionally satisfying vote to "save" elephants.
Finally, the Court dismissed our point that Sec. 2022 is really a revival of the colonial attitudes of the 19th Century, that Westerners know what is best for Africa, that white man still has a burden to tell Africans how to utilize their natural resources. What would Americans say — judges included — if South Africa refused to buy any California agricultural products until we managed our herds of wild horses or white tail deer better? What if Kenya boycotted California almonds out of concern for condors that are still being poisoned by pesticides? We would smile at their audacity and then ignore them.
Copyright 2018, Metropolitan News Company