Monday, November 19, 2018
Page 3
Ninth U.S. Circuit Voids $2.8 Million Restitution Order
Opinion Says Judge David O. Carter Interfered With Plea Negotiations
By a MetNews Staff Writer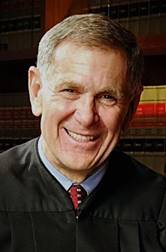 DAVID O. CARTER
District Court Judge
The Ninth U.S. Circuit Court of Appeals on Friday voided a restitution order because the District Court judge meddled in the plea negotiations.
It entertained the appeal, notwithstanding a no-appeal provision in a plea agreement, because the judge, David O. Carter of the Central District of California, told the defendant he had a right to appeal.
Carter sentenced the defendant, Thomas Iazetta, to six months in prison for appropriating information from a protected computer and ordered him to pay $2.8 million in restitution.
Carter Threatened Veto
The government conceded that Carter, in threatening to veto a plea bargain if Iazetta did not acquiesce in the government's calculation of the amount of the victims' loss, violated Federal Rule of Criminal Procedure 11(c)(1) which provides:
"An attorney for the government and the defendant's attorney, or the defendant when proceeding pro se, may discuss and reach a plea agreement. The court must not participate in these discussions…."
A three-judge panel said in a memorandum opinion:
"Iazzetta stipulated to the government's proposed loss calculation. Because the loss  calculation for purposes of the Sentencing Guidelines and the restitution order were  based on that stipulation, there is a 'reasonable probability' that the sentence and  restitution order would have been different absent the violation….We therefore vacate the sentence  and restitution order, and remand so that the district court can determine the loss  caused by Iazzetta's crimes without use of the stipulation."
Waiver Disregarded
Explaining why the appeal was not dismissed despite the defendant's waiver of the right to appeal, the opinion says:
"Iazzetta's plea agreement waived his right to appeal his conviction and sentence if the district court imposed a term of 36 months or less. Although the court did so, we cannot enforce the appeal waiver because (1) the judge unambiguously advised Iazzetta at sentencing that he had the right to appeal; (2) the court confirmed that Iazzetta understood that right; and (3) the government did not object to the judge's statements."
The case is United States v. Iazzetta, No. 16-50489.
Copyright 2018, Metropolitan News Company