Wednesday, August 8, 2018
Page 1
Court of Appeal:
Officials Urging Witnesses to Come Forth Doesn't Constitute 'Protection Promise'
Anti-SLAPP Motion in Favor of City Is Affirmed in a Case Where a Man Was Slain Shortly Before His Scheduled Deposition Testimony in Case of Police Killing
By a MetNews Staff Writer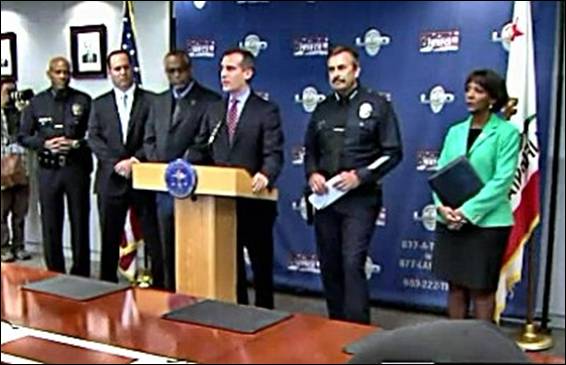 Present at a Nov. 13, 2014 press conference, at which officials urged witnesses to a fatal police shooting to come forward, are, from left, the City of Los Angeles's then-Deputy Police Chief Earl Paysinger, then-Police Department Inspector General Alex A. Bustamante, Councilman Curren Price, Mayor Eric Garcetti, and then-Police Chief Charlie Beck, with Los Angeles County District Attorney Jackie Lacey.
Los Angeles County District Attorney Jackie Lacey, then-Los Angeles Police Chief Charlie Beck and others, in urging witnesses to the 2014 fatal police shooting of an unarmed African American man, Ezell Ford, to come forth, did not create a duty to protect a particular witness who had been publicly identified, the Court of Appeal for this district has held.
Div. Three, in an opinion Monday that was not certified for publication, affirmed the dismissal of a wrongful death action by the widow of a witness, Leroy Hill. He was murdered shortly before his deposition, scheduled by the City of Los Angeles, in a federal civil rights action against it by Ford's family.
Dismissal of the action by widow Alice Hill followed Los Angeles Superior Court Judge Holly J. Fujie's granting of an anti-SLAPP motion brought by the city. Fujie found that the plaintiff failed to show a probability that she would prevail on her theory that local public officials, in exhorting witnesses to contact authorities, made a "protection promise" which was breached.
Affirmance of the judgment of dismissal came in an opinion by Los Angeles Superior Court Judge Upinder S. Kalra, sitting on assignment.
'No Duty'
 Agreeing with Fujie that Alice Hill could not show a probability of success on the merits—the second prong of the anti-SLAPP statute—he declared: "[T]he City owed her no duty of care."
It was uncontested the first prong—that the action stem from protected activity—was satisfied given that statements were made by local officials at a press conference.
The press conference at issue took place Nov. 13, 2014. A partial transcript, in the record, revealed no express promises of protection—nor did contemporary news reports reflect any.
Appearing at the press conference, in addition to Lacey and Beck, were Los Angeles City's Mayor Eric Garcetti, Councilman Curren Price, Deputy Police Chief Earl Paysinger, and Police Department Inspector General, Alexander A. Bustamante.
Alice Hill sued each of those participants, as well as the City of Los Angeles and the County of Los Angeles. The county and Lacey entered into a settlement.
Declarations Proffered
Duane Moody, a consultant hired by the Ford family, who was present at the Nov. 13 press conference as well as an earlier one, insisted in a declaration that at "least one spokesperson at each press [conference] stated that protection would be provided for the safety of each such percipient witness that so presented himself or herself."
Jaime R. Salanga, a private security company executive, opined that once Ford was identified in news reports as a witness (who accused police of a wrongful shooting), he should have had 24-hour-a-day protection, explaining:
"[A]ny eyewitness to the Ford shooting faced potential danger from one side of the controversy or the other depending upon his eyewitness account. If his account of the shooting supported the police version of justifiable homicide, he faced potential danger from angry members of the black community; and if his account contradicted the police version, he faced potential danger from the police officers involved in the shooting to silence him as a witness."
Shortly after being noticed for a deposition by the city in March 2015, Hill was shot by two men on bicycles while sitting in his car with his wife and two friends, none of whom was injured in the attack.
Protection Not Undertaken
In explaining the affirmance, Kalra wrote:
"[T]here is no evidence the City undertook to protect Leroy. Rather, the only evidence that the City promised to protect Leroy comes from Moody, who was at the press conferences and said that officials represented 'protection would be provided for the safety of each such percipient witness that so presented himself or herself.' Although the partial transcript from the November 13, 2014 press conference contains no such statement, Moody's testimony is, in any event, insufficient to establish that the City undertook to protect Leroy. No express promise was made specifically to Leroy. Leroy never agreed to work with the City, and there was no evidence that Leroy was even at the press conferences."
Kalra continued:
"Also, the alleged 'protection promise" was so vague, ambiguous and general we cannot tell what was allegedly promised….What kind of protection was Leroy supposed to have? When was protection to start? How long was it to last?...Salanga's opinion about what protection should have been offered is no substitute for evidence of what was in fact offered. Salanga's opinion does not fill in the blanks."
The case is Hill v. City of Los Angeles, B277842.
Terran T. Steinhart of Los Angeles was counsel for Alice Hill. The defendants were represented by Deputy Los Angeles City Attorney Matthew A. Scherb.
The Ford family's federal case was ultimately unsuccessful, but a later state case against the city resulted in a $1.5 million settlement in 2017.
The shooting of Ford, a 25-year-old man with mental problems, triggered demonstrations and tension in South Central Los Angeles.
In 2015, the LAPD Board of Commissioners found one officer had violated department policy in conducting an investigatory stop of Ford, but that the other officer had acted within policy. Neither officer was charged by the District Attorney's Office.
Javier D. Aginiga is charged with the murder of Leroy Hill, and has pled not guilty. His trial is set to begin Sept. 27.
Copyright 2018, Metropolitan News Company