Friday, August 3, 2018
Page 1
Court of Appeal:
Defendants Lack Standing to Seek Recusal Of Plaintiff's Lawyers in Privacy Case
Acting Justice Kin Says Parties Who Were Never Represented by Bird Marella Can't Seek Disqualification Based on Firm's Link to Defendants Dismissed From Action
By a MetNews Staff Writer
The Court of Appeal for this district has held that the daughter and grandson of media magnate Sumner Redstone have no standing to seek the disqualification of Bird, Marella, Boxer, Wolpert, Nessim, Drooks, Licenberg & Rhow, P.C. from representing Redstone's longtime friend and confidante in an invasion of privacy action against them.
In the latest round of litigation involving the multi-billionaire Redstone, 95, Manuela Herzer is suing his daughter, Shari Redstone, vice chair of CBS Corporation and Viacom—of which her father was executive chairman until 2016—and Sheri Redstone's son, Tyler Korff. Herzer claims the defendants paid Sumner Redstone's nurses to spy on her, using the intelligence they gathered, plus falsities, to cause him to order her out of his mansion, where she resided, and remove her from his estate plan, under which she was to receive $70 million.
Sumner Redstone reportedly has assets of $5 billion. He is controlling shareholder of National Amusements, Inc., which owns CBS and Viacom.
Herzer, once romantically entangled with Sumner Redstone, and who at one point declined his marriage proposal, retained a friendship with him over a 20-year period.
Representation of Nurses
Shari Redstone and Korff asked Los Angeles Superior Court Judge Robert L. Hess to disqualify Bird Manella from representing Herzer because it was formerly counsel to the two nurses who allegedly spied on her. While the nurses were initially included as defendants, Herzer on March 22, 2017, dismissed them from the lawsuit with prejudice.
The motion to disqualify Bird Marella was filed Oct. 9, 2017, and Hess denied it last Jan. 24, saying: "There is no adequate evidence to support standing of the allegations of the pleading, many of which are on information and belief."
The defendants sought a writ in this district's Court of Appeal, which Div. Five denied on Wednesday in an opinion by Los Angeles Superior Court Judge Curtis Kin, sitting on assignment. He wrote:
"It is undisputed petitioners never had an attorney-client relationship with Bird Marella. Petitioners also have submitted no evidence of any confidential or fiduciary relationship between themselves and Bird Marella. Nor have petitioners submitted evidence of any close relationship between themselves and the Nurses. In fact, while Korff had not yet filed an answer at the time of the hearing on petitioners' motions to disqualify, Shari has denied any relationship with the Nurses. Accordingly, we hold petitioners lack standing to move for disqualification on the record presented because petitioners have not met their burden to put forth evidence to establish an attorney-client or other confidential relationship with Bird Marella, a legally cognizable expectation of confidentiality with Bird Marella arising from a close relationship with the Nurses (Bird Marella's client), or a realistic probability that confidential information obtained from the Nurses will be used to gain an unfair advantage and undermine the integrity of the judicial process."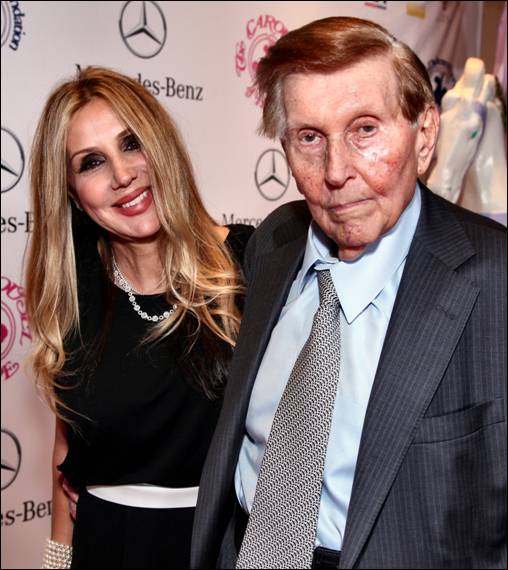 —AP
Manuela Herzer is seen with former Viacom/CBS Executive Chairman Sumner Redstone, to whom she was friend and confidante. The Court of Appeal for this district decided Wednesday that Redstone's daughter and grandson lack standing to move for the recusal of Herzer's attorneys in an action against them for invasion of privacy.
Policy Consideration
Kin went on to say:
"[W]e should proceed with caution in matters of attorney disqualification in light of public policy favoring a party's right to choose its own counsel….Here, in particular, we see no need to depart from that important policy consideration where petitioners disavow any relationship whatsoever with the attorneys they seek to disqualify or their former clients. In such circumstances, it is difficult to see how competing policy considerations that might justify disqualification—i.e., a client's right to confidentiality or the public's interest in the integrity of the proceedings—come into play here."
The case is Redstone v. Superior Court, No. B288954.
Attorneys on appeal are Vivian L. Thoreen, Roger B. Coven, and Robert Barton of Holland & Knight, for Korff; Robert N. Kleiger, Marshall A. Camp, and Andrew K. Walsh of Hueston Hennigan for Shari Redstone; and Ekwan E. Rhow, Thomas V. Richert, Hernan D. Vera, and Nithin Kumar of Bird Marella, along with Ronald Richards, Morani Stelmach, and Justin N. Ibrahim Law Offices of Ronald Richards & Associates for Herzer.
Proceedings Before Nieto
Hess is retiring this month, and the case has been reassigned to Los Angeles Superior Court Judge Patricia Nieto. She is scheduled to hear arguments Aug. 24 on Herzer's motion to disqualify Hueston Hennigan from representing Shari Redstone.
She has stated a position in the course of litigation, on various fronts, that Shari Redstone, "[c]apitalizing on Sumner's lack of capacity and his inability to communicate," has "monopolized access to him and hand-picked conflict-ridden attorneys to represent both him and her."
Also slated for Aug. 24 is a case management conference in a related case, in which Sumner Redstone, represented by Hueston Hennigan, is suing Herzer, former girlfriend Sydney Holland, and others for elder financial abuse.
The complaint seeks $150 million. It alleges that Herzer and Holland induced Sumner Redstone to sell stocks in order to provide them with gifts, including transferring $45 million into the bank accounts of each of them.
Herzer has responded:
"Sumner himself has never communicated to anyone that he did not want to make these gifts, that he regretted making them or that he wanted these gifts revoked because he was unduly influenced."
Probate Court Litigation
There has been previous litigation relating to the relationship between Herzer and Redstone. This includes an action, brought in the Los Angeles Superior Court's Probate Department by Herzer after she was ejected from the mansion in October 2015, in which she claimed that Sumner Redstone lacked the mental capacity to revoke an advance health care directive in which he designated her as his health care agent.
Los Angeles Superior Court Judge David J. Cowan on May 9, 2016, dismissed her petition The judge did so after viewing a 20-minute videotaped deposition of Sumner Redstone.
Cowan declared:
"Redstone made crystal clear at his deposition that the reason he did not want Herzer as his agent was that he had kicked her out of his home. He did not trust her because he believed she had lied to him and stolen money from him. He also recalled what she had lied to him about. The Court can think of no more rational reason to change one's agent."
The Court of Appeal affirmed, in a decision last Jan. 2 by Presiding Justice Bigelow of this district's Div. Eight.
"We find no abuse of discretion in the probate court's decision to give significant weight to Redstone's testimony," she wrote.
RICO Allegations
On Oct. 16, 2017, Herzer brought an action in the U.S. District Court for the Central District of California against Shari Redstone and Korff alleging, among other things, violations of the Racketeer Influenced and Corrupt Organizations Act, predicated on commercial bribery, mail fraud, and wire fraud.
The complaint alleges:
"The scheme orchestrated by Shari Redstone and her son Tyler Korff—both trained attorneys—was implemented to seize control of the two publicly traded companies that Sumner Redstone had acquired and built, CBS and Viacom."
'Disturbing Criminal Activities'
It goes on to say:
"To effectuate her plan to take over Sumner's life and his companies, Shari Redstone sought first to isolate her father, then to systematically destroy the historical relationships he had built over the course of decades with those he trusted and who knew his true intentions and finally to take control of his corporate and signatory authorities and take over his companies. This lawsuit exposes the disturbing criminal activities that Shari Redstone and her co-conspirators committed, and continue to commit against her father and his long-lime confidantes and business associates to achieve these illegal ends."
The complaint adds:
"With unfettered access to a weakened Sumner, Shari Redstone has kept Sumner a hostage in his own home and prevented him from meeting with anyone other than those veiled by her—even to the present. Without explanation, Sumner—through Shari Redstone—has purportedly and suddenly refused to take visitors….All the while, Shari Redstone continued to fraudulently reverse the measures Sumner had his attorneys and executives put into place specifically for the purpose of protecting himself, others and his media empire. Indeed, Shari Redstone admitted as much in an email to her son and co-conspirator Tyler Korff on October 15, 2015, shortly after illegally evicting Manuela Herzer, in which Shari wrote, '[I]t would be good if we could get him to undue [sic] all of the legal documents, letters and affidavits that he has done against me.' "
District Court Dismissal
U.S. District Court Judge Philip S. Gutierrez of the Central District of California on July 10 dismissed, without leave to amend, Herzer's cause of action under RICO, as well as what he determined was a time-barred cause of action for defamation. He dismissed a cause of action under the Electronic Communications Privacy Act of 1986, but authorized the filing of an amended complaint by next Tuesday.
The judge noted that "Sumner is alive, and his Trust was and is revocable," and held that Herzer's mere "expectancy" of a share in his estate was insufficient to confer standing in a RICO action.
Among other pending matters is a New York action by Sumner Redstone against Herzer for a determination that he has a right to evict her from his apartment at the fashionable Carlyle Hotel.
Copyright 2018, Metropolitan News Company