Thursday, October 4, 2018
Page 3
Dismissal of Prospective Juror Based on Seeming Disinterest Was Race-Neutral—Court of Appeal
By a MetNews Staff Writer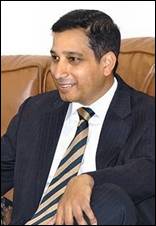 DAYAN MATHAI
Deputy District Attorney
The Court of Appeal for this district has held that a Batson/Wheeler motion was properly denied based on the prosecutor's explanation that he removed a prospective juror who was Hispanic based on his body language and pithy responses to the judge's questions during voir dire, at a clipped pace, evidencing, to him, apathy.
Justice Victoria Chaney of Div. One wrote the opinion in People v. Hernandez, B282031, affirming Los Angeles Superior Court Judge Charles A. Chung. The opinion, filed Tuesday, was not certified for publication.
This was the second time the case was before Div. One. A previous unpublished opinion, authored by Chaney, was filed July 19, 2016.
In that opinion, the convictions of Jessica Hernandez for kidnapping to commit robbery and carjacking were conditionally reversed.
Denial of Motion
 Chung had rejected, out of hand, the defense allegation that Los Angeles Deputy District Attorney Dayan Mathai's exercise of a peremptory challenge was race-based, in violation of the U.S. Supreme Court's 1986 decision in Batson v. Kentucky. Chung noted that the prosecutor had, repeatedly, been willing to accept the panel, as constituted, when four Hispanic men and three Hispanic women were on it.
Chaney said that under Batson, the defense lawyer's showing was adequate to shift the burden to Mathai to show a race-neutral reason for the challenge, with Chung being obliged to determine if the defendant had established purposeful discrimination. She wrote:
"The trial court erred in finding Hernandez failed to make a prima facie showing of group bias. The record reveals no obvious reason for the prosecutor's removal of juror number five. The trial court's voir dire was brief, limited to standard biographical data. Neither Hernandez's counsel nor the prosecutor asked this prospective juror any questions. Hernandez raised a reasonable inference that discrimination was the reason for the prosecution's immediate removal of this juror."
She continued:
"Like Hernandez…, this juror was Hispanic. [Judy] Stoffer, the victim of the charged offenses was not Hispanic, according to the record. The prosecution used five of its seven peremptory challenges to remove Hispanic jurors from the venire. Hernandez was not required to prove racial discrimination for the Batson inquiry to proceed past the first stage, only state a prima facie case, which her counsel did….On this record, the court should have conducted the second and third stages of the Batson inquiry."
Hearing Conducted
On remand, Chung conducted a hearing pursuant to Batson and its 1978 California predecessor, People v. Wheeler. Mathai said that despite passage of three years since the trial, he well remembers his reason for excusing Prospective Juror No. 5.
He said of the man:
"First of all, I should say that I observed how he was seated in the chair. He was not seated upright. He was slouching in his seat. In my memory he was dressed very casually and he appeared to me to have what I would describe as a lackadaisical or non-earnest approach to the jury selection process. He seemed uninterested. He seemed like he did not want to be here by his body language and how he was dressed. And that to me was confirmed in the manner in which he answered the questions.
"The court asked him to go through the questionnaire, as the court had asked all the jurors to do, and he immediately recited in a very, almost staccato manner, his answers. They are in the transcript but they are very quickly stated."
Mathai added that Prospective Juror No. 5 "did not seem to have, based on his answers, sufficient life experience to analyze the case in my opinion," elaborating:
"Other jurors had articulated their life experience when given the opportunity by the court. He offered nothing."
Mathai Found Credible
Chung said he found Mathai to be "completely credible," and noted, as he did three years ago, that the prosecutor "repeatedly accepted the jury over and over and over again with a number of Hispanics on it." He declared:
 "I have watched his demeanor, I have listened to his words, I have compared his words with the transcript and there is nothing to cause me to doubt his integrity or the basis on which he exercised that peremptory."
Chung was appointed to the Superior Court in 2006 by then-Gov. Arnold Schwarzenegger. He has sat in Lancaster since his appointment, and was a deputy district attorney stationed there for eight years.
He commented:
"…I will note that I have noted a huge shift in the demographic up here. It used to be a predominantly White community but it has shifted, at least in my mind, heavily Hispanic. Heavily Hispanic. And I think that's even seen in the way that this jury was eventually comprised of by half Hispanics. So I just think by sheer numbers Mr. Mathai was going to end up kicking Hispanics because we have so many Hispanics up here now."
The judge reinstated the original sentence of life imprisonment for kidnapping plus two consecutive one-year terms based on enhancements, with the sentence for carjacking stayed.
Affirmance Explained
Chaney said in Tuesday's opinion:
"Here, Mathai demonstrated a race-neutral basis for challenging Prospective Juror No. 5: He appeared to be unengaged in the proceedings and may not have put forth a good faith effort to carry out the duties of a juror. The trial court sincerely and reasonably evaluated Mathai's explanation in light of the circumstances and his observations of the manner in which prosecutor examined members of the venire, exercised challenges, and explained his reasoning. The law requires no more. Deferring to the trial court's personal observations of the manner in which Mathai offered his explanation, as we must, we conclude the court acted within its discretion in crediting Mathai and denying Hernandez's motion."
Hernandez complained on appeal of an ex parte communication between Mathai and Chung during a recess. The judge alluded to a conversation they had engaged in, telling Hernandez's lawyer, Los Angeles Deputy Alternate Public Defender Hung Phi Du that he had learned of Mathai's unusually heavy schedule, which explained how he had forgotten two previously scheduled hearings on the Batson/Wheeler motion.
Chaney commented:
"[J]udges and criminal attorneys for both the prosecution and defense often see and converse with one another outside of court, and mutual inquiries into their respective circumstances and schedules are unavoidable and benign. Here, the trial judge's conversation with Mathai about why he had missed two prior hearings was entirely unremarkable, and its import, if any, was only remotely probative to the only issue for which it was raised in court—Mathai's memory. But a busy attorney's calendar mishaps do not tend in reason to show the attorney is unable to recall events that occurred three years in the past."
Mathai was an unsuccessful candidate for a Los Angeles Superior Court judgeship in a 2014 run-off.
Copyright 2018, Metropolitan News Company