Tuesday, October 23, 2018
Page 1
Court of Appeal:
Arbitrator Had Authority to Bar Testimony of Cross-Defendant, Daughter as Sanction
Says Judge Fruin Properly Confirmed Award of Nearly $7 Million
By a MetNews Staff Writer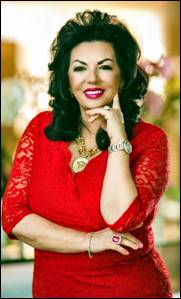 CARMEN HARRA
'intuitive psychologist,' writer
The Court of Appeal for this district has affirmed a judgment for $6,803,865.92, plus prejudgment interest and costs, against a woman whose life story was to be made into a movie but who, according to a cross complaint, failed to pay for writing and production services, causing the project to collapse.
Presiding Justice Tricia Bigelow of Div. Eight wrote the opinion, which was filed Friday and not certified for publication. It affirms a judgment of Los Angeles Superior Court Judge Richard Fruin against the plaintiffs/cross defendants, "intuitive psychologist"/psychic Carmen Harra and Carmen Harra Enterprises, Inc.
On June 6, 2017, Fruin confirmed an arbitration award by retired Los Angeles Superior Court Judge Michael A. Latin, and on Aug. 16, 2017, ordered entry of judgment. It provides that $846,329.35 is to go to producer R.J. Louis, $811,200.02 to writer/producer Fred Fontana, and $5,146,336.55 to investor Otmar Sibilo and his company, Global Entertainment Movies, LLC.
In an Aug. 29, 2017 press release, the Century City law firm of McPherson and Rane, which represented Louis and Fontana, commented:
"Apparently, even with her psychic abilities, Ms. Harra, who refers to herself as a 'Karma Queen' in the title of her most recent book, could not predict this outcome or escape her own karma."
Exclusion of Testimony
The appellants argued that Fruin should have vacated Latin's March 6, 2017 award because Harra and her daughter, Alexandra Harra, were barred from testifying.
Latin excluded their testimony in connection with the action on Harra's complaint, but provided that they "may appear and defend against the cross-claims," Bigelow pointed out.
The arbitrator scrapped Harra's allegations, declaring that he "has done everything possible to avoid having to issue terminating sanctions in this matter, including denying two previous motions for terminating sanctions, issuing lesser sanctions on multiple occasions for ongoing discovery violations, and explicitly warning Harra that there was little left to do but take this drastic step to avoid injustice to" the cross complainants.
"However, enough is enough," he said, adding:
"Harra has submitted fraudulent documents to support her past efforts to evade her deposition. Despite repeated warnings, Ms. Harra has refused to participate in the discovery process at every turn. Terminating sanctions are not only warranted, but truly the only remedy available to balance the scales and preserve the integrity of the judicial process."
Latin said Harra had "stonewalled and in bad faith refused to cooperate" with her daughter's deposition, whom he labeled a "key witness."
Points to Statute
Harra and her company pointed to Code of Civil Procedures §1286.2(a)(5) which points to circumstances under which a court "shall vacate" an arbitrator's award. One circumstance, under subpara. (5), is: "The rights of the party were substantially prejudiced by... the refusal of the arbitrators to hear evidence.
Bigelow responded:
"Harra's challenge is nothing more than a claim that the arbitrator erred on the facts and law in imposing discovery sanctions against her. That decision is not reviewable, and she cannot obtain review by recasting it as a 'refusal of the arbitrators to hear evidence material to the controversy' pursuant to Code of Civil Procedure section 1286.2, subdivision (a)(5)."
Cites Case Law
Harra cited the 2016 Court of Appeal decision in Royal Alliance Associates, Inc. v. Liebhaber.
There, Div. Four of this district's Court of Appeal, in an opinion by Justice Audrey Collins, affirmed the decision of Los Angeles Superior Court Judge Susan Bryant–Deason in vacating an award of arbitrators. The arbitrators had declined to hear presenting rebuttal evidence because they did not want "to be here for another two hours."
Collins wrote:
"Simply put, the hearing was not fair….[The defendant's] rights as a party to the arbitration proceedings were substantially prejudiced within the meaning of section 1286.2, subdivision (a)(5), and the arbitration order was properly vacated as a result."
Situation Not Analogous
In Friday's opinion, Bigelow said, with respect to the action on the cross-complaint:
"Here, Harra's and her daughter's testimony were not excluded arbitrarily, as explained in the detailed, lengthy sanctions order. For whatever reason, Harra chose not to attend the arbitration or present a defense, even though permitted to do so. That is a far cry from the situation in Royal Alliance."
The case is Harra v. Fontana, B284018.
Attorneys on appeal were Edwin F. McPherson and Pierre B. Pine of McPherson Rane for Louis and Fontana; Gerard P. Fox and Marina V. Bogorad of the Century City law firm of Gerard Fox Law for Sibilo and Global Entertainment; and Manhattan Beach attorney Corey Evan Parker for Harra and Harra Enterprises.
Lawyers' Comments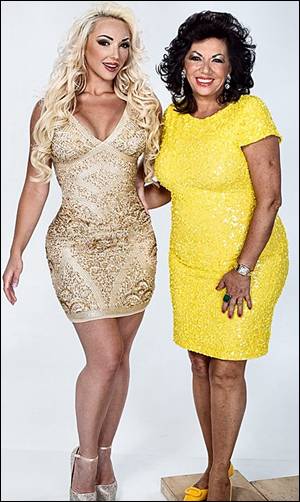 Carmen Harra, right, is seen with daughter Alexandra Harra, co-author with her of the book, "The Karma Queens' Guide to Relationships." The Court of Appeal for this district, in an opinion issued Friday, rejected the contention that retired Los Angeles Superior Court Judge Michael A. Latin, acting as an arbitrator, wrongfully excluded the testimony of the mother and daughter as a discovery sanction in a case, awarding nearly $7 million to the cross-complainants and against Carmen Harra.
McPherson commented that his clients "having prevailed in the Arbitration, and then in Superior Court, are very pleased that they have now prevailed at the Court of Appeal," adding:
"We are hopeful that Carmen Harra will finally pay them the money that she owes them."
Fox chimed in:
"And our clients, or we will start to move to collect."
He added:
"Our client is from Suriname, and was induced through fraud to invest in a film. They lost all their money and had to spend nearly as much trying to defend against malicious claims and advance their own claims. They are now owed well over $7 million and the Court of Appeal simply affirmed there is justice to be had even for foreigners in this country."
Parker did not respond to a request for comment, nor did Harra.
Born in Transylvania
Harra, who was born in a small village without running water in Transylvania, Romania, in her late teens toured Europe as a singer, and during her 15-year career in show business, recorded 12 albums. Her "press kit" notes:
"All the while, she avidly studied the transcendental abilities of the mind, the teachings of Kabbalah, and the science of numerology. She was simply captivated by the possibility of communicating with those who had passed on. When she wasn't performing, Carmen was educating herself on these ancient arts and exercising her own otherworldly abilities."
She has a PhD in clinical psychology and has written seven books, including "The Karma Queens' Guide to Relationships," of which her daughter is co-author. Harra has appeared on various television shows, including "Good Morning America" and "Today."
Her website features photographs of her with such persons as former President Bill Clinton, 2016 Democratic presidential nominee Hillary Clinton, former Vice President Joe Biden, U.S. House of Representatives Minority Leader Nancy Pelosi, and actress Shirley MacLaine.
Cross-Complainants' Backgrounds
Fontana has been the writer and/or producer of numerous films, and has written scripts for such television series as "Diagnosis Murder," "Columbo," "Major Dad," "Murder She Wrote," and "Simon & Simon."
Louis has been a producer for more than 40 years. He was co-producer of the 2001 remake of "Ocean's Eleven" and was producer of episodes of the television series, "The Outsiders."
Sibilo resides in Suriname.
Louis was to produce the movie, "Decoding Her Destiny: The Carmen Harra Story." Fontana rewrote the screenplay, and provided services as co-producer.
According to the cross-complaint, Harra lied about the extent of the financing she had received, and did not make promised payments to Louis and Fontana. It alleges:
"Plaintiffs are informed and believe and, based upon such information and belief, allege that Harra has been attending various film festivals, including, but not limited to, the recent Toronto Film Festival, and shopping Fontana's Screenplay to potential investors, producers, and other members of the entertainment industry, without any authorization therefor from Fontana."
Harra's action was on various theories including defamation, breach of fiduciary duty, and intentional interference with contract. The lead defendant initially was Sherman Oaks attorney Leigh Leshner, whom Harra sued for professional negligence, dismissing him as a defendant on Jan. 20, 2015.
Fontana's Federal Action
Fontana in 2012 brought an ill-fated action against Harra, Sibilo, and their respective companies in the U.S. District Court for the Central District of California for copyright infringement in connection with his screenplay on Harra's life. Judge Christine Snyder wrote, in dismissing the action with leave to amend on March 12, 2013:
"[A]bsent unusual circumstances, when a plaintiff enters an oral agreement to create a work for a defendant to copy or distribute, the plaintiffs proper course of action for seeking full payment is a breach of contract case, not a copyright infringement case….The Court therefore rejects plaintiffs argument that no implied license exists because plaintiff has not received payment in full."
The judge indicated that if Fontana did not amend, his state claims would also be dismissed. He did not amend and, instead, asserted the state causes of action in a cross complaint in the Superior Court action, filed, pursuant to stipulation, April 12, 2013, with Louis joining.
Copyright 2018, Metropolitan News Company