Thursday, November 15, 2018
Page 1
Brown Names Senior Advisor Groban to California Supreme Court
By a MetNews Staff Writer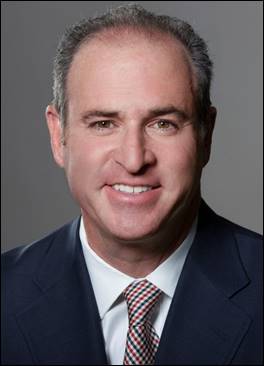 JOSHUA GROBAN
California Supreme Court Justice-Designate
Gov. Jerry Brown yesterday announced his appointment of Joshua Groban, a senior advisor to him who has overseen roughly 450 of the administration's judicial appointments, to the long pending vacancy on the California Supreme Court.
Groban, like Brown's other appointees to the state high court—Goodwin H. Liu, Mariano-Florentino Cuéllar, and Leondra R. Kruger—has no prior judicial experience.
Groban became Brown's senior advisor in 2011, after serving as counsel for his 2010 gubernatorial campaign. Before that, he worked at Munger, Tolles & Olson in Los Angeles from 2005-2010, and Paul, Weiss, Rifkind, Wharton & Garrison from 1999-2005.
His law degree is from Harvard. He is a Democrat.
If confirmed by the Commission on Judicial Appointments—comprised of Chief Justice Tani Cantil-Sakauye, Attorney General Xavier Becerra, and the state's senior Court of Appeal presiding justice, J. Anthony Kline—Groban, 45, will fill the seat left vacant by the retirement of Justice Kathryn M. Werdegar in August 2017.
"I am truly humbled by this nomination and, if confirmed, I look forward to working alongside the highest court's truly exemplary jurists," Groban said.
Cooley Comments
Most comments on the appointment yesterday—including those contained in the press release announcing the appointment—were positive. By contrast, former Los Angeles County District Attorney Steve Cooley said:
"That came out of the blue! But then a lot of this governor's sensitive and high profile appointments come out of the blue."
Certified appellate specialist Benjamin G. Shatz, a partner in Manatt, Phelps & Phillips, LLP, commented:
"Josh is an outstanding choice for the Supreme Court. Having advised the Governor in transforming the California Courts of Appeal for many years, he is intimately familiar with the qualities and characteristics necessary to be an effective justice.
"His years teaching appellate law at UCLA both establishes his deep knowledge of appellate practice and also proves his dedication to the legal education and the development of the bar. And as a Southern Californian (with ties to L.A. and San Diego), he brings some welcome geographical balance to the Court."
Lascher's View
Appellate lawyer Wendy C. Lascher, a partner in the Ventura firm of Ferguson Case Orr Paterson, LLP, remarked:
"Governor Brown has again made a creative, thoughtful appointment. The California Supreme Court will be enriched by future Justice Groban's perspective on the needs of all the counties of California that he acquired in his role as appointments secretary."
Retired United States District Court Judge Dickran Tevrizian had this to say:
"This is an excellent choice. He is intelligent and brings good common sense and practical experience to this position. He is a fair-minded individual that does not favor anyone. He will not bring any agenda to the position. Easy confirmation."
Concerns Expressed
Robert Kern, a Pomona probate practitioner who is a president of the Eastern Bar Association, declared:
"We have all heard of Mr. Groban, in the context of being the Appointments Secretary for Governor Brown. And as shown by the announcement he has a fine legal education and experience practicing in a large firm.(which likely involved an elite clientele) However, I have concern regarding the lack of experience which might have been provided by serving for a while as a trial judge or in some manner dealing with the 'real majority' of the population (including both the cop on the beat and accused in criminal cases, and consumers, accident victims and the disabled in civil matters) served by the court.
"Even at the trial level, in many instances I note a feeling of class superiority and lack of understanding of the problems of the 'ordinary people.' I note that one of the accolades for Mr. Groban compares him to the late Justice Stanley Mosk, who started out in a small private practice and had years of experience as a trial judge. Justice Mosk also had political experience as Attorney General, but he had the basic experience which is not shown in the announcement for the present nomination."
Press Release Comments
Press releases announcing appointments do not typically contain comments on the selection. Yesterday's press release did.
It was the comment by Court of Appeal Presiding Justice Arthur Gilbert of this district's Div. Six that included the reference to Mosk. He is quoted as saying:
"Governor Jerry Brown has done it again, made a supreme appointment to the California Supreme Court. Josh Groban, a lawyer of extraordinary ability and insight, will bring scholarship, practicality, and respect for the rule of law to his decisions.
"His appointment ensures that the California Supreme Court will continue to be the most respected state court in the nation. His appointment also reflects the diversity that makes our Supreme Court reflective of the society it serves. He will be the next Jewish justice after the late Justices [Mathew] Tobriner and Mosk."
The press release conveyed this reaction from retired Supreme Court Justice Carlos R. Moreno:
"He is a thoughtful and deliberative selection who will serve with distinction on our nation's leading state supreme court. I'm also very pleased that the Governor has nominated someone with roots in Southern California who will add to the geographical balance on the Court."
Former Employee Lauded
Ronald L. Olson, a name partner in Munger, Tolles & Olson, said of the firm's former employee, according to the release:
"Josh's sharp legal mind, even temperament and extensive track record of public service will make him a wonderful addition to the California Supreme Court. We are proud of what he has accomplished. I am confident he will further distinguish himself and the Court as a jurist."
UCLA Law School Dean Jennifer L. Mnookin is quoted as saying of Groban, who has been a lecturer at the school for the past five years:
"He has been an extremely effective and well-regarded instructor, providing our students with powerful insights into appellate writing, argument and advocacy. Those same talents will be put to superb use in his new role, and I am confident that he will be an exceptional addition to the Court."
Remaining Vacancies
There remain 13 seats for Brown to fill on the Los Angeles Superior Court and two seats on this district's Court of Appeal, the post of presiding justice of Div. Five and an associate justice spot on Div. Four.
Groban's name had been submitted to the State Bar Commission on Judicial Appointments ("JNE") in connection with a possible appointment to the Div. Five vacancy.
Under a statute, a judicial appointment ordinarily may not be made until JNE has reported its rating or 90 days have passed since the name was submitted. An exception applies given that less than 90 days remain in Brown's term; Groban's name must still be submitted to JNE "in order to provide an opportunity, if time permits" for it "to make an evaluation."
Copyright 2018, Metropolitan News Company