Tuesday, August 28, 2018
Page 1
Brown Readying to Appoint Joshua Groban As Court of Appeal Presiding Justice
By a MetNews Staff Writer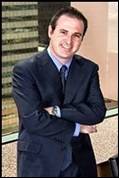 JOSHUA GROBAN
Senior Legal Advisor
Gov. Jerry Brown appears to be planning to appoint Joshua Groban, his senior advisor on judicial appointments and legal policy, as the Court of Appeal presiding justice of this district's Div. Five.
Groban's name has been sent to the State Bar Commission on Judicial Nominees Evaluation ("JNE") which yesterday dispatched questionnaires seeking comments on the candidate.
If appointed, and confirmed by the three-member Commission on Judicial Appointments, he would replace Presiding Justice Paul A. Turner who died in May, 2017.
Groban, who received his law degree from Harvard, was an associate with Paul, Weiss, Rifkind, Wharton & Garrison LLP, before joining Munger Tolles & Olson LLP. He was chief legal advisor to Brown during his 2010 gubernatorial campaign.
Tradition Among Governors
Several governors, through the years, have appointed their legal advisors to judgeships, going back at least to 1957 when Gov, Goodwin J. Knight placed his clemency/extradition secretary, Joseph Babich, on the Sacramento Municipal Court. Brown, in his earlier stint as governor, in 1980 named his legal affairs secretary, J. Anthony Kline, to the San Francisco Superior Court, elevating him two years later to his present post as a presiding justice of the First District Court of Appeal.
Gov. George Deukmejian in 1988 placed his legal affairs secretary, Marvin Baxter, on the Fifth District Court of Appeal, elevating him two years later to the California Supreme Court.
Gov. Pete Wilson in 1998 named his chief legal advisor, Daniel Kolkey, to the Third District Court of Appeal, and Gov. Gray Davis appointed Judicial Appointments Secretary Burt Pines to the Los Angeles Superior Court in 2003.
One Other Vacancy
There is one vacancy in this district, other than the post of Div. Five's presiding justice. An associate justice spot on Div. Four was vacated by Nora Manella when she took office as presiding justice this month, replacing Presiding Justice Norman Epstein, who retired.
There is a longstanding vacancy on the California Supreme Court. Friday will mark one year since Justice Kathryn M. Werdegar retired as an associate justice.
Under Government Code §12011.5, during the last 90 days of the governor's term, there is a suspension of the usual requirement that a judicial appointment not be made prior to receiving the JNE evaluation or until 90 have elapsed since submitting a name to the commission. However, the governor still must submit the name of the proposed appointee to the JNE Commission "in order to provide an opportunity, if time permits, to make an evaluation."
Copyright 2018, Metropolitan News Company