Tuesday, January 16, 2018
Page 1
Judge Lesley C. Green Slates Retirement From Los Angeles Superior Court
By a MetNews Staff Writer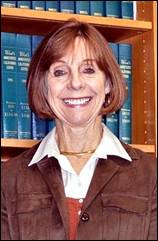 LESLEY GREENE
Los Angeles Superior Court Judge
Los Angeles Superior Court Judge Lesley C. Green said yesterday she will retire from her post on Feb. 10.
Her last actual day on the bench, she noted, will be Jan. 30.
Green is not up for election this year so her departure will not create an open seat.
Her husband, Los Angeles Superior Court Judge Terry A. Green, "does not plan to retire this year," she related, adding:
"We have a vacation home in Virginia but no immediate plans to move there full time."
At present, she said, she is "considering post-retirement professional options" and has "many projects at home" she is looking forward "to having the time to complete."
Green said she "will be visiting family out of state."
Handling Probate Cases
The jurist remarked:
"I have many fond memories of my judicial service, particularly in Probate Court."
It was in that court that she drew national news coverage while presiding over conservatorship proceedings for radio/television personality Casey Kasem (since deceased). She rebuffed the bid of Kasem's children to wrest responsibility for the care of their ailing father from his second wife.
"[A] judge is in a unique role to help people resolve legal issues and problems," Green reflected. "I have very much appreciated the opportunity to serve in that role."
Co-Founding Firm Partner
She was appointed to her post on Aug. 20, 2007, by then-Gov. Arnold Schwarzenegger. Green was, at the time, a partner in the downtown law firm of Bannan, Green, Frank & Terzian which she co-founded in 1995, and where she specialized in commercial litigation, primarily on the defense side.
For 12 years prior to that, she was an associate at Adams, Duke and Hazeltine where, prior to her admission to the State Bar in 1983, she had been a secretary, then a paralegal.
When Green departs from the court, there will be three remaining sets of husbands and wives each of whom is a judge of that court: Judges Carolyn Kuhl (a former presiding judge) and William F. Highberger; Judges Lia Martin and Michael Carter; and Judges Serena Murillo and Christian Gullon.
Copyright 2018, Metropolitan News Company