Monday, November 19, 2018
Page 1
Ninth Circuit:
California C.A. Decision Requires Reinstating Action Against Bayer
Opinion Vacates Order Dismissing Putative Class Action Based on Marketing of Vitamin Gummies as 'One A Day' Though Small Print Says Two Must Be Taken
By a MetNews Staff Writer
The Ninth U.S. Circuit Court of Appeals has directed that the District Court for the Northern District of California reconsider its dismissal with prejudice of a consumer's action over the marketing of "One a Day" gummy vitamins when, according to information in small print on the back label, two-a-day are the recommended dose.
A memorandum opinion, issued Thursday, came in the case of Goldman v. Bayer AG, No. 17-16697.
Daniel Goldman, an Oakland man, brought his action in federal court, based on diversity of citizenship, on Feb. 8, 2017, claiming that when he bought a bottle of "One A Day"-brand VitaCraves, he assumed that the 70 gummies in it would have lasted 70 days—only later spotting on the back label that a day's "serving" consists of two gummies. The product is manufactured by a subsidiary of Bayer AG, a multinational German chemical and pharmaceutical company that makes products under a panoply of brand names, with its own name associated with its aspirin tablets.
A similar state action had been brought March 8, 2016, in Orange Superior Court by one William Brady. Judge William D. Claster sustained a demurrer without leave to amend, relying upon a memorandum decision in favor of Bayer by the U.S. District Court for the Eastern District of Arkansas in 2011.
Brady appealed to Div. Three of the Fourth District Court of Appeal. The briefs in that state appeal were reviewed by Chief U.S. District Court Judge Phyllis Hamilton before she granted Bayer's motion to dismiss Goldman's action, without leave to amend, on July 26, 2017.
State-Court Decision
The state Court of Appeal, in an opinion by Justice William Bedsworth, last Sept. 7 reversed the judgment of dismissal in Brady. Bedsworth made note of Hamilton's decision and the earlier one in Arkansas, Howard v. Bayer Corp., and commented that both were based on the "untenable proposition" that consumers examine labels to determine the makeup of vitamin supplements.
Thursday's Ninth Circuit opinion says that Brady "constitutes new relevant authority on the state law issues raised in the complaint," adding:
"We therefore vacate the order of dismissal and remand this case to the district court to reconsider the dismissal in light of Brady.
"We do not prejudge the outcome of that inquiry, nor do we decide any other issue raised by the parties in this appeal."
Among Goldman's five causes of action were ones under California's Consumer Legal Remedies Act ("CLRA") and California's Unfair Competition Law ("UCL"), as well as a breach of express warranty action on behalf of California consumers.
(He also sued under New York's General Business Law and for unjust enrichment, acting on behalf of a national class.)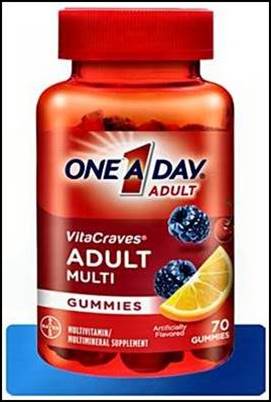 Depicted is a bottle of "One A Day" vitamin gummies, a product of Bayer. The Ninth U.S. Circuit Court of Appeals has scrapped a district court order dismissing, without leave to amend, a putative class action, in a diversity case, based on the theory that the words "ONE A DAY" on the label convey that the content—stated as 70 gummies—constitutes a 70-day supply. On the back of the bottle is a label indicating that the "serving" is two gummies. The federal appeals court decision is in response to a recent California Court of Appeal decision, in an unrelated case based on identical facts, which reversed a judgment of dismissal of causes of action under state law. The manufacturer also produces bottles of vitamin gummies in other quantities.
Hamilton's Decision
Hamilton said in her order dismissing Goldman's action, without leave to amend, that a cause of action could not be maintained under the CLRA or the UCL, explaining:
"Violations of the UCL and CLRA are evaluated from the vantage point of a 'reasonable consumer.'…
"A 'reasonable consumer' who is purchasing vitamins—choosing from the many different brands and formulas that are available on store shelves in the United States—would look at the entire label to see what vitamins or other nutrients were included in the formula. It is implausible that a reasonable consumer would purchase 'multivitamins' without even knowing what he/she was purchasing—particularly in a case such as this, where (according to the complaint) Bayer offers One A Day® VitaCraves® in at least ten different formulations."
She continued:
"Moreover, 'One A Day®' is a brand name, not directions. No reasonable consumer would be deceived by the label on the One A Day® VitaCraves® bottle. Even if the brand name could be construed as descriptive, it does not say 'One Pill A Day.' Taken literally, the reference to One A Day could be a reference to one serving a day, one time a day, or one pill or 'gummy' a day. Indeed, the California AG conceded in its amicus brief in the Brady appeal that 'One A Day' could mean 'one serving a day.' "
There was no breach of an express warranty, Hamilton said, explaining:
"The brand name, 'One A Day®' is not an affirmative representation. The 'front' portion of the label states that there are '70 Gummies' in the bottle—not 70 servings or doses. It also does not list the vitamins that are in the multivitamin formulation. In order to obtain that information, a prospective consumer must turn the (round) bottle slightly to one side. At that point, the consumer will see 'Directions'—'Fully chew two gummies daily'— and 'Supplement Facts,' including the notation that the 'serving size' is '2 gummies,' and the 'servings per container' is '35,' as well as a list of the various vitamins, the number of calories, and the carbohydrates in each serving, plus the other (non-vitamin) ingredients."
Bedsworth's View
Addressing Goldman's claims under the CLRA and the UCL, Bedsworth wrote:
"One A Day has spent 75 years convincing the public they could be trusted to divine its vitamin needs. Most of the California consumers to whom One A Day sells have spent literally their entire lives listening to One A Day tell them, essentially, 'Trust us. We know what you need. You will never know as much about vitamins as we do, but you can rely on us. Take one of our tablets every day and you won't need any other supplements.' "
He went on to comment:
"But now Bayer wants us to conclude that trust is not part of One A Day's success. They argue that modern consumers carefully read and analyze the formulations of the vitamins on the market and make their choices based upon their own expertise. They tell us—and the federal judges who accepted their arguments in Howard and [Goldman]—that consumers 'look for the nutritional values' on the label and choose the supplements they buy based on comparison of those nutritional values. Instead of relying upon lifelong experience that One A Day is a trustworthy company that has been studying and analyzing our health needs for decades and has much more knowledge about those things than laypeople, Bayer says consumers look at the label and decide just how much selenium, biotin, pantothenic acid and zinc they need and then make their purchase after comparing those values with the labels on the vitamin bottles.
"That's a stretch."
Disagrees With Hamilton
The justice quoted from Hamilton's order and said:
"We could hardly disagree more.
"In California (and apparently in Arkansas as well) product mislabeling claims are generally evaluated using a 'reasonable consumer' standard, as distinct from an 'unwary consumer' or a 'suspicious consumer' standard. We respectfully part company with Howard and Goldman because both cases rest on the assumption that reasonable consumers of vitamins are back-label scrutinizes. We think that assumption untenable. It may well be that many people—including some judges and lawyers—would make such an inquiry. It may well be that engineers and scientists and the vitamin cognoscenti would make such an inquiry. But we are convinced other consumers—knowing they have very little scientific background—would rely upon the representation of a known brand with 70 years of goodwill and credibility behind it."
Breach of Warranty
Bedford said the cause of action for breach of an express warranty must also be reinstated. He declared that "the front of the bottle implies a warranty" as to how many days' worth of vitamins are in the bottle, and any disclaimer must be "conspicuous."
He continued:
"We don't think that the microscopic 'Chew: Two Gummies daily' and 'Serving Size: 2 gummies' on the back is sufficiently conspicuous to modify the implied warranty on the front."
Bayer did not seek review in the California Supreme Court, and a remittitur was issued Nov. 7.
Products of Bayer AG—"AG" stands for "Aktiengesellsschalft," a company with publicly traded shares—include Afrin, Aleve, Alka-Seltzer, Claritin, Coppertone, and Dr. Scholl's.
Copyright 2018, Metropolitan News Company